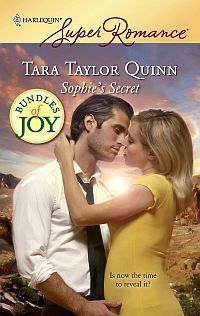 Purchase
Is now the time to reveal it?
Bundles of Joy
Harlequin Superromance
March 2009
On Sale: March 10, 2009
Featuring: Sophie Curtis; Duane Koch
256 pages
ISBN: 0373715501
EAN: 9780373715503
Mass Market Paperback
Add to Wish List

One secret leads to another….
Sophie Curtis lives a big secret. She's been having an affair with Duane Koch. Their days - and nights - together are their own oasis away from the world. It's unconventional but, given the difference in their ages and her troubled past, it works for them.
Then Duane is asked to step into the political ring - an opportunity he's been waiting for. Too bad about the timing, though. Because Sophie's just found out she's pregnant, and an instant family - with her - could ruin his chances. The right thing would be for her to bow out of his life. But when he surprises her with a proposal, will she have the strength to walk away from the man she loves?
Comments
10 comments posted.
Re: Sophie's Secret

I didn't know that there was a new More Than Words Volume coming out! I've loved the previous collections, and really enjoy how you authors have created stories inspired by real-life heroines! Thank you!
(Fedora Chen 3:16am March 19, 2009)
I have absolutely loved the past More than Words volumes! :) I came across the last one by accident at the library and I'm hooked. :D

Congratulations on being part of the anthology. :)

P.s. I really enjoyed your first three books in your series :) Glad your returning!
(Rachael Grime 9:41am March 19, 2009)
Sounds like a town I'd like to visit.

I just purchased the last More Than Words; I always love seeing women, especially well-known women, giving other women a hand up!
(Kelli Jo Calvert 4:00pm March 19, 2009)
I love the idea of all the proceeds from More Than Words go to charities.
(Karen Barnett 4:09pm March 19, 2009)
Hooray for women like Sandra Ramos and super accolades for the authors who bring these wonderful women to our attention! Loved the previous More Than Words, and know I will love this one also. I am a long, long time fan of Heather and Candace, and a relatively new fan of yours (the last 5 years).

Looking forward to your 9th SV book also.
(Betty Cox 4:25pm March 19, 2009)
I like books based on interviews and lifestyles. The founders of charities getting their stories told is great. I guess this is the way to "walk the talk."
(Alyson Widen 6:06pm March 19, 2009)
Congrats on your first and ninth!! The Anthology sounds like an absolutely wonderful project! And I know I have enjoyed several of your books and have no doubt these are good stories too!
(Martha Eskuchen 6:13pm March 19, 2009)
Anything that can be done for domestic violence victims is a wonderful thing! Thanks for picking that as your charity.
(LuAnn Morgan 9:05pm March 19, 2009)
Have read a couple of the past More Than
Words. I love anthologies and the reason
behind these is excellent. Everyone
should buy one and support the causes.
Keep up the good writing.
(Patricia Barraclough 9:09pm March 19, 2009)
Ladies,

Thanks for your kind words!! And even more, thank you so much for supporting More Than Words. I told Sandra Ramos that we had an incredible family of readers who would understand our project and be happy to contribute. She is an amazing women. I am very lucky to have had this chance to get to know her.

Happy Reading!!

ttq
(Tara Taylor Quinn 7:35am March 20, 2009)
Registered users may leave comments.
Log in or register now!