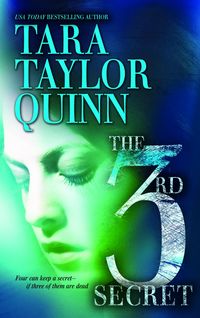 Purchase
The Chapman Files #3
MIRA
November 2010
On Sale: November 1, 2010
Featuring: Erin Morgan; Kelly Chapman; Rick Thomas
400 pages
ISBN: 0778328341
EAN: 9780778328346
Paperback
Add to Wish List

He did the crime. He's done the time.
Rick Thomas stole drug-cartel evidence from a government facility. And spent three years in a federal prison.
Ohio attorney Erin Morgan has a rule: Never defend the bad guys. But Rick Thomas, quiet and self-assured, doesn't seem bad. That's why she agrees to defend him against what he swears is a trumped-up murder charge. She's ignoring her experience and listening to her instincts instead.
But psychologist and expert witness Kelly Chapman is listening to her instincts, too. And they're saying that Rick Thomas is lying to Erin. That he's keeping secrets. That he's a dangerous man. And that despite everything, maybe he's one of the good guys...
But if they take a risk and they're wrong--it may be too late. For all of them.
Comments
3 comments posted.
Re: The 3rd Secret

I do believe that things happen in our lives for a reason, good or bad. I also believe in fate. At 16, I met someone, and said to myself, "I'm going to marry him someday." Little did I know that we'd meet up years later and he'd ask me to marry him!! We've been together for 27 years now!! All those years, I never forgot about him, and he came back into my life, like a prince on his white horse, out of nowhere!! lol Life has a way of throwing us curveballs -- I've had my share of them. We just have to be prepared at all times to deal with them. I do know of what you write about, and my hat goes off to you!! It's a very noble cause, and I'm sure you've reached a lot of women who would have been normally left by the wayside. Thank you for caring so much!!
(Peggy Roberson 10:15am November 10, 2010)
You seemed to have had a rough go in life for awhile, but are fortunate to have an understanding husband. My congratulations to you for attempting to help others who havc similar experiences. Your efforts are greatly appreciated, I am sure.

Happy Thanksgiving to you!
(Gladys Paradowski 6:00pm November 10, 2010)
Peggy,

Thank you for sharing your story!! It's things like this that give validation to our lives. Twenty-seven years! Congratulations!! Tim and I are coming up on four and I am grateful for every single minute of them.

Gladys, I am very fortunate in the husband I have. And because of what went before, I cherish every single minute with him. One benefit is that I don't every take him for granted.
(Tara Taylor Quinn 6:16pm November 10, 2010)
Registered users may leave comments.
Log in or register now!