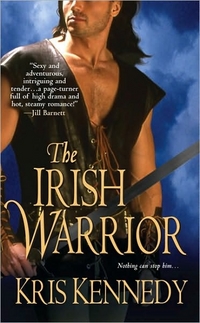 Purchase
Nothing can stop him...
Zebra
June 2010
On Sale: June 1, 2010
Featuring: Senna de Valery; Finian O'Melaghlin; Lord Rardove
352 pages
ISBN: 1420106538
EAN: 9781420106534
Paperback
Add to Wish List

Inhibited, accountant-minded Senna de Valery comes to Ireland to finalize a deal that will save her faltering wool business. What she gets instead is a cunning English lord with dangerous ulterior motives.
Forced to rely on her wits, not her ledgers, Senna frees an Irish warrior chained in the prisons, and together they flee across the war-torn land of medieval Ireland. But Finian O'Melaghlin is more than a charming, roguish warrior. He is councilor to his king, on a grave mission to recover military secrets, and has a dangerous agenda of his own.
Neither is prepared for the powerful forces arrayed against them.
Neither can resist the fiery passion igniting between them.
They cannot imagine the sacrifices they will face, nor the choices they will be forced to make.
King and outlaws, weapons and war: Can love indeed triumph over all?
Comments
34 comments posted.
Yep, I'm a reader, though I'm sorry to say, I still haven't read anything of yours. I'd love to read your intriguing books, but I still have a big TBR pile. I hope to get to one of yours soon.
(Sigrun Schulz 1:30am December 21, 2010)
wow i love to be a winner and love to red your book
(Desiree Reilly 9:35am December 21, 2010)
Honor, love, destiny, fate, will, heart, fighting, duty, truth, and determination. This book should be a very interesting read and i look foward to reading this book.
(Anthonia Sharp 10:21am December 21, 2010)
Great opening line there...with the cock...hehe!!!

Loved the post, thanks for sharing.

Merry Christmas to you and yours.

Valerie
in Germany
(Valerie Bongards 11:11am December 21, 2010)
Never underestimate the Irish, and love the way destiny wraps you into it's embrace. I love to read and nice blog.
(Anthonia Sharp 11:17am December 21, 2010)
I love sharing favorite books and debate favorite passages of classics. I haven't read any of your books yet, but hopefully they will be on my list soon.
(Pam Howell 11:29am December 21, 2010)
Hello everyone--great to see ya on a Solstice morning. :-) So doesn't anyone have any favorite liens for me??? :-)
(Kris Kennedy 11:44am December 21, 2010)
What a great Christmas present this would be for me...lol. Merry Christmas & Happy New Year to you and yours!
(Angie Miller 12:15pm December 21, 2010)
That would be awesome!!
(Maria Antunes 1:19pm December 21, 2010)
Oh fudge... I can not think of something to share... thanks for sharing this post! Happy Holidays!
(Colleen Conklin 1:26pm December 21, 2010)
So great to see everyone! Thanks for stopping by as we draw so near to Christmas, when things can be so hectic.
(Kris Kennedy 1:52pm December 21, 2010)
I have read all your books and love them. I also read ALOT but I just can't help myself:0)
(Vickie Hightower 2:24pm December 21, 2010)
We all have a favorite line to use at times. I would love to read your books. This would be the time for me to start. Love the way you start this out. Great line. It caught me by surprise.
(Diane Castiglione 2:25pm December 21, 2010)
I haven't read The Irish Warrior but I loved the excerpt. One of my favorite lines that brought quite a chuckle was:

Holding her stiff smile, Senna said through unmoving lips, "You may attack them now."
(Pamela Stewart 2:30pm December 21, 2010)
I noticed the The Irish Warrior has received fantastic reviews. Congrats! I sure would love to win that one--especially after reading some of your favorite passages!

A fave passage of mine from The Journal of Dora Damage by Belinda Starling:
The train took the dead to their graves, but it took Mrs Eeles to heaven... For Mrs Eeles had an inclination towards death. I do not mean that Mrs Eeles lived in morbid sufferance. I mean that she loved death with a passion: she delectated in mortification. She loved death the way that a child loves sweets: it made her giddy, and giggly, and slightly sick.
(Micheline Koop 2:39pm December 21, 2010)
"Frankly my Dear, I don't give a damm".. That is one line I will never forget. My mind is drawing a blank about any others. lol.. Could it be old times??
Thanks for the opportunity to enter to win your awesome giveaway.
Hope you have a wonderful Christmas and Happy and Safe New Year.
(Brenda Hill 2:40pm December 21, 2010)
"The man gazed down at the body stretched before him. She'd been a pretty thing. A bit scrawny, perhaps, but with the makeup removed and her facein sleep's repose, she had the bare, otherowrldly look of an angle.
Then again, he always saw his brides that way. Sisters of Mercy. Chaste, docile, patiently awaiting the intimate piercing that would join them forever."

When I started reading "Two Lethal Lies", I couldn't tell whether she was alive or dead!
(Sue Farrell 4:05pm December 21, 2010)
When you can close your eyes after reading , and you can see what you read , well thats a reader. Your books do that to me thank you
(Helen Conklin 4:15pm December 21, 2010)
The autumn sun was feisty, hot and bright. ... I love the idea of a feisty son. These sound like fun.
(Shirley Nienkark 4:57pm December 21, 2010)
Kris, I would love to win The Irish Warrior. I love your books.

These are quotes from The Truth About Lord Stoneville. I liked a lot of them, but these examples are just two I liked.

The two men closed in on Freddy, with him stammering that he just "wanted a look at it, is all."

Hefting Freddy's sword, she brandished it at the nearest fellow. "Let him go! Or I swear I'll spit you like an orange."

To her right, a voice drawled, "An orange? That's your dire threat, my dear?"



"Well?" he said huskily when he was done. "If I had any sense of decency, I would give you a chance to consult with a lawyer about settlements and such, especially since you'll be coming into some money. But ---"

"---you have no sense of decency, I know," she teased. She tapped her finger against her chin. "Or was that morals you claimed not to have? I can't remember."

"Watch it, minx," he warned with a lift of his brow. "If you intend to taunt me for every foolish statement I've made in my life, you'll force me to play Rockton and lock you up in my dark, forbidding manor while I have my wicked way with you."

"That sounds perfectly awful," she said, gazing at the man she loved. "How soon can we start?"
(Cathy Phillips 5:32pm December 21, 2010)
You ladies are wonderful! What terrific lines!

Pamela~ LOL. You're so great, checking out the excerpt of IRISH WARRIOR and using one of the lines from that. I'm glad you liked!

Vicki~ Aw, see, now you've made my day. :-) I'm so glad you've read both the books and loved them. Hope you love DEFIANT just as much (that'll be coming this April, late in the month)

Sue~ Oh, yes, I see just what you mean, in the excerpt from TWO LETHAL LIES. What a great example of some attention-getting lines (and what a great title.) Thanks!


Micheline~ And there you have it--the whole reason I wanted to do a blog on this topic. I really liked that excerpt from THE JOURNAL OF DORA DAMAGE! Now I have a new book to pick up, one that would never have crossed my radar otherwise. Thanks so much for the gift! :-)

Brenda~ Hel-LO, that's a fabulous example from GONE WITH THE WIND!! Well-done. And extra points for picking up on something that is so obvious, it feel below my radar.


Helen~ You sweetie! No,thank-YOU for saying that about my books! I can't tell you how wonderful that was to hear. What a wonderful present. :-)

Shirley~ I'm so glad you liked that line about the 'fiesty sun'! As an author, it can be challenging to come up with gripping ways of describing settings, so I'm particularly glad you chose that one. You want to immerse the reader in the scene, but you also don't want to bore her (or myself! LOL)

Cathy~ Ah, I've heard about LORD STONEVILLE, but it keeps falling off my radar. Bad Kris. It's back on it now, thanks to you. So--thank-you! ;-)
(Kris Kennedy 6:35pm December 21, 2010)
Some of my favorite lines are from Not Quite a Husband by Sherry Thomas. This favorite book of mine is absolutely filled with awesome angst-ridden lines, but here are two memorable examples:

"He'd gone into their marriage determined that she would never be alone again. In the end, she'd made him as alone in the world as she."

"'Sometimes I think the spaces between the stars are filled with your silence.'"

Agh...reading them again gives me goosebumps.
(Rosie Nguy 6:36pm December 21, 2010)
I am definitely a reader. This totally describes me!
(Lisa Garrett 7:06pm December 21, 2010)
I haven't read your book yet but an Irish Warrior sounds perfect to me. I'm Irish and I like historical novels with some passion thrown in to boot, yipes.
(Kathleen Bianchi 7:33pm December 21, 2010)
I love to read!!! I like historical novels.
(Brenda Rupp 8:19pm December 21, 2010)
I am so happy to see your blog here, Kris. I'm currently reading your book, The Conqueror. I've just read this part:

"And he knew it to be trash. If a thing could so corrupt a man's intentions, it was trash. Refuse. Carrion."

I just love your writing. Keep those books coming!!!!!
(Molly Wilsbacher 8:55pm December 21, 2010)
One of my favorite quotes:

"He wanted to give her another word to say, something like luscious or whisper or strawberry. Hell, antidisestablishmentarianism would do it.
Rhage from LOVER ETERNAL by J.R. Ward

So yummy!
(Cynthia Netherton 9:11pm December 21, 2010)
Kris - just checked out your website - I was drawn to the Irish Warrior because I'm half Irish. I don't have a great memory so I can't quote favorite lines, but I found a good one in the excerpt - "She must never drink whisky again....". I can relate - a jigger of good Irish whiskey will go straight to my head. Happy Holidays!
(Diane Sallans 9:33pm December 21, 2010)
Rose~ Ahh, you picked a goodie. "'Sometimes I think the spaces between the stars are filled with your silence.'" Very nice. :-)

Lisa~ I'm glad you thought those descriptions apt! It's just how I see myself. :-) Reader First.

Kathleen~ Well, yes, then, the 'passion thrown in' should suit. ;-) IRISH WARRIOR is a bit racier than THE CONQUEROR, so it's not quite, well, 'thrown in.' ;-)

MOLLY! Yay!! I can't tell you the little chills I got knowing just what lines you were reading, and how they moved you. That part was tough, to make Griffyn feel powerless against this wanting (aside: My original, not-yet-pubbed, an idiot-about-marketing title for that story was The Kinds Of Wanting. But to me, it spoke to what they had to learn--wanting what's right for you, not what you think will break what you think is broken.)

Cynthia~ LOL! I really love that line. Bahaha. "Antiestablishment." Ha! For a man to find a word like that sexy as long as it's on his woman's lips, um...yeah!

You girls are great!
(Kris Kennedy 9:51pm December 21, 2010)
Diane~ Hahaha. My husband makes 7 & 7's for our friends during the holidays, and he uses a jiggerful of Seagrams. We save the rich peaty whisky for sipping. ;-)

I love that line of Senna's too! Poor girl, being introduced to Irish whisky while on the run from an enraged baron, beyond the Pale, and in the company of one very dangerous, very charming Irish warrior. Yes. Poor, poor girl. :-)
(Kris Kennedy 9:57pm December 21, 2010)
The lines from your books were intriguing. I have to admit I haven't read any of your books, but they sound really good. These are a few lines from the book The Fire Rose by Mercedes Lackey that I have read numerous times.

He wrinkled his brown in puzzlement. Evidently his sole exposure to literature had consisted of what lay between the covers of McGruffy's Readers. "Homer who? Say missy, that's all Greek to me."
"Precisely," she replied, lowering the temperature of her words as her temper heated, and she turned her attention back to the book.
(Amy Christian 10:53pm December 21, 2010)
This is my favorite quote. It is from "Dracula" by Bram Stoker and was used in "The Dead Travel Fast" by Deanna Raybourn.

"As he spoke, he smiled, and the lamplight fell on a hard-looking mouth, with very red lips and sharp-looking teeth, as white as ivory. One of my companions whispered to the other... "Denn Die Todten reiten schnell" ("For the dead travel fast.")

The quote gives a very good pictorial imagery and a very strong line "The dead travel fast."
(Kai Wong 11:41pm December 21, 2010)
I'm not one for remembering opening lines, but rather the endings of books
tend to leave me lasting impressions.
This one is from a favorite Laura Kinsale book of mine:
"...I can't find a moral in it and say the blame lies here or there or with
somebody else. I just don't know. We're dominoes—we fall one way or we fall
another." He kept stroking her cheeks. "I don't care. I only know I'd love you
whichever way it fell out."
(Sue Ahn 12:12pm December 22, 2010)
You conjure up images that are surely hot. I sense that you get the reader involved fast and keep the pages turning in this playing with words. I do like "I'm beginning to feel a bit reckles," since what follows has got to be good.
(Alyson Widen 7:27pm December 27, 2010)
Registered users may leave comments.
Log in or register now!