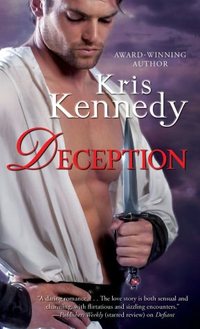 Purchase
Pocket
August 2012
On Sale: July 31, 2012
384 pages
ISBN: 1439195919
EAN: 9781439195918
Kindle: B0061O0XCO
Paperback / e-Book
Add to Wish List

Award-winning author Kris Kennedy brings the treacherous world of thirteenth-century England to life in this scorching romantic adventure!
A dashing con man
Breaking and entering to reclaim her corrupt late father's ledger comes surprisingly easily to Sophia Darnly. But is it mere coincidence that her misdeed unexpectedly reunites her with Kier, the outlaw lover who abandoned her years ago?
A lady skilled in trickery
Time has not erased Sophia from Kier's heart, nor tamed her fiery spirit. She boldly insinuates herself into his plans. But Kier is on a mission of revenge, and can't allow even the woman he once loved to stop him.
A game that could get them both killed
The danger mounts as they lure the leader of a powerful consortium who needs the fabled Darnly ledger—and all its damning details about the wealthiest merchants of England— to execute his nefarious plan. Their rekindled passion burns hot, but when they discover they too are the targets of a deadly deception, the fate of their love, and of England itself, lies in the balance.
Comments
18 comments posted.
Re: Deception

I guess with those criteria I wouldn't make a good romance
heroine either. Good thing I prefer to read romances than
taking part in them :D
(Ilona Fenton 1:43pm July 30, 2012)
Of course I'm a romance heroine!! NOT!!!!!!! I must admit, though, there are times I wish I was one. Those times when I see those luscious hunks on the covers of books like yours, and just start drooling all over my keyboard. Times like that make me wish I carried a towel with me in my purse (which is already packed to over-flowing, of course!).

I do like the sound of Sophia. She sounds like a gal I'd be happy to sit and dish with!!

Later,

Lynn
(Lynn Rettig 3:15pm July 30, 2012)
A medieval con man hero, I'm there! Alas, only a heroine in my own mind.
(Lisa Elwood 4:06pm July 30, 2012)
Since we have a few things in common, I'm sure that I'm really going to enjoy your book!! I'm really looking forward to reading it! With all of the stars and kudos you got, how can I go wrong!! Congratulations on the book, and good luck with your future endeavors.
(Peggy Roberson 4:23pm July 30, 2012)
Thank you for creating Sophia a heroine that isn't a milk-toast type. I need to be "taken away" like the old Calgon print ad and tv commerial from my daily life. Looking forward to losing myself in reading "Deception".
(Joanne Hicks 4:38pm July 30, 2012)
Gee, but you seem normal. You could have been describing most everyone. I guess that is why we fantacize that we look like the horoines in the romance stories.
'
But just be grateful that everyone doesn't look like fashion models. They look either starved or ill. LOL
(Gladys Paradowski 5:17pm July 30, 2012)
Ladies! Kris here. So glad you all stopped in to say hi, and I'm so sorry for my delay in replying. Summertime means lots of kid activities, and work gets smushed in around them. LOL
(Kris Kennedy 5:20pm July 30, 2012)
Yah know, that's why it's called fictional romance, lol. Real
life is real life, and fiction is to escape the real and
pretend. I loved your descriptions and it felt good to be
real...But I'd sure like to be rescued from my current dilemma, sigh.
(Lenna Hendershott 5:22pm July 30, 2012)
Ilona~ You and me, girl. Romance heroines lead the kinds of lives that are much safer to read about than to live through. :)

Lynn~ LOL. I'm so glad Sophia sounds like a good hang-out buddy--I think so too!!
(Kris Kennedy 5:23pm July 30, 2012)
Lisa~
I feel the same way. I don't know why, but there's something about the idea of a con man hero redeemed that's pretty alluring. I'm so glad it sounds like a book you want to read! :)


Peggy~ LOL--do you mean the ability to be described by non-descript adjectives? Forgettable Me. :) I hope you love Deception!
(Kris Kennedy 5:25pm July 30, 2012)
Joanne~ YOU are the person I'm writing for! :) I'm the same way: take me away! As a reader, I want to be thrust into the story, I want it big and exciting and sexy. I hope DECEPTION checks all your boxes, so to speak. :)


Gladys~ So true! In my mind's eye, my heroine's have curves. :)
(Kris Kennedy 5:28pm July 30, 2012)
Lenna~ We really need that respite from reality sometimes. Sometimes people talk about that as a 'lesser' thing, but I disagree. Because sometimes we get a little spark of hope in those repsites, or something uplifting when we've been dragged down by the world. That's pretty priceless. Better than Rx medicines! I do hope your current situation improves, and until it does, I'm wishing you lots of great reads that help you recharge, Lenna.
(Kris Kennedy 5:32pm July 30, 2012)
Lynn, I also have frizzy hair and would not make a good romance heroine. I am a much better romance reader. I love your books,
(Cathy Phillips 9:56pm July 30, 2012)
I don't quite fit the romance heroine mold either so you're not alone :) your latest heroine sounds great though, much as I'd would like to think I'd be if I was in fact a romance book heroine :)
(d Kenney 11:44pm July 30, 2012)
Let's think about the amount of maintenance on those tresses... in Regency and medieval days a rich woman had a woman servant to help her look well. They didn't bathe very often, as it was known to be bad for you, and carrying buckets of hot water up to the bath took the servants all day. Which is why they carried nosegays (scented flowers)and pomanders (oranges studded with cloves) around.
The elaborate piled up hairdos were hair wound round wire frames, and were often left in place for a month (people slept half-sitting up). When the frames were removed it was known for mice, moths and other creatures to be found living in them.
No dry cleaning for clothes either, they were sponged and pressed, the coarser fabrics and sheets washed by hand with lye which is an irritant made of wood ash and animal fat. Whalebone corsets shoved a woman's inner organs up and crushed her lungs to produce tiny waists and heaving bosoms, which is why young ladies fainted at dances.
Still want to be a romance heroine?
(Clare O'Beara 5:29am July 31, 2012)
Clare~ All good points! Especially the moths in the hair and the whalebone for corsets (although not an issue in medieval days) But still, there are times when I dream.... ;) Thanks so much for saying hi!
(Kris Kennedy 1:04pm July 31, 2012)
Whew! I'm glad at least one other woman admits she's not a romance heroine. I definitely don't qualify either. But I want to look into your books, because I'm a dyed-in-the-wool historical novel fan and that sort of goes for historical romances too. However, I can't remember reading very many funny books, and this one--it seems to me--has at least a few indications of that.
(Sigrun Schulz 4:04am August 30, 2012)
I really love Ms. Kennedy's Books, she is one of my favorite authors for the medieval period. She puts her characters, tall and sexy Kier and beautiful heroine Sophia in a story of danger, intrigue, secrets and love. Deception is a suspense I found different from her previous books and I loved it. If you love historical romance, then this book is for you!
(Nicole Laverdure 1:48pm November 18, 2012)
Registered users may leave comments.
Log in or register now!