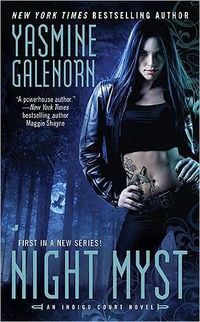 Purchase
Indigo Court # 1
Jove
July 2010
On Sale: June 29, 2010
336 pages
ISBN: 0515148148
EAN: 9780515148145
Paperback
Add to Wish List

Paranormal Romance | Fantasy Urban
Eons ago, vampires tried to turn the Dark Fae in order to harness their magic, only to create a demonic enemy more powerful than they imagined. Now Myst, the Vampiric Fae Queen of the Indigo Court, has enough power to begin a long prophesied supernatural war. And Cicely Waters, a witch who can control the wind, may be the only one who can stop her-and save her beloved Fae prince from the Queen's enslavement.
Comments
65 comments posted.
Re: Night Myst

Yasmine, I have not yet had the privilege of reading any of your books...I just found you! Hopefully, I will win (one from each series?? LOL) so that I will be lucky enough to be able to compare them. From all that I have read about you, I am sure that you are very able to keep readers of both series on the edge, eagerly devouring every word on every page, wondering what will happen next. I truly look forward to reading both of your series. My granddaughter is extremely interested in learning more about Witches, please be kind enough to tell me what a "Shamanic Witch" is..(I know very little, sorry, but am very eager to learn about anything that is an interest to her). Thank you for your time and allowing me to comment on your site. I hope you enjoy writing your two series at the same time...I am confident that you will do a superb job! from: A soon to be new-fan. Uekiya PS..Your name is beautiful!
(Cheri Minott 12:24pm June 4, 2010)
I usually read them all - only once have I not liked a new series, I did try - I read 2 books but did not enjoy them so have not gone back to the series. Usually I love reading different genres as I read a book every 2 days. I haven't read any of your books but they sound great and are on my to buy list.
(Barbara Hanson 5:24am June 4, 2010)
My favorite authors have my undivided
attention and that means I'll read
whatever they publish.
(Sue Ahn 7:09am June 4, 2010)
I have not read any of your books either.

I read all my favorite authors unless they change to a genre I am not interested in. I do adore series books!!!

Thanks for offering the gift certif. Always a wonderful prize.
(Pat Lieberman 8:31am June 4, 2010)
In answer to the question -- yes, I
read my favorite authors' series, all of
them, but I admit to having favorites,
too. I feel like I get to know the author
better, sort of forming a one-sided
relationship, by reading all they write.
And I love series - books that never
end - so when there is more than one
series, I can look forward to a new
book sooner. At least that's how it
feels. Nice blog. Thanks for the
opportunity to comment.
(Deni Cary Phillips 10:13am June 4, 2010)
It is always interesting when an author tries a new series. Good luck and blessings,
Marjorie
(Marjorie Carmony 10:19am June 4, 2010)
I have just found you books about a year ago and have read two, I enjoy your style and have no dought that you can wright two series at the same time and yes you are cheating on your old series but how fun can that be LOL Have fun and run with it.
(Vickie Hightower 10:41am June 4, 2010)
I'll read the different genres that authors write. This is how I get introduced to new genres and it leads me to discover new authors.
(Leni Kaye 11:02am June 4, 2010)
I like when an author has more than one going at a time. It keeps it from getting boring.
(Cathie Veres 11:24am June 4, 2010)
Hi Yasmine, I love your Otherworld series and can't wait to read this new book.
Keep up the great writing.

Love
Julie
(Julie Swaney 12:02pm June 4, 2010)
Yasmine,
I have no fear that I will truly enjoy The Indgio Court series as much as I love The OW series. I say this because there are very few authors I truly enjoy. You would be my favorite of course. Honestly because I have not been able to GET INTO any others like I have yours. Granted the reason I get so into your books is because I am from Seattle and I can loose myself in the book. I can see the action taking place and love it. I hope that everyone will enjoy your new series as I believe I will can not wait to get that book into my hot little hands. Thanks for wrting Yasmine, from a loyal fan.
(Rachel Gossett 12:13pm June 4, 2010)
So here we are.. now you'll have us gasping for a whole other batch of books by you! Thanks for writing such good stuff!
(Cate Sparks 12:19pm June 4, 2010)
Can not wait for the new series! Just in time for vacation!
(Katherine Ingram 12:30pm June 4, 2010)
Well I have not really picked up another series an author is writing while they are working on another series. Ive been tempted though here recently. One of my Favorite Authors other than Yasmine started out with her First Series. Very Fae oriented, and then it turns out she has another, Darker Fae Series out now too. I have been debating to get it because even though it is darker, and probably has more to it. I just dont know if it would really be my thing. I judge books by what the actual story is, in the Synopsis, and If I think the cover is appealing. Thats pretty average, and even thought I love what that author has written, but this other series may be picking up but its just not really to my liking in the whole concept. Now I thank Yasmine for writing her OW Series, its a wonderful Series, and when I heard that she would have another series to follow as well I was again hesitant even though I loved her OW books, and have been following her readings for years. I just didnt know what my first take would be like, but then as more information progressed in Night Myst world.I knew it would bring me to a new place, and my reservations were diminished, and yet again I knew she would bring me into a newer, darker world, and the story was somethig that I could really get into like her OW series. I have alot of props for the work that authors must go through with to get two series off the ground. So there is tons of things going on with that. So I usually try to give thier other series a try because If I like them that much, then its probably not going to disapoint me when the newer series devlops and comes out. But like I said earlier it also takes a good synopsis or idea, in my personal preferance to read. If they are a dear favorite of mine I will love thier work, and support their work, but even then I still have reservations. There have been other Authors that I have liked over the years and when they come out with something new I have a thought about getting the
(Phillip Albright 12:48pm June 4, 2010)
i love these kind of books
(Debbi Shaw 1:00pm June 4, 2010)
Hey Yasmine. Being a wrirer must really be a great career. I wish you the best of luck.
(Terri Quick 1:21pm June 4, 2010)
i love the otheworld series.and can't wait to read the book.read part of on blog it was great!I am going to store as soon as they put ot out! keep up the writing
(Mandy Honea 1:26pm June 4, 2010)
Hey Yasmine! Love your OW series and am so looking forward to Night Myst!

As for other authors with multiple series, I go both ways. Love everything Sherrilyn Kenyon writes and keep up on all her series. Laurell K Hamilton, I love the Anita series and have tried the Merry series but for some reason couldn't get past book 2 on that one. Jim Butcher also fall in the later category. Love the Dresden Files but haven't even tried his Sci-Fi series....it just seems too much outside the box for my usual reading.

Anyway keep up the great writing and I'll keep reading! :)
(Margaret Short 1:41pm June 4, 2010)
Authors are in a creative profession. I admire that creativity in all its forms, so when favorite authors write multiple series that's just more for me to enjoy! Thanks for visiting.
(G S Moch 1:43pm June 4, 2010)
I fall in love with characters, but really read books by my favorite authors because of who they are, not just the amazing characters that they have created. Always love to delve into new series, with new adventures, by a good writer.
(Joanne Reynolds 1:46pm June 4, 2010)
I am addicted to the OW series and I have pre-ordered Night Myst. I am willing to wager that I will like it just as much. I like it when authors that I read are able to have multiple storylines going, that way I get my fav author and a new world to explore. :)
(Alyssa Schaible 1:52pm June 4, 2010)
I almost always follow all of a favorite author's series. I find that when I fall in love with a particular author, it's for their voice and the way they twist the words, or some other specific mechanical genius. The mechanics tend to move from one series into another, which leaves me satisfied. I will admit to sometimes enjoying one series over another, but it's just like having a favorite book in a series. I love the Otherworld series, but I'm also really excited to read the new one. I can't wait to see what direction it will take. New worlds are tons of fun to explore.
(Keri-Jon Faulkner 1:53pm June 4, 2010)
There is one author whom I read -- I thought her books were very witty and wonderful. When I went to her other series, I was sadly disappointed. It seems like she didn't put her total effort into the characters of the series, and I never read that series. It sounds like you're the type of author that's going full throttle with both of your series, and I'm really looking forward to reading your books, since I'm just getting started with this particular genre. Good luck with both of your series!!
(Peggy Roberson 2:03pm June 4, 2010)
I have not read your books before but they sound really good!
(Gail Hurt 2:12pm June 4, 2010)
When I love, I love with my whole heart so I would read both series. The author's style is apparent in what ever they write. I am in awe of a writer who can write more than one story at the same time.
(Rosemary Krejsa 2:23pm June 4, 2010)
I am always glad when a favorite author writes a series..I have an enormous appetite for reading books and a series is like dessert.
(Amber Gifford 2:45pm June 4, 2010)
I always pick up my favorite authors books and there have only been a few times when I couldn't get into a series. I was disappointed but glad for all the other books they have put out that I enjoy. Can't please everyone but you can go crazy trying.
(Lena Lee 3:14pm June 4, 2010)
i applaud you for writing two series at once
(Sagrario Vigil 3:14pm June 4, 2010)
I always read everything from my favourite authors. I have several authors who write various genres and do really well in all of them.

You keep up the good work!
(Valerie Bongards 3:33pm June 4, 2010)
I enjoy multiple series from authors... In the past, there have been some that I prefered over others, but if it is one of my fav authors... I always want to see what is coming next!
(Colleen Conklin 3:39pm June 4, 2010)
Congrats on the new series and upcoming release, Yasmine. I don't have a problem with an author writing two or more series. I guess I might get a little impatient waiting for the next book in the current series while the author is busy starting her new series.
(Jane Cheung 3:40pm June 4, 2010)
Congrats on your new release and series!

I do have a few fav authors who write different series. It depends on the author and genre. For example, I'd read anything by Jayne Ann Krentz/Jayne Castle/Amanda Quick, but I only read the Harry Dresden series by Jim Butcher. Don't know why; it just is. However, I do give the other series at least a chance before giving it up; a couple of Richelle Mead's Vampire Academy books was more than enough, but I'll still read her Georgina Kincaid and Dark Swan novels (and I read a lot of YA books so that's not a reason).
(S Tieh 4:14pm June 4, 2010)
I don't know how you do it
(Patricia Kasner 4:16pm June 4, 2010)
If an author I like comes out with a new series I will give it a try if it's a genre I read. Sometimes I like the new series and sometimes I don't.
(Sandy Giden 4:43pm June 4, 2010)
I read favorite authors stories series or not- if the stories are good I stick with the series if not i drop them
(Audra Holtwick 5:04pm June 4, 2010)
Hello Yasmine, i started reading your books because i am also as practice witchcraft, with my 2 fellow sisters. so i adore reading anything that has 3 sisters in it. i keep reading them and rereading them becuase i love the charaters the story line and the adventures that take me into the action. i can't wait to get into the Indigo Series. thank you for writing, i love your work, even the non-fiction.. bright blessings )0(
(Lisa Richard 5:11pm June 4, 2010)
I like both Nora Roberts and J D Robb, one a romance writer and one a mystery writer. I also enjoy Nalini Singh's two very different series. Jayne Ann Krentz , aka Jayne Castle and Amanda Quick, love those. So yes I do enjoy.
(Diane Sadler 6:35pm June 4, 2010)
Many of the authors I read
(including you)have more than
one series going at a time. I
read more than one series at a
time so why shouldn't you be
entitled to write more than 1
at a time?
(Lisa Richards 6:36pm June 4, 2010)
I love books written in a series. I feel like it's a complete picture. If I have a favorite author I read EVERYTHING they write.
(Mary Preston 6:37pm June 4, 2010)
If a favorite author is writing more than one series, I tend to follow them. That said, there have been occasions where one of the series was more to my taste than another. On the other hand, sometimes the authors lead me to read outside of my normal favorite genres. Pretty neat.
(G. Bisbjerg 6:59pm June 4, 2010)
I'm very open to writers
writing different genres, as
long as they do it well! A
good example is Meg Cabot -
she writes Contemporary, YA,
and even historical, and now
she has a paranormal book
coming out. She can do it all!
And she does it well.
(Margay Roberge 7:15pm June 4, 2010)
Sometimes I don't like the second series as much as the first and other times, they're better, but I always try them. Nalini Singh is probably the only author that has 2 series that I love equaly. They are fantastic!
(Arantza Cazalis 7:17pm June 4, 2010)
I diverified when I'm reading. After awhile reading one genre, I get burnt out and need to read something different. As much as I like paranomoral and series, a humorous contempary will do or a romance mystery will be right up my alley. After reading the same genre and series, the mind tends to get bored. The mind needs a challenge of something different.
(Kai Wong 7:19pm June 4, 2010)
If I really like an author I will always give all their series a try. Whether I favor one more just depends on the author and the series but usually if I like one I like them all
(Lauren Gonzalez 7:56pm June 4, 2010)
I would say, never say never, but I don't usually follow if an author switches to a genre I have no interest in. I do read Nora Roberts but I did skip one series she wrote. I read her JD Robb books but last year I decided not to follow them any more. I do prefer series reads opposed to stand alones. Good luck with your new series!! Thanks, Sue
(Susan Hussein 9:02pm June 4, 2010)
Hi, I can't wait for your new book to come out. I have just recently seen your books and bought the 1st five in I believe the otherworld series. I can't wait to dig in and I look forward to the rest of your books!!!
(Brandy Blake 9:08pm June 4, 2010)
I always read all of the books by authors regardless of the series. Usually I will like one more than an other though.
(Robin Ludwig 9:17pm June 4, 2010)
I really enjoyed your Emerald O'Brien books (Chintz n China series), and I am looking forward to Night Myst. A few people have mentioned Nora Roberts and JD Robb--I like Nora Roberts' books, but I don't care for her books written as JD Robb. My favorite non-fiction writer has also expanded into fiction, and I'm not a huge fan of his fictional works, but I adore his nonfiction. Having said that, I'm always willing to try a new series/genre by an author I know I already like, so from a marketing/advertising perspective, there's a benefit of an author spanning more than one genre (or series), as a portion of the market for that book will already have been established via the author's other works.
(Aekb Manhattan 9:23pm June 4, 2010)
Christine Feehan wrights the Carpathian series and A Drake sister Series and i love both of them.and there is a few others that i like that do that to.I like to keep and open mind on new sereis from my Favorite authors.
(Stacey Smith 10:07pm June 4, 2010)
I see Stacey commented on Feehan - I don't like the Carpathians, but I love the Drakes, her Wild Series, and the Ghosthunters! Usually if it is a fav author, I'll read anything they write!!
(Martha Lawson 10:33pm June 4, 2010)
I think there's always a little bit of frustration when you like an author who writes two or more series simultaneously. For example I like Julie Garwood's contemporary FBI series (which isn't a fan favourite as far as I know) and it's been put on hold recently so she can continue her historical series, which bores me to tears. This isn't to say that I hate historicals, because that's absolutely not true, but every author has their forte and for me historical isn't Garwood's. But hey, I'm in the minority so why complain and have hordes of haters?
(Alexina Paiement 10:33pm June 4, 2010)
I think it just shows how diverse you are and that your thoughts flow in multiple directions. Keep up the fantastic writing!
(Darci Paice 10:34pm June 4, 2010)
I read a sample on your site it sounds exciting.
(Catherine Myers 10:42pm June 4, 2010)
I tend to follow all the books my favorite authors write, regardless of series.
(Cheryl Bradley 11:16pm June 4, 2010)
I tend to follow my favorite authors whether they are in a series or not.
(Brenda Rupp 11:30pm June 4, 2010)
I just picked up Bone Magic. Wow what a fun book. I am writing for fun and have 2 completely different types of books that I'm working on. One an erotic romance the other romantic suspense. It's a challenge but fun. I have no pressure though, I'm only doing this to see if I can.
(Sandra Dickey 4:28am June 5, 2010)
I so cannot wait to read the OW books! I'm a facebook follower, so I understand what you mean about other readers getting miffed that you are not writing 'their' series NOW.
(Anne Harris 7:06am June 5, 2010)
I love your first paranormal series with the sisters.I know i will like the next one.You are on my save this author list. My husband only lets me keep so many books,then I have to start donating.Darn if keep them all to reread id have my own bookstore. Im waiting patiently for your new series. Keep on .
(June Leas 7:32am June 5, 2010)
now i will be up til 4am again!!
til i get it finished...
(Debbi Shaw 9:59am June 5, 2010)
Hello Yasmine, Please enter me in your fantastic contest and please let me know when I am a winner too! May God bless you with success. Cecilia
(Cecilia Dunbar Hernandez 4:56pm June 5, 2010)
sounds like a yummy read!
(Sherry Russell 6:27pm June 5, 2010)
I have read and still do read authors that write more than one series and I do like the action romance more than the romance of one author but others I like all the series.
(Brenda Hill 6:44pm June 5, 2010)
I love vampires stories, thanks for the contest!
(Willard Wheeler 6:57pm June 5, 2010)
If I love an author and she/he decides to write a story in a different genre…I will read it. Sometimes I like the different writing and sometimes I'm not crazy about….but mostly, if the author is good she/he will write great stories in whatever genre they choose.
(Mitzi Hinkey 3:10pm June 6, 2010)
I love the sisters series you have written but haven't been able to get into the other series; don't know why not-- usually if I like on ething by an author I'll pretty much like everything. I am definately looking forward to this new series. Thanks and keep it up!
(Vicki Tavana 7:54pm June 7, 2010)
Registered users may leave comments.
Log in or register now!