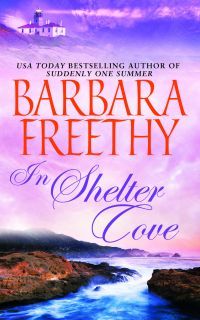 Purchase
Angel's Bay #3
Pocket Star
May 2010
On Sale: April 27, 2010
Featuring: Jason Marlow; Brianna Kane
384 pages
ISBN: 1439173257
EAN: 9781439173251
Mass Market Paperback
Add to Wish List

A long ago shipwreck off the California coast led the survivors to the haven they named Angel's Bay. Their shared adversity brought fellowship and joy ... but also unsuspected secrets. Acclaimed author Barbara Freethy returns to the town where angels still keep watch, with a compelling story of a young widow trying to find the truth and bring closure for her son and herself.
The theft of three priceless paintings sent Derek Kane to prison and destroyed the dreams of his wife, Brianna. When Derek unexpectedly dies just weeks before his release, Brianna returns to Angel's Bay with her young son, determined to prove her husband's innocence and find the missing paintings. Her efforts are stymied by Jason Marlow, the police officer who sent Derek to jail -- betraying his former friend. And when unexpected passion flares between Brianna and Jason, she must choose between the past and the present, the guilty and the innocent, the truth and the lies. For nothing is what it seems ...
Comments
42 comments posted.
Re: In Shelter Cove

I like stories of ordinary Joe's who become heroes... the mechanic who rescues the heiress. The teacher who overcomes the hitman. Everyone has a streak of hero in them, so I love to see that revealed in the kinds of people I might find in life around me because it makes the story seem more real.
(Donna Holmberg 1:43am May 4, 2010)
It's always fascinating to have an ordinary guy become a hero.
(Joanne Reynolds 6:24am May 4, 2010)
The strong silent type with an edge. An alpha male. :)
(Theresa Norris 7:00am May 4, 2010)
By using an everyday guy, it allows us to realize that we may just have one of those in our lives and not realize it.
(Norma Wills 10:12am May 4, 2010)
Morning everyone - I like the super
alpha heroes, too, but it's fun to take
an ordinary guy and find the hero in
him. Same with the heroine. I
remember a TV show from a while
back The Scarecrow and Mrs. King
where a suburban woman intercepts a
clue on a train and suddenly gets
caught up in a spy game. That was
fun!
(Barbara Freethy 11:14am May 4, 2010)
I think we just saw a ordinary hero in NY. That vendor saved lots of lives. So heroes come every street corner.
(Pat Wilson 11:38am May 4, 2010)
I'm Not sure how I like the hero being an everyday guy in the books I read but I know that thay are out there in life and I love reading about those people in the news but in my books I LOVE the alpha male.
(Vickie Hightower 12:34pm May 4, 2010)
I like the kind of hero who doesn't want to be called a hero.
(Leni Kaye 12:57pm May 4, 2010)
I like it when the "black sheep" become the heroes, they are all tough and rough or come from the wrong side of the tracts. It's like a ha ha in the face of the goody two shoes and they are usually awesomely sexy!!!
(Brandy Blake 1:21pm May 4, 2010)
It all depends on my mood... I enjoy variety... :)
(Colleen Conklin 1:27pm May 4, 2010)
I think the vest stories are about ordinary people who do extraordinary things! Anyone can be a hero or heroine given the right situation and the right attitude, add a little courage and self determination.
(Sandy Fielder 3:25pm May 4, 2010)
I like stories where an average person
gets drawn into a situation of danger or a
case of mistaken identity and finds they
have what it takes to survive.
(Sue Ahn 4:03pm May 4, 2010)
I am certainly looking forward to "In Shelter Cove"!
Blessings,
Marjorie
(Marjorie Carmony 4:28pm May 4, 2010)
I just got an e-mail from a friend and the signature said; Courage is not the absence of fear. It is acting in spite of it. by Mark Twain
(Karin Tillotson 4:29pm May 4, 2010)
Congrats on the new release, Barbara. I do love men in uniform and they do make great heroes in romances because of their honorable qualities.
(Jane Cheung 4:44pm May 4, 2010)
I like men in uniform - firemen, police, etc. Good men doing an amazing job.
(Mary Preston 4:54pm May 4, 2010)
The black sheep turned hero is also a good one. It's like what makes him reckless and bad can make him reckless and good :-) I love men in uniform, too,
don't get me wrong. I've been reading about those Navy Seals for a long time and loving 'em, but I'm glad so many of you enjoy seeing ordinary guys become
heroes!
(Barbara Freethy 4:57pm May 4, 2010)
I agree with Colleen, I like a variety too; that's what makes reading fun. Every book a new adventure. It's neat when the unexpected one becomes the hero
(Barbara Studer 5:00pm May 4, 2010)
I love stories of heroes that have to overcome adversities. This sounds like a book that I would be very interested in reading.
(Cindy Olp 5:37pm May 4, 2010)
Those that live at the beach!
(Shannon Scott 5:53pm May 4, 2010)
Comtemporary romances are my favorite and the every day guy may also be my favorite. I sort of get tired of dukes. I like cowboys and boys next door. LOL
(Gladys Paradowski 6:01pm May 4, 2010)
your book are great and hope to win t he book
(Desiree Reilly 6:11pm May 4, 2010)
My favorite hero is the ordinary guy who is being pursued by a manipulative sultry model type, who resists temptation.
(Cheryl Stillwell 6:37pm May 4, 2010)
Please count me in. I would love to win this book. I did read the first one in the series and am looking forward to the next ones.
(Pat Lieberman 8:12pm May 4, 2010)
Forgot to answer your question. I like all kinds of heroes, especially the tortured hero, bad boy, or old love coming back to town.
(Pat Lieberman 8:13pm May 4, 2010)
I love to read about a hero who is not afraid to express his love and has the courage to follow his beliefs. Congratulations on your new release!
(Rosemary Krejsa 8:43pm May 4, 2010)
I love stories about the
average guy stepping up and
being the "hero". Joe the
plumber, construction workers,
the cable guy. I'm married to
a very average guy, he's a
heating contractor, and he's
my hero every day.
(Lisa Richards 9:14pm May 4, 2010)
I love the average guy who never wanted to be the hero, has a bad reputation but definitely steps up.
(Kai Wong 9:23pm May 4, 2010)
I like a "bad boy" kind of hero who at the end of the book redeems himself.
(Arantza Cazalis 9:54pm May 4, 2010)
I don't have a special kind of hero. I love them all whether they are regular Joe's or spies. Bring em on!
(Cathy Phillips 9:57pm May 4, 2010)
sounds cool cant wait to read it
(Ramona Glass 10:55pm May 4, 2010)
In any genre, I like heroes who are
tortured. They have been falsely
accused, had a great loss, are
struggling to do what is right.
Something is trying to crush their
spirit. They are strong individuals that
are fighting to prove themselves or are
ignoring falsehoods that are trying to
destroy them.
(Patricia Barraclough 11:56pm May 4, 2010)
Thanks for the chat! Hope you'll all check out my two new
books. Happy reading!
(Barbara Freethy 12:02pm May 5, 2010)
Using ordinary guys for hero's makes it believable. My husband has become my hero over the years, he protects me, he saved my life at the hospital = literally - he can do anything.... he's my hero!
(Brenda Rupp 12:22pm May 5, 2010)
I love all types of hero's!
(Tamarak Harris 1:25pm May 5, 2010)
My favorite type of hero is the rancher, the police man, the fireman, the pilot...everyman can be a hero if a situation arises. That's the type I like.
(Patsy Hagen 6:18pm May 5, 2010)
I like guys who have a masculine edge and know wheat they're after. A gentleman who speaks the truth most of the time instead of stretching it gets my vote of a decent civilized person. However when they're rough around the edges, the contrasts and conflicts increase and so does the pace of the story and action they revolve in and around. Like a bull in a china cabinet, the differences make for lively debates.
(Alyson Widen 7:19pm May 5, 2010)
Oops, I meant what instead of wheat in my comments otherwise it seems like cooking up trouble.
(Alyson Widen 7:21pm May 5, 2010)
My hero is an ordinary guy. He is my husband and a Vetnam Vet. He is definitely a hero in my opinion
(Julie Swaney 9:21pm May 5, 2010)
Hello Barbara, Please enter me in your fantastic contest and I love entering and winning contests from FreshFiction.com
God Bless YOU, Cecilia
(Cecilia Dunbar Hernandez 11:02pm May 5, 2010)
Since 911 I really enjoy stories where a ordinary person can reach within themselves and becomes a hero.
(Susan Lathen 10:35am May 7, 2010)
my favorite hero is the guy I married (my husband)
(Kathy Weber 12:04pm May 16, 2010)
Registered users may leave comments.
Log in or register now!