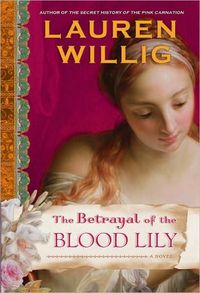 Purchase
The Betrayal Of The Blood Lily
Lauren Willig
Pink Carnation #6
Dutton
January 2010
On Sale: January 12, 2010
Featuring: Penelope Deveraus Staines; Alex Reid
416 pages
ISBN: 0525951504
EAN: 9780525951506
Kindle: B002YEQZZY
Hardcover / e-Book
Add to Wish List

Romance Historical | Romance Contemporary
The heroines of Lauren Willig's bestselling Pink Carnation series have engaged in espionage all over nineteenth-century Europe. In the sixth stand-alone volume, our fair English heroine travels to India, where she finds freedom-and risk-more exciting than she ever imagined.
Everyone warned Miss Penelope Deveraux that her unruly behavior would land her in disgrace someday. She never imagined she's be whisked off to India to give the scandal of her hasty marriage time to die down. As Lady Frederick Staines, Penelope plunges into the treacherous waters of the court of the Nizam of Hyderabad, where no one is quite what they seem-even her husband. In a strange country, where elaborate court dress masks even more elaborate intrigues and a dangerous spy called the Marigold leaves venomous cobras as his calling card, there is only one person Penelope can trust...
Captain Alex Reid has better things to do than play nursemaid to a pair of aristocrats. Or so he thinks-until Lady Frederick Staines out-shoots, out-rides, and out-swims every man in the camp. She also has an uncanny ability to draw out the deadly plans of the Marigold and put herself in harm's way. With danger looming from local warlords, treacherous court officials, and French spies, Alex realizes that an alliance with Lady Staines just might be the only thing standing in the way of a plot designed to rock the very foundations of the British Empire...
Pink Carnation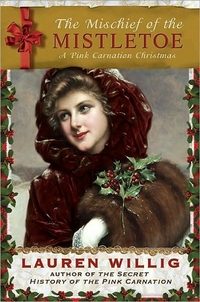 The Mischief of Mistletoe
#7.0
Amazon.com | BN.com | | |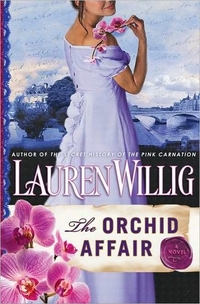 The Orchid Affair
#8.0
Amazon.com | BN.com | | |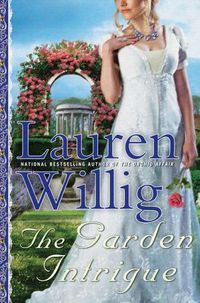 The Garden Intrigue
#9.0
Amazon.com | BN.com | | |
Comments
31 comments posted.
Re: The Betrayal Of The Blood Lily

These books sound so awesome and a great way to spend a snowy day! Escape!
(Joanne Reynolds 2:50pm February 20, 2010)
More books on my "to be read" list.
Geez, if only I didn't have to work for a
living I could get everything read I want!!
(Deborah Lary 4:35pm February 20, 2010)
I don't really go anywhere, except in my mind and that doesn't cost much besides a bit of time. Usually grabbing a book is all it takes and I've got a few tomes going already. Yesterday I wrote a poem about sunsets that was workshopped by 20 and received 8 handwritten suggestions.
(Alyson Widen 4:59pm February 20, 2010)
Snow days are certainly in abundance this winter.
Blessings,
Marjorie
(Marjorie Carmony 5:12pm February 20, 2010)
I don't have to go far. If the
weather is cold I simply curl
up on the loveseat that is in
the room where the woodstove
is and if it's warm outside,
the hammock and MY lounge(no
one else is allowed in it as
it has all the trappings for a
read fest, comfy pillows, sun
glasses, plenty of cold drinks
and extra books). One end of
the master bedroom has not
only a built-in bookcase for
my TBR pile but a comfy sofa
with lots of pillows. My
husband did this for me when
we were remodeling as he said
I deserved a place for ME
time. These corners of bliss
enable me to travel miles and
years away from stress or
worry. Thanks to all the
wonderful writers out there I
can escape for hours at a time
without packing a stitch.
(Lisa Richards 5:14pm February 20, 2010)
Like you, I tend to curl up with a book or three or ten. My comfy spot is my bed.

I just finished the second of the Black Cobra quartet, and am just waiting on the last two of the group. It'll be interesting to see what Ms. Laurens has for us when this series is finished!

I've only had the opportunity to read excerpts of the Carnation series, and have enjoyed them immensely, which of course means that I'll be hitting the bookstore for them at some point in the near future.

More snow is coming down even as I type, and I've got books piled up, begging to be read, so I'm off!

Later,

Lynn
(Lynn Rettig 5:22pm February 20, 2010)
I'm a Florida native & i always dreamed of a snowy day. then one day we moved to Georgia & i got my first taste of real snow boy ways i excited. then later we moved to Colorado & to my surprise more snow. now living here for almost 3 years i'm not to sure i like snow very much. so what do i do on cold snowy days well if i'm not dreaming of my home in Florida i'm in my reading room lounging on the couch rapped in my snuggie, cup of hot chocolate on the side table, reading a hot romance, which by the way warmes not only my soul but my whole self. thats the best escape ever. plus i escape alot of my worries also. my husband would come in the room and tries to tell me something i just say umhum thats good. he shakes his head & walk out. later he tells me you know i can come in the room and tell you i just cut off my pinkie and you would say umhum thats good. thats how rapped up in books i get. lol
(April Kirby 5:37pm February 20, 2010)
We have many snowy days here in Canada, so I look forward to a rainy warm day to read my books.
(Diane Sadler 6:19pm February 20, 2010)
When I need to get away I head for the beach. I love the sand & sea - not too much of the sun. Otherwise I just escape inside a book.
(Mary Preston 6:21pm February 20, 2010)
I have a cozy fireplace in my master bedroom with a soft comfy rocker. It's the perfect place to escape to when the weather is cold and I need to get away from all the noise in the house...and read a few chapters.
(Mitzi Hinkey 6:27pm February 20, 2010)
I curl up on the couch or in bed
with a good book or some
knitting - always works for me!
(Margay Roberge 7:25pm February 20, 2010)
Where do I like to escape too -- usually its just somewhere in my imagination by reading a book, but 2 years ago we went on my dream vacation to Ireland and I would love to escape there again on day. Am definately going to have to check out Margot Adlers Vampire list and finds items I have missed in the wonderful world of the undead. Yes they are one of my favorite forms of reading escapes!!
(Kelly Holt 8:05pm February 20, 2010)
You can never be lonely if you have a good book to read
(Teresa Ward 9:28pm February 20, 2010)
Interesting vampire book list. I need to peruse it more closely for some new books to add to my TBR! :)
(Michelle K 9:48pm February 20, 2010)
Books are always my escape! I like to get a really good one and stay on the couch until the last page is turned. I don't get to do that often!
(Brenda Rupp 9:57pm February 20, 2010)
We even had some snow in Houston, believe it or not, and they say we could get more this week. With February going into its last week, that sounds impossible.
Anyway, where do I go to get away? In books I have traveled all over the world, but, alas, not actually. I do enjoy the backgrounds in the many books I read. I have quite an imagination and I can mentally picture myself visiting all of the places I read about. The book I am currently reading has me in Colorado.
(Gladys Paradowski 11:03pm February 20, 2010)
Our weather leans more towards rain
than snow, but it has the same effect. A
reason to stay indoors and read a book.
(Jung Ja Ahn 11:26pm February 20, 2010)
I love to curl up in the corner of the couch with my dogs on my feet and read. We have been fortunate this year to not have much for winter storm which is fine after the last two hard winters. I am glad you enjoyed your snow!
(Sharla Long 11:37pm February 20, 2010)
Most snow doesn't faze me too badly--unless I need to go out and can't: I grew up in Winnipeg, MB which many people lovingly misname "Winterpeg."

As for the books you've mentioned, I'll definitely pass on the Vampires, but the historicals, especially Lauren Willig's are always on my immediate to-read list. Yes, the Asian locations for books is growing again. They used to be more common in the 1940s to early 1960s and I, for one, am very happy to travel to all the other countries out in the world.
(Sigrun Schulz 12:00pm February 21, 2010)
We have gotten a lot of snow this year and had a snow day recently - so perfect for sitting on the couch under a blanket with a book.
(Pat Lieberman 12:00pm February 21, 2010)
I do much as you did, and open a book in which to be swept away to another country, climate, or world. It helps to be able to snuggle up in a comfy sofa or bed with a warm blanket and a cup of hot tea/cocoa/coffee.
(G. Bisbjerg 12:05pm February 21, 2010)
I go down to the old boat ramp in the town next to mine. It is a tine area right next to the water where I can sit and listen to the water, watch the animals, and simply enjoy being with nature. It's down off the beaten path and not in use since they put the new boat ramp in, so very few people go ther.
(Donna Holmberg 4:00am February 21, 2010)
When I need to get away or just be by myself, I go to my room. No one bothers me when the door is shut. Once there I pick up a book and I am mentally transported to another place.
(Patsy Hagen 1:53pm February 21, 2010)
I love to get a book and throw a blanket over me on the couch and read away.

Would love to win this bundle of books.
(Rose Guardino 2:16pm February 21, 2010)
During winter, I don't really go anywhere, but a cup of hot chocolate and a good book would pass the time.
(Kim C 4:27pm February 21, 2010)
Reading a good book is always a wonderful way to escape the cold and gloom of winter!
(Cheryl Castings 5:27pm February 21, 2010)
These books look good. Always nice to add to my tbr. Always nice to get a surprise pkg of books.
(Helen Livermore 9:51am February 22, 2010)
Please count me in. Would love to win this package of goodies.
(Lynn Reilly 2:31pm February 22, 2010)
In Wisconsin, it's cold a lot. So I always have a book on hand. Books can take you anywhere.
(Tanja Haack 4:48pm February 22, 2010)
We've had lots of snow in PA this year. Normally we lose electricity which is the perfect time to read. I usually cuddle up in bed with a good book and especially when it's cold.
(Jeanne Sheats 6:36pm February 22, 2010)
Where do I go? Ever since I was a little girl when I wanted to go some where I would grab some paper and pencil and start writing. I have been to some amazing places. I also read a lot so there are those places also. But I think some of the greatest times I had was when I was creating them.
I still write all the time and I also read about 5 or 6 bokks a week. What I find so amazing is I can pick up a book I read 3 or more yrs ago and I can still tell you what its about.
I also live in PA so I've had a lot of cold snow days when there was nothing to do.
(Heidi Shafer-Wilson 10:02pm March 21, 2010)
Registered users may leave comments.
Log in or register now!