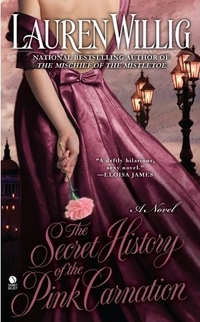 Purchase
The Secret History Of The Pink Carnation
Lauren Willig
Signet Select
October 2010
On Sale: October 5, 2010
Featuring: Eloise Kelly
400 pages
ISBN: 0451413016
EAN: 9780451413017
Paperback (reprint)
Add to Wish List

Everything is coming up carnations in this national bestselling series
Realizing romantic heroes are a thing of the past, graduate student Eloise Kelly is determined to focus on her work. Her first stop: England, to finish her dissertation on the English spies of the Napoleonic Wars, like the Scarlet Pimpernel and the Purple Gentian.
But her greatest conquest is to reveal the most elusive spy of them all, the dashing Pink Carnation. As she does, she discovers something for the history books-a living, breathing hero all her very own...
Comments
11 comments posted.
Re: The Secret History Of The Pink Carnation

Lauren Willig's books are a delight and
I am eagerly awaiting the next book in
the series, The Mischief of Mistletoe,
this November. If you haven't read her
books, then this is your chance t get
caught up before the lates books hits
the shelves.
(Joan Siegel 3:12pm October 12, 2010)
I was kind of wondering which Cambridge she was talking, but I'm guessing it's the original, on the other side of the pond? Especially the one in Massachusetts doesn't have too many cobblestones left!

However, I have read one of the earlier books in this series, and really enjoyed it, and will be picking the others up sooner or later, for future enjoyment!

Later,

Lynn
(Lynn Rettig 3:35pm October 12, 2010)
I've read a couple of her books
and I can't wait to read the
rest!
(Margay Roberge 3:47pm October 12, 2010)
I have a smile on my face from your travels on the tube in grad school. How do you stay upright when the train is lurching? I tend to take a few people down with me, making a soft cushion for my landing. Historical fiction is usually true to the period in dress, traditions and customs.
(Alyson Widen 4:04pm October 12, 2010)
Lauren, I haven't had the pleasure of reading any of your books, but after reading your posting, I am hooked. I can;t wait to get my hands on your books.
(Robin McKay 4:17pm October 12, 2010)
We do tend to make assumptions about the past. That is why I love to hear the not so distant past first hand from those who have lived it.
(Mary Preston 6:12pm October 12, 2010)
Cambridge (MA) was bad enough in the winter; I can't imagine winter in the other Cambridge (University).
(S Tieh 6:32pm October 12, 2010)
I've not read any of her books but would love to! Her books look great!
(Brenda Rupp 10:18pm October 12, 2010)
I am so glad that you went to grad school!! Taking all of that knowledge, and using it with such expression is such a gift!! You have retained so much, and it makes for such interesting reading. Your added touches give it that extra "twist" to keep it anything but boring!! Congratulations, and thank you for deciding on choosing writing as your career.
(Peggy Roberson 11:03pm October 12, 2010)
Great post. Most interesting. "History as
it should have been." It does add
something to historical fiction. I have the
first two books in the series and look
forward to reading them all.
(Patricia Barraclough 11:42pm October 12, 2010)
I have yet to read any of her book but thay look good and I think I'll picking one up on my next trip to the book store.
(Vickie Hightower 4:23pm October 13, 2010)
Registered users may leave comments.
Log in or register now!