Purchase
In Shelly Laurenston?s laugh-out-loud funny, deliciously sexy novel, a shape-shifting Grizzly and a single dangerous feline collide?and discover untamed, unstoppable attraction?
Pride #4
Brava
November 2009
On Sale: October 27, 2009
Featuring: Lachlan 'Lock' MacRyrie; Gwen O'Neill
320 pages
ISBN: 0758231660
EAN: 9780758231666
Kindle: B00QXUXUEY
Paperback / e-Book
Add to Wish List

Romance Erotica Sensual | Romance Paranormal
Growing up on the tough Philly streets, Gwen O'Neill has learned how to fend for herself. But what is she supposed to do with a nice, suburban Jersey boy in the form of a massive Grizzly shifter? Especially one with a rather unhealthy fetish for honey, moose, and…uh…well, her. Yet despite his menacing ursine growl and four-inch claws, Gwen finds Lachlan "Lock" MacRyrie cute and really sweet. He actually watches out for her, protects her, and unlike the rest of her out-of-control family manages not to morbidly embarrass her. Too bad cats don't believe in forever.
At nearly seven feet tall, Lock is used to people responding to him in two ways: screaming and running away. Gwen—half lioness, half tigress, all kick-ass—does neither. She's sexy beyond belief and smart as hell, but she's a born protector. Watching out for the family and friends closest to her but missing the fact that she's being stalked by a murderous enemy who doesn't like hybrids…and absolutely hates Gwen. Lock probably shouldn't get involved, but he will. Why? Because this is Gwen—and no matter what the hissing, roaring, drape destroying feline says about not being ready to settle down, Lock knows he can't simply walk away. Not when she's come to mean absolutely everything to him.
Pride

The Mane Event
#1.0
Amazon.com | BN.com | | |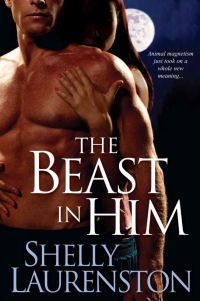 The Beast In Him
#2.0
Amazon.com | BN.com | | |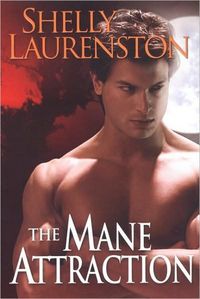 The Mane Attraction
#3.0
Amazon.com | BN.com | | |

Beast Behaving Badly
#5.0
Amazon.com | BN.com | | |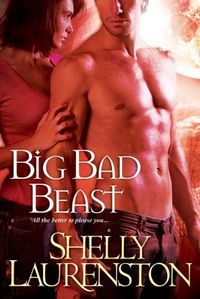 Big Bad Beast
#6.0
Amazon.com | BN.com | | |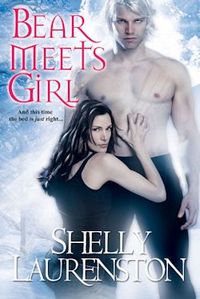 Bear Meets Girl
#7.0
Amazon.com | BN.com | | |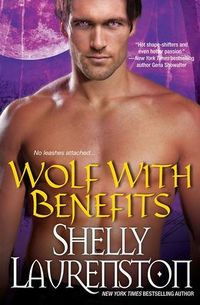 Wolf With Benefits
#8.0
Amazon.com | BN.com | | |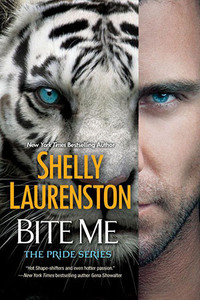 Bite Me
#9.0
Amazon.com | BN.com | | |
Comments
32 comments posted.
Re: The Mane Squeeze

I love these shapeshifters ad the whole series and always recommend them to anyone who asks for books with shifters in them. Congrats to Shelly Laurenston for a great series!
(Diane Sadler 2:54pm October 3, 2009)
I read Vicky Lewis Thompson for fun. I really enjoyed her Nerd books.
(MaryEllen Hanneman 4:25pm February 27, 2010)
I enjoy Shelly Laurenston's work!
(Amber Leigh Williams 5:03pm February 27, 2010)
I just read whenever I have a free spell or to relax. I, too, am thrilled finding new authors and stretching the genres.
(Alyson Widen 5:04pm February 27, 2010)
broke my ankle need books bad!
(Debbi Shaw 5:08pm February 27, 2010)
Thank you for your post, Sara.

What do I read for "work"? I'm studying Spanish, so I'm reading "Spanish for Beginners" by Charles Duff. Plus, as research for a fiction project, "The Psychic Detectives: The Story of Psychometry and Paranormal Crime Detection" by Colin Wilson; and, in the field of general skills for living, "How to Stop Worrying and Start Living" by Dale Carnegie, whose works have helped me and many others immensely.

For fun, I typically read whatever I'm in the mood for at the moment. And right now I'm in the mood for something futuristic.

I'm reading two books; one is a sci-fi novel from 1981, "The Path of Exoterra" by Gordon McBain, which I've read a few times before. I highly recommend it for readers who are good are finding out-of-print titles, and enjoy science fiction with the emphasis on adventure and wonders rather than violence and brutality.

The other is a Dorchester futuristic romance, "A Distant Star" by Anne Avery. It was published in 2004, but I bought it new just yesterday. I'm only a few chapters into it, but I'm hooked by this example of imaginative sci-fi combined with out-of-the-box romance.

In a few weeks I might be in the mood for a dramatic contemporary romance. Or a colorful historical romp. Or a really weird fantasy. Or a gripping romantic suspense novel. Or a hilariously funny read in any genre.

All I can say for sure is I'll check with "Fresh Fiction" to see what's happening in popular fiction. Keep up the good work!
(Mary Anne Landers 5:30pm February 27, 2010)
I definitely have my "brain candy"
books and not so easy reads.
Historical fiction is my brain candy - I
love Julie Garwood and many of
Catherine Coulter's!

For the hard reads, I like books with
elements of history, like Steve Berry's
The Alexandria Link.

And then there are my middle of the
road books, which are romantic
thrillers or suspense by authors like
Linda Howard and Carla Neggers.
(Molly Wilsbacher 5:38pm February 27, 2010)
I have an eclectic taste in books so that covers work & fun well. I love biographies.
(Mary Preston 5:59pm February 27, 2010)
I'm one of those who would read the back of the cereal box if nothing else is available. Since I'm also a student, my "work" reading tends to be text books, which are sometimes VERY difficult to slog through. That's why my "fun" reading tends to be all over the map. About the only thing I don't read is classic Westerns (Louis L'Amour & co.), and some of the sci-fi genre. These just don't appeal to me very much. (I prefer the sci-fantasy a la Anne McCaffery better than sci-fi.)

Otherwise, if it has an interesting blurb and cover (not quite as necessary as the blurb), I'm likely to read it!

Later,

Lynn
(Lynn Rettig 6:31pm February 27, 2010)
I read a bit of everything. I love humor, travel topics, gardening, romance, you name it. I love fiction, but prefer the plot be realistic. I want the characters to be real people. I keep a book going all the time.
(Gladys Paradowski 6:54pm February 27, 2010)
What would we do without you authors!
Blessings,
Marjorie
(Marjorie Carmony 7:03pm February 27, 2010)
Shelly Laurenston is one of my faves! Love both the Pride and Pack series. Paranormals are my "for fun" read.
(Michelle K 7:59pm February 27, 2010)
Since we are snowed in here right now (in the last week we have gotten 47" of snow and they say we will be getting more Tues into Wed - so far only 2-4" predicted) I have been reading up a storm (pun intended).
(Ethel Culp 8:01pm February 27, 2010)
would love to win
(Catherine Myers 8:36pm February 27, 2010)
For fun, I just read whatever strikes my fancy at the time. For non-fun reading, DIY home repairs and retirement preparation books.
(G. Bisbjerg 10:13pm February 27, 2010)
My work reading is usually the news or updates in my profession. When I have finished the list of my favorite reads I am willing to explore and find something new. I too, like when I find someone new I can add on to my "favs" list.
(Sara Edmonds 10:31pm February 27, 2010)
Reading is for pure entertainment.
(Jung Ja Ahn 11:17pm February 27, 2010)
My work reading is updated material for my job and sometimes "how to" books. For fun I read romance, fantasy, action adventure, young adult/childrens books, or whatever strikes my fance at the time. Right now I'm reading Dime Store Magic by Kelley Armstrong.
(Kerry Shaw 11:52pm February 27, 2010)
I love Shelly's writing! She's
definitely in the read-for-fun
category! I never enjoyed the
reading for school I had to
do--engineering texts never
held my attention in quite the
same way!
(Fedora Chen 1:07am February 28, 2010)
Like most of the commentors I just plain love to read! Books, books books! Always take a book with me..never bored when I'm in any kind f line. Can't tell you how many people would say to me.."I wish I'd thought to bring my book!" AND the comments regarding the different authors & stories are varied. It makes me smile to share what I, or they, think of a book or an author. Shelly's book sounds like a fun read. I do make myself read something that is not entertaining once in a while, but it is hard! We are blessed with a lot of writing talent!!
(Jean Merriott 2:50am February 28, 2010)
Well not really for work, but for "how to" is my camera guide or photography book and/or photoshop books, as for "fun" reading -- I enjoy ALL types of book from childrens (not just for my kids) to high fantasy and most anything in between, except westerns --never really fit with me. I probally own too many coffe table books just to look at pretty pictures too!!
(Kelly Holt 6:47am February 28, 2010)
Whoops, I entered the wrong site for the bundle of books contest - cannot have that. LOL.

There are so many books coming out, how can we ever keep up? It is fun trying tho'. Thanks for offering these bundles. Maybe one day I will be lucky enuf to win one.
(Pat Lieberman 9:24am February 28, 2010)
I'm an at home mom, so my reading is usually the books my daughters get assigned for English class. I read their books with them, so I can help with homework and have intelligent answers. For fun, I read anything and everything. I love historical non-fiction; I love paranormal romance; sci-fi and young adult. I was pretty excited to introduce the twilight series to my daughters long before anyone cared about sparkly vampires.
(Tanja Haack 9:59am February 28, 2010)
For work, I keep up with legal contact info for Real Estate...not fun, but necessary.

For fun, I read romance novels. I just discovered Shelly Laurenston's and am enjoying her books immensely!!!
(Mitzi Hinkey 10:59am February 28, 2010)
I forgot to mention what I love to read: I love straight contemps - waiting for the Next Virgin River book to come out in a day or two - love that series. Am a big fan of series books. Love Susan Mallery, Rachel Gibson, Jill Shalvis and many many more. Just picked up the latest contemp Janet Chapman book.
(Pat Lieberman 1:41pm February 28, 2010)
I'm currently reading for work/fun, The Feckin' Book Of Everything Irish right now. Trying to do a little research for my upcoming trip to Ireland in September. Also watching some online reading courses as well.
(Kate Mobley 2:04pm February 28, 2010)
I am retired now, so I no longer read anything remotely related to "work." Now, I just entertain myself by reading romances! I read historical and contemporary romances.
(Cheryl Castings 3:08pm February 28, 2010)
Work Stuff - I read a lot marketing materials as well as design and development techniques and tips.

Fun Stuff - Any and all romance :).
(Pamela Sinclair 5:46pm February 28, 2010)
Lots and lots of romance, especially historicals, for pure enjoyment; work-wise, not worth mentioning! :)
(Eva Minaskanian 8:00pm February 28, 2010)
I never read anything for work unless I' made to; however I do love Shelly Laurenston, Cynthia Eden, Janet Evanovich, JD Robb. Linda Howard and many more.
(Diane Sadler 9:29pm February 28, 2010)
I read for fun. If someone would pay me to read what I like to read then maybe we could work out a deal. But just for now I read for me!
(Lisa Glidewell 11:08pm February 28, 2010)
I was a children's librarian until a
week or so ago. I found myself
reading junior, middle school and YA
books just to keep current with what
was out there. I also did deliveries to
seniors, so was checking out authors
they might like. Then I was in charge
of the library book club so was
reading and selecting books for that.
Now I am going to be able to attack
my TBR pile and read something for
me. Not that I didn't enjoy the kids
books. I'm actually working on three
series I started in both J and YA. I'm
currently reading MOST LIKELY TO DIE
by Lisa Jackson, Beverly Barton and
Wendi Corsi Staub. Next will be an
historical romance.
(Patricia Barraclough 1:03am March 1, 2010)
Registered users may leave comments.
Log in or register now!