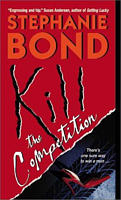 Purchase
There's one sure way to win a man...
Avon
November 2003
Featuring: Belinda Hennessey
384 pages
ISBN: 0060539836
Paperback
Add to Wish List

Good girls finish last...
That's Belinda Hennessey's new philosophy in life, work, and love after moving to Atlanta to escape a disastrous six-hour marriage. Now she has a killer job, spunky carpooling gal-pals, and the velvety voice of a traffic helicopter reporter to guide her on her way. She's even feeling lively enough to contribute to the manual on relationships and men her friends are writing to kill time during their commute.
But then a traffic mishap with a drop-dead gorgeous cop unleashes a series of events that bolsters Belinda's new bad-girl attitude -- she gets a tune-up from "Officer Goodbody," catches the eye of the throaty traffic reporter, and is targeted for a big promotion. But before Belinda can say "corner office," a coworker is murdered, and evidence points to a carpool conspiracy! With a killer on the loose, her friends at one another's throats, and two men offering southern comfort, Belinda knows only one thing for certain: climbing to the top can be murder on a girl.
Comments
1 comment posted.
Wow...your book sounds really good.
(Patsy Hagen 3:00pm May 19, 2009)
Registered users may leave comments.
Log in or register now!