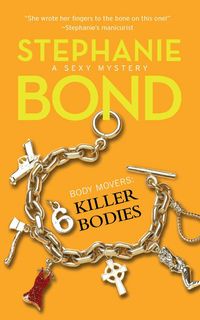 Purchase
The Charmed Killer continues to stalk Atlanta, leaving a charm in the mouth of each of his victims.
Body Movers #6
MIRA
June 2009
On Sale: June 1, 2009
Featuring: Wesley Wren; Carlotta Wren
320 pages
ISBN: 0778327078
EAN: 9780778327073
Mass Market Paperback
Add to Wish List

Carlotta Wren's world is crumbling beneath her well-shod feet. One of her closest friends has been arrested as the Charmed Killer, but Carlotta refuses to believe it. And to prove her friend's innocence, Carlotta goes against her boyfriend Peter's wishes and resumes her after-hours body- moving duties. And then…
Peter pressures her for an answer to his proposal…
Her troubled brother Wesley goes missing…
And the madman stalking the city strikes again, this time a little too close to home.
But when Carlotta finds herself in the clutches of the Charmed Killer, is she destined for her own body bag?
Comments
10 comments posted.
Re: 6 Killer Bodies

So needed this! When facing a deadline it's hard to remember that working out and cooking healthy foods is just as important as meeting that wordcount!
Eileen Andrews
www.eileenandrews.com
(Heather Rosman 12:49pm May 12, 2009)
Thanks for the suggestions!
(Shannon Scott 12:56pm May 12, 2009)
Congratualation on all you have accomplished this past year. Since I retired I found that the days I go to exercie I get more done than the other days. I think just getting moving really does help. As for the coloring books, our daughter just graduated from law school on Sunday. Two of the gifts she got were a big box of crayolas and a coloring book. She also got at bag a large rubber bands that she can use for target paractice or make a rubber band ball according to the giver.
(Karin Tillotson 2:02pm May 12, 2009)
When I'm under too much pressure for a deadline, I clear the deck and concentrate for hours. Then, for relief, I take a walk. Being out in nature gives me new perspective and a welcome break. It's energizing and calming at the same time. It's easier to go back and do more after being around the sound of water like at a waterfall or mall with fountains.
(Alyson Widen 6:28pm May 12, 2009)
These suggestions are what we need to make our lives productive as well as helping us develop a healthy life style.
(Rosemary Krejsa 8:36pm May 12, 2009)
Good list! We all know what we should
do, but doing it is so hard. Your
comments on deadlines are so true.
Amazing how we get more done the
last day or two before something is
due than we do the weeks prior.
Enjoy your rest.
(Patricia Barraclough 10:52pm May 12, 2009)
Wow Stephanie, you have had a killer year. Your tips are great for anyone to follow. I look forward to your new releases.
(Robin McKay 12:08pm May 13, 2009)
What a great year you have had...so far! I love your Body Movers series, have read them all so far just waiting for number 6 to be released. I love ,love, love these characters! Thanks so much for a great read.
(JoAnn White 4:03pm May 13, 2009)
I love your book and this one sounds very very good..cannot wait to read it.
(Patty Rosellini 6:05pm May 16, 2009)
Wow...you have been busy! Thanks for having the energy.
(Patsy Hagen 1:46pm May 19, 2009)
Registered users may leave comments.
Log in or register now!