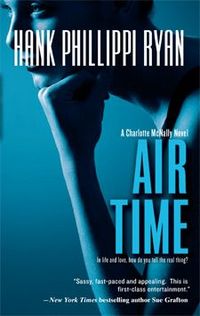 Purchase
In life and love, how do you tell the real thing?
Charlotte McNally #3
MIRA
September 2009
On Sale: September 1, 2009
Featuring: Charlotte McNally
288 pages
ISBN: 0778327191
EAN: 9780778327196
Mass Market Paperback
Add to Wish List

Star reporter Charlotte McNally enters the glamorous and high-stakes world of high fashion...and soon discovers when the purses are fake—the danger is real.
To break her latest big-money blockbuster, Charlotte must go undercover—but what if the bad guys recognize her? This savvy TV journalist must face more than her fear of flying when her inside scoop on designer duplicates suddenly turns deadly.
Carrying a hidden camera and dressing to deceive, Charlie finds she's not the only one disguising her identity. Nothing...and no one...is what they seem. And that means nothing...and no one...can be trusted. In her high-risk job and in her suddenly steamy love life, how can she tell the real thing?
Charlie is forced to make some life-changing— "and life and death" decisions. With only a split-second to act and with her own life in the balance, Charlie knows if she chooses wrong it will be the last decision she ever makes.
Comments
33 comments posted.
Re: Air Time

Hi everyone! Do you think I should show Jonathan this post?

And I'm so eager to hear your stories! Let me know how you met your true love...or is that still to happen?
(HAnk Phillippi Ryan 12:58pm August 25, 2009)
I hope its still to happen because I have not met the man for me yet.he would have to be something diffrent because I'm not the normal run of the mill girl I have strange taste in books and movies.more sifi tipe of stuff with some paranoramal mixed in well I hope he's out there the guy for me.
sasluvbooks@yahoo.com
(Stacey Smith 3:41am August 25, 2009)
Wow, it was hard to actually get to this blog- the link in the contest page didn't work- Hank, I just sent u a fb friend request- I REALLY want to read your stuff- the other authors on my fb will tell you how I read my library bare before I can resort to actually Purchasing books (am writing one, and editing a first acceptance at EC) so am busy - but your work as I've read it here calls my name- I do hope I win but if not, well Amazon, here I come- and the library will get an earful from me to get your back releases! cya soon I hope,
MariElle Betz
(Maribeth Curry 4:50am August 25, 2009)
Yes, totally show it to Jonathan. I met
my husband while I was still in high
school. He is 7 years older than me
and worked for my dad. I used to
have to go hang out at my dads
company because I was always in
trouble and that is where I spent my
restriction. I was dating someone else
and after two years, after I graduated,
we ended up dating and now we have
three teen age daughter.
(Val Pearson 7:02am August 25, 2009)
What a neat 'how I met my love' story'! And I love the idea of "You Never Know" Day. My husband and I met by chance, 18 years and now two kids ago!
(Kara Conrad 7:21am August 25, 2009)
Congratulations on your anniversary!

I met my husband in college while dating his best friend from High School. Many random events led up to us meeting. He knew when we first met that he wanted me. I took a little more convincing. Although, he claims he stood still until I caught him. :-) Yes, show your honey your post!

My friend collects Louis Vuitton bags. Anytime someone comes across what they think is a fake, they give it to her for her collection. She doesn't understand. Why would she want a fake when she has the genuine bag?
(V Scott 10:40am August 25, 2009)
Congratualtions to you and Jonathan for finding each other! Not everyone is so lucky to meet their soul mate. I wish you both the best.

The book looks phenomenal by the way. Look forward to reading it!
(Freda Mans-Labianca 11:25am August 25, 2009)
I recently read Prime Time and enjoyed it, looking forward to reading more! Still looking for that someone special.
(Teresa Warner 12:25pm August 25, 2009)
I look forward in reading your works!
(Tracey Dent 1:12pm August 25, 2009)
I met my husband on December 26 1997 in person after meeting him online through match.com months before. It was really love at first sight for us, I tell everyone he came over and never went home! We married on September 26, 1998 so you can see we really didn't know each other very long before we decided to marry. We've gone through a lot of ups and downs, a lot of downs as I've had a lot of surgery's but he's always been there right by my side as I've been with him through two long stints unemployed. He really is my life partner and I know he feels the same way about me. He tells people, in front of me and when he is on his own, that I'm the nicest person he's ever met. How can you not love a guy like that?
(Brenda Rupp 1:34pm August 25, 2009)
I loved Prime Time and Face Time and am looking forward to Air Time.
(G S Moch 1:34pm August 25, 2009)
congrats ! My hubby and I didn't fall in love at first site . It was a long distance relationship for a while. He lived in NC and I in AR. We met on the job. and he traveled a lot for his job.
I knew it was the real thing when he asked me to move to NC with him. we have been together for 12 years.
(Jennifer Brady 1:41pm August 25, 2009)
This book sounds good. Can't wait to read it
(Jenny Ng 1:59pm August 25, 2009)
I love the idea of a "You Never Know Day"...
(Shannon Scott 2:50pm August 25, 2009)
Hi, Hank, I thought I met "the one" before, but his addictions ended that relationship some time ago. Still, I don't regret it because I got two wonderful benefits out of the deal - I call them Leah and Marissa and they are my life. I love your story about Jonathan; he sounds like a wonderful guy.
Margay
(Margay Roberge 3:44pm August 25, 2009)
I love that you and Jonathan celebrate "You Never Know" Day. Unfortunately we are always expecting something bad not the opposite. I am anxious to read your new release. I loved the previous books. Congratulation!
(Rosemary Krejsa 4:18pm August 25, 2009)
I was fifteen, he was eighteen, and we met at a movie theater thirty-five years ago. We've been together ever since. It's funny, My friends and I had never been to this theater but it was showing a triple feature horror show, so we thought what the heck. 3 nice looking young guys sat behind us and my love-to-be wore a brown suede hat, jeans and a t-shirt, I think. For some reason I remember that hat and how handsome he looked in it. He told me later, they had never been to that theater either. I think it was fate that brought us together. We married young, a year after we met, raised 4 children. With our youngest now in college, we're empty nesters enjoying the next stage, our 4 (so far) grandchildren.
(Theresa Buckholtz 4:49pm August 25, 2009)
I met the love o' my life when I was solicting donations for a charity auction.
(Amy McGavock 5:30pm August 25, 2009)
I met my husband after an open air rock concert, hanging around and enjoying the splendid nighttime.
We are married for 20 years this year. Time passed so quickly.
(Fanny Vanwinge 5:42pm August 25, 2009)
I met my husband in a bar 33 years ago and been though there have been ups and downs we are still happily married; my daughter asked me how I knew he was the one and the only answer for her that I had was: I just knew
(Diane Sadler 7:57pm August 25, 2009)
I met my husband at work. We were in different departments but enjoyed chatting and chuckling together. It wasn't a far stretch to take it out of the office and to become involved. There wasn't any question that we were serious about each other from the get-go.
(G. Bisbjerg 9:40pm August 25, 2009)
What a beautiful story of how you met your husband.
(Linda Henderson 12:21pm August 26, 2009)
Awesome reading
(John Caldwell 12:29pm August 26, 2009)
I met my husband in high school over 30 years ago. We have been married for almost 26 years now and have two wonderful sons.

I can't wait to read your books.
(Robin McKay 10:25am August 26, 2009)
OH, I love these. And I do think they would all be wonderful scenes in a romance novel--maybe I should think about using them in my next Charlotte McNally mystery. :-)

Do you think real life is as romantic as fiction? I do!

Let's hear some more how-we-met stories! It's so--inspirational!

And yes, Fanny..time does go by so quickly...

(ANd thank you all for for the kind words..I do hope
you love the books! Let me know, okay?
(HAnk Phillippi Ryan 11:10am August 26, 2009)
I really think your husband would enjoy your post. So show him!

I met my husband online, chatted for a month or so then met in person. He moved in the next day! We have been married for 8 years now.
(Shay Williams 1:15pm August 26, 2009)
Loved your "how we met" story. I met my husband while being set up at a happy hour to meet another guy. We've been together 11 years.

Can't wait to read your books - you're a new author to me and am glad I have more books to add to my TBR pile.
(Josie Roetemeyer 1:38pm August 26, 2009)
I met my husband while I was on holiday in Istanbul, Turkey. Thing is...I'm British and he's German...lol!!

We live in Germany now and have been going for 31 years and have eleven children!!
(Valerie Bongards 2:05pm August 26, 2009)
Hopefully today IS my You Never Know Day! I thougth I had found "the One", but, I was very wrong. Can't wait to read this series!
(Kelli Jo Calvert 4:51pm August 26, 2009)
I meet my hubby in a bar through a mutual friend. Have a great day.
(Roberta Harwell 7:09pm August 26, 2009)
Congratulations on your new release.
I'm sure it will do well.
I met my husband in high school
chemistry class. I'm sure I had other
classes with him, but that is the only
one I remember. He moved the end of
that year and we wrote a few times
every year. We were just friends (I was
one of the guys and wrote to several of
the guys who moved - their dads were
stationed at the nearby Air Force
base). After college, I went into the
Peace Corps for 3 years and he joined
the AF. When I came back to the
States , I stopped at a base in CA to
visit a cousin and recover from jet lag
before heading home to NY. He was
at that base and we met for dinner
with my cousin and her husband. I
returned to the Philippines to finish
my Peace Corps stint. He showed up
for the town fiesta 5 months later and
asked me to marry him. We had never
dated and only seen each other 5
times in 7 years. I couldn't think of a
good reason to say no, so when I got
back to the States, I said yes and we
got married about 9 months later (a
six month tour in Viet Nam got in the
way). It was a good choice, we
celebrated our 37th anniversary this
past June, have three great children
and a wonderful grandson. We were
friends first and I think that is very
important for marriage. Being "in
love" but not friends isn't as sound a
basis for a lasting marriage.
(Patricia Barraclough 8:20pm August 26, 2009)
I'm still waiting, but I certainly loved your story. Congratulations to all of you who've had a happy ending.
(Sigrun Schulz 9:58am August 27, 2009)
I have decided that "you never know day" had better stay away from me. With the kind of luck I have, I'll probably crash into his car and he'll hate me for life! LOL!!
(Scarlet Wharton 4:47pm August 27, 2009)
Registered users may leave comments.
Log in or register now!