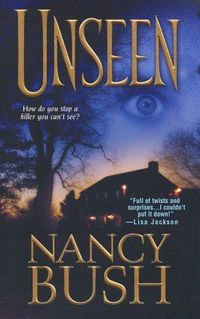 Purchase
How do you stop a killer you can't see?
Zebra
April 2009
On Sale: March 31, 2009
Featuring: Gemma LaPorte; Will Tanninger
384 pages
ISBN: 1420103407
EAN: 9781420103403
Paperback
Add to Wish List

She Woke Up With No Memories…
She wakes up in a hospital room...bruised…bloody...confused. She knows her name is Gemma La Porte—but that's all. She doesn't remember smashing her car. She doesn't remember anything from the last three days. But a policeman, Deputy Will Tanninger, is waiting for answers and wants to know if she's responsible for a fatal hit-and-run…
But Remembering Her Past Could Kill Her…
Hoping to restore her shattered memory, Gemma has no choice but to put her trust in Will. But if it turns out she's guilty of murder, he has no choice but to arrest her. Torn by her growing feelings for Will, and haunted by her shadowy past, Gemma is determined to learn the truth. But, in this case, the darkest truths are unknowable—and the deadliest enemies are unseen…
Comments
7 comments posted.
Re: Unseen

Tanzey Have a hoppy, hoppy Easter.
(Susan Lathen 1:28am April 4, 2009)
Our daughter was born on my mother's birthday - and they celebrated together for 27 years!
(Karin Tillotson 1:24pm April 10, 2009)
My grandson was just born on March 13. Although he doesn't share anyone else's birthday in the family, his special day is definitely unique as this year, it fell on a Friday! Must mean lots of luck for the little guy.
(LuAnn Morgan 1:29pm April 10, 2009)
I have been reading yours and Lisa's books since your first Silhouette. Loved you then, and love you now. There has definitely been a change in voices for both of you!

Your granddaughter is beautiful. You're lucky that you can be with her so much.
(Betty Cox 1:42pm April 10, 2009)
We all have our own birthdays, but our
first daughter was born the day
between my mother's and her mother's
birthday - Nov. 7,8,9. Our son was
born the end of Nov. as were my
fraternal grandmother and my
husband's mother- 25,28,30. Was
going to say November was a busy
month, but in reality February was.
Which is odd, because our other
daughter was born Feb. 15 (know
when that happened - her dad came
home from 3 months overseas).
Only have one grandson. He is
great, but I want granddaughters to do
things with.
Good luck with your "solo" career. It
has gotten off to a good start.
(Patricia Barraclough 3:46pm April 10, 2009)
I love thrillers;)
(Bridget Hopper 10:09pm April 11, 2009)
Have a great Easter! Thanks for the huge list! I love it!
(Cathie Morton 2:32am April 12, 2009)
Registered users may leave comments.
Log in or register now!