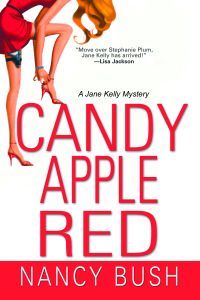 Purchase
Jane Kelly #1
Kensington
September 2006
Featuring: Jane Kelly
320 pages
ISBN: 0758209061
EAN: 9780758209061
Paperback (reprint)
Add to Wish List

Jane Kelly is through with following men anywhere. Last time she did, she left Southern California for the dubious charms of Lake Chinook, Oregon, where she's traded in bartending for the much more glamorous trade of process serving. (Well, she can tell herself it's glamorous, anyway.) And the boyfriend, of course, is long gone.
So she's thirty, she's single, she's living in a town where fishing is more important than fashion, and one of her closest friends is an "information specialist"—which is a fancy way of saying private detective. Odder still, she's been helping him out, which makes the criminology courses she took a few years back with her ex at least worth the tuition. She's not making any lifetime commitments, but when Portland divorce attorney Marta Cornell calls with a P.I. job, the money involved sounds like the answer to her dwindling bank account—until she learns Tess Bradbury wants her to investigate the disappearance of Bobby Reynolds.
Four years ago, without warning, Bobby murdered his young family and promptly vanished. No one disputed that he'd slaughtered his own flesh and blood except Tim Murphy, his best friend—and Jane's ex, the one guy she's never quite gotten over. The murders had driven a wedge between him and Jane, and finally drove him right out of town. Now he's on his way back, to attend a Lake Chinook Historical Society benefit that Cotton Reynolds, Bobby's father, is hosting.
Every alarm bell in Jane's head is clanging, but before she can say "Not on your life," Marta has convinced her to accept Tess's assignment—an interview with Tess's ex- husband, Cotton, who she believes has been in contact with Bobby. It looks like Jane's going to be following men around again—this time with a tape recorder and a camera.
To top it off, an only vaguely remembered aunt has left her a homely pug named Binky and her mother is once again threatening to head north and settle in Oregon. With a brand-new job she's learning as she goes along and the man who broke her heart into a million pathetic little pieces back in town, Jane's life just went from stress-free to completely stressed-out. And that's before she finds the dead body in the lake…
Comments
No comments posted.

Registered users may leave comments.
Log in or register now!