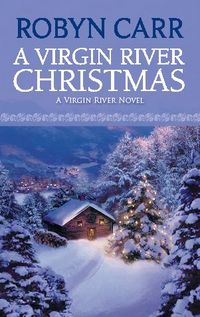 Purchase
A Virgin River Christmas
Robyn Carr
The holidays are sweeter in Virgin River
Virgin River #4
MIRA
November 2008
On Sale: November 1, 2008
Featuring: Ian Buchanan; Marcie Sullivan
384 pages
ISBN: 0778325733
EAN: 9780778325734
Mass Market Paperback
Add to Wish List

Marcie Sullivan said a final goodbye to her husband Bobby last December. This Christmas she makes the trek to Virgin River to find the man who saved Bobby's life and gave her three more years to love him.
Ian Buchanan was a fellow marine and the man who dragged Bobby's broken body onto a medical transport in Fallujah four years ago. As soon as their unit arrived Stateside, Ian disappeared, and Marcie's letters to him have gone unanswered.
Tracking Ian to the tiny mountain town of Virgin River, Marcie finds a man as wounded emotionally as Bobby was physically. Never one to back down from a challenge, Marcie pushes her way into Ian's rugged and reclusive life and discovers a sweet but damaged soul.
Confused by the determined young widow who forces him to look into his painful past and his uncertain future, Ian begins to think that maybe it's time to banish the ghosts of his past and open his heart.
Videos

Robyn Carr's Virgin River Research Video
Comments
15 comments posted.
I just finished Just over the Mountain by Robyn Carr. I love this series. Now I am addicted and have to get the Virgin River series :)
(Kim Atchue-Cusella 6:31pm October 26, 2008)
I have read all of them but didn't keep them but after looking at the new covers Im very tempted to buy them again..they were an awesome read..
(Patty Rosellini 6:33pm October 26, 2008)
I buy lots of books taht I already own because the cover's been reissued and I don't remember I already own the book. lol I know...I need a better system! But I'm such a sucker for great books...AND great books with awesome covers!
(Jaci Burton 6:53pm October 26, 2008)
I can guarentee that the Virgin River
books have great covers and
inbetween the covers great stories.
However I do know that the new Grace
Valley books have great covers, but no
clue as the story. I haven't read them
yet!

Thanks to all who commented!
(Sandi Shilhanek 6:56pm October 26, 2008)
I buy extra copies of books (probably more often that I realize-I'm fairly clueless about what all is in my TBR stack) simply because I forget what I've already read. Also, I've found myself re-buying books because they're being re-issued. If it's been a while since I've read the book, and it's by an auto-buy author I tend to buy the book. (Which makes me mad because I have a limited book budget. I have to get into the habit of checking publication dates before buying the books)
(Erin Suitor 7:23pm October 26, 2008)
If I have more than one copy of a book, it's because I didn't realize I already bought it. I've never bought re-issued ones, though, unless it's for a book I didn't get when the original was released.
(Yvonne Hering 8:15pm October 26, 2008)
Great blog, Sandi! The only time I'll buy a book I've already read is if the one I read was an arc.
(Laurie Damron 9:43pm October 26, 2008)
Congrats on buying books to keep! I do know your history, and this is definitely a first for you. I have a coworker like that -she has only a few books she's ever kept. Of course, she has been known to buy books she knows I have (ie Nora Roberts). I have only bought books again because I've forgotton I've already bought it. Every now and then I've been tempted to rebuy because of covers, but not too often. Now, on the other hand, I've bought books because there's a hot guy on the cover - and it doesn't matter what the blurb says!
(Amanda Reeder-erdly 10:46pm October 26, 2008)
I have bought all the Grace Valley books and will be reading them one right after the other. I did the same thing with the VR series. These books will be passed from me to other family and friends who I have who I have turned into Robyn Carr lovers.
(Kathleen O'Donnell 11:40pm October 26, 2008)
These have been some very interesting comments, and are proving my thoughts to be somewhat wrong. I really thought more people purchased books over and over to have all the different covers and editions. I'm seeing that the book buying dollar is a being used a bit more frugally than that.

I have a lot of autographed books, but they're buried in my regular book pile. Maybe I need to find some time to reorganize and proudly display them especially when they're as beautiful both inside and outside as the Virgin River and Grace Valley books.
(Sandi Shilhanek 9:30am October 27, 2008)
I love her books and I am looking forward to reading the Christmas one. Great post Sandi!
(Joy Hoormann 1:09pm October 27, 2008)
I can't wait to try these books, I'm going to make a trip to the bookstore this week.
(Ronica Rainge 1:15pm October 27, 2008)
Hi Sandi,
Although I am a keeper of a lot of books I don't buy reissues just to have every cover! That said I have had a book given to me that I already had & I have bought a book again because I didn't realize I already had it or read it!! Now that I keep track of what I read it is easier to not duplicate. I've also learned to check the issue date in a book, if it is a reissue I am unaware of the orginal issue date is there!
Great subject/blog for this week.
(Donna McClure 11:35pm October 27, 2008)
For those who haven't read the Grace Valley and Virgin River series yet, the Grace Valley series is not hot but the Virgin River series is. I love both series and the Christmas in Virgin River book.There will be three more Virgin River books coming out in the spring of next year. What will I read in the mean time? Needless to say, I love those books.
(Louise Jacobson 2:44am November 1, 2008)
I have not read these books, but am very anxious to. They sound so very good and I love books with a series to go with them.
(Sharon Baker 1:53pm December 2, 2008)
Registered users may leave comments.
Log in or register now!