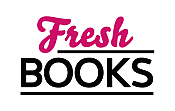 Summer Reads are HOT in July!
Patricia Salcedo
https://twitter.com/PashaCarlisle
Formerly Fresh Fiction's Features Editor, Patricia (sometimes called "Pasha") now writes columns and event recaps for Fresh Fiction in addition to her full-time church job. Patricia puts her BA in English from University of North Texas to work by either writing on or editing every page put in front of her. The adventures in her middle grade work- in-progress find their way onto every journal, Word document, or napkin she owns, and she hopes they will one day find a home in the hearts of young readers. To connect with Patricia, follow her on Twitter, become her friend on Facebook, or drool over desserts with her on Pinterest.
Features & Posts