"Watch your children..."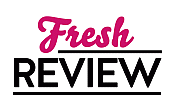 Reviewed by Sharon Salituro
Posted May 7, 2019

Toni is in the process of starting her life over after her husband Andrew was killed fighting in the war. Now living in a new town, Toni and her daughter Evie are closer to Toni's mother, but even with family nearby, Evie is not happy and just wants to go back to their old home so she can see her friends.
On occasion, Toni takes a pill to help her get through the day and to sleep at night. The pill causes her to fall into so deep a sleep that Evie can't wake her up. Because of this, Toni decides to stop taking the pills and finally find a decent job. She applies for one that she overqualified for, but she gets it and is happy to have some stability. She quickly becomes friends with a co-worker named Jo. Meanwhile, Evie has become close with one of her teachers named Harriet. Harriet is easy for Evie to talk to, and she opens up to Harriet about her family, which instead of making Evie feel better, it just make her feel sad.
One day, Toni is running late, so she calls Jo, leaving a message to see if she can pick up Evie from school. She doesn't hear from Jo but assumes she will get Evie. With no response, later on, Toni goes to the school only to find it is locked and no one is around. She heads home, expecting to find them there. But once she arrives at their house, Evie and Jo are nowhere to be found...
Three years later, Toni is still devastated from her daughter's disappearance... but things are about to be revealed. Will Toni find out the truth?
Wow, is what I can say about Blink by K.L Slater. This book had me on pins and needles. Several times I really thought I had it figured out, but boy was I wrong. To me, this shows what a wonderful suspense writer Slater is. This book does go back and forth between the present and three years ago, but I didn't find this to be confusing. Blink is a great suspenseful novel.
Learn more about Blink
SUMMARY
What if the person you love most in the world was in terrible danger … because of you?
Three years ago, Toni's five-year-old daughter Evie disappeared after leaving school. The police have never been able to find her. There were no witnesses, no CCTV, no trace.
But Toni believes her daughter is alive. And as she begins to silently piece together her memories, the full story of the past begins to reveal itself, and a devastating truth.
Toni's mind is trapped in a world of silence, her only chance to save herself is to manage the impossible. She must find a way to make herself heard. She must find her daughter.
---
What do you think about this review?
Comments
No comments posted.

Registered users may leave comments.
Log in or register now!