"A breath of fresh and worthy of excitement"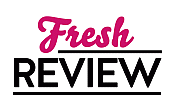 Reviewed by Svetlana Libenson
Posted October 4, 2018

Hazel Camille Bradford is a woman who has terrible luck in dating. She believes it might be due to her unfiltered personality and wardrobe, but that seems a little harsh. When Hazel takes a job teaching third graders at a new school she runs into her best friend's single brother: Joshua Im. Joshua and Hazel met one another in college under less than favorable circumstances, and they have zero interest in dating one another. However, when they are forced to live with one another after Hazel's apartment floods will their feelings change for each other?
There are so many things I loved about JOSH+HAZEL'S GUIDE TO NOT DATING by Christina Lauren. I saw a lot of myself in Hazel and appreciated that a character similar to me is finally a heroine in a romance story. I also loved that Christina Lauren took the time to showcase Josh's Korean-American heritage. Humor spills off so many pages, especially in beginning as we get to know Hazel. I found myself laughing outloud so many times while reading so many highly-unexpected situations.
JOSH+HAZEL'S GUIDE TO NOT DATING is a breath of fresh and worthy of excitement. It took me three days to finish, but every minute I didn't spend reading JOSH+HAZEL'S GUIDE TO NOT DATING, I was dying to know what would happen next to my new favorite characters.
SUMMARY
Most men can't handle Hazel. With the energy of a toddler and the mouth of a sailor, they're often too timid to recognize her heart of gold. New York Times and #1 international bestselling author Christina Lauren (Roomies, Beautiful Bastard) tells the story of two people who are definitely not dating, no matter how often they end up in bed together.

Hazel Camille Bradford knows she's a lot to take—and frankly, most men aren't up to the challenge. If her army of pets and thrill for the absurd don't send them running, her lack of filter means she'll say exactly the wrong thing in a delicate moment. Their loss. She's a good soul in search of honest fun.

Josh Im has known Hazel since college, where her zany playfulness proved completely incompatible with his mellow restraint. From the first night they met—when she gracelessly threw up on his shoes—to when she sent him an unintelligible email while in a post-surgical haze, Josh has always thought of Hazel more as a spectacle than a peer. But now, ten years later, after a cheating girlfriend has turned his life upside down, going out with Hazel is a breath of fresh air.

Not that Josh and Hazel date. At least, not each other. Because setting each other up on progressively terrible double blind dates means there's nothing between them...right?
---
What do you think about this review?
Comments
No comments posted.

Registered users may leave comments.
Log in or register now!