"Captures true love while also giving readers the ride of their lives!"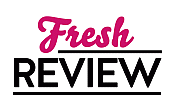 Reviewed by Annie Tegelan
Posted September 20, 2018

As a fan of Sherrilyn Kenyon's storytelling, I was really looking forward to the next installment in the Deadman's Cross series. DEATH DOESN'T BARGAIN features Kalder and Cameron, two characters that fit this deadly and dangerous crew, but who also have their own great personalities to add to the mix. If you haven't read Kenyon before, she tends to write angsty and emotional stories and although this has touches of that, I don't think this is one of her more angsty books. It was a nice change because it shows off her capacity to write different things.
However, if you are a fan of the deep and emotional romance, I don't think you will be very disappointed in this book. There are a lot of moments that capture the center of each character and Kenyon runs with it, creating a beautiful story between the hero and heroine.
I'm a big fan of the Deadman's Cross because of its writing style and darker tone. Paired with the epic world-building and interesting characters, you really have a series that stands out from the crowd. Even if you haven't read any of Kenyon's Dark Hunter books, I think you can enjoy this one. Be warned though... once you start, you may not be able to devour her extensive backlist.
DEATH DOESN'T BARGAIN captures true love while also giving readers the ride of their lives. This is definitely not a book that you want to miss out on!
SUMMARY
The Deadmen are back…
But so are the demons who have broken free of their eternal prison and are bent on mankind's destruction. The worst of the lot is Vine, determined to claim their lives for taking hers. She will see the world burn…and has the perfect lure to destroy them all. One of their own.
Kalder Dupree has never known a day of mercy. Born to the cruelest of mer-races, he sacrificed himself for his crew and is in Vine's hands. He expects no mercy or rescue.
Yet Cameron Jack is determined to set Kalder free. As a Hellchaser, it's her calling, and she cannot allow even a not-so-innocent to be tortured for an act of kindness that spared her damnation.
To defeat evil, it sometimes takes an even worse evil, and Cameron is willing to do whatever she must to make this right. If Vine thought she had her hands full before, she hasn't seen anything nearly as powerful as Cameron's resolve.
---
What do you think about this review?
Comments
No comments posted.

Registered users may leave comments.
Log in or register now!