"Provoking and thoughtful novel about some unforgettable characters."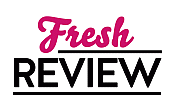 Reviewed by Sandra Wurman
Posted August 5, 2018

Romance Contemporary | Women's Fiction
Once you read GOOD LUCK WITH THAT you will never look at people with weight problems the same way. It is game changer that is thought provoking and alternates between being uplifting and just plain sad. There's that saying about walking in someone else's shoes. Kristan Higgins has us living in someone else's skin -- life as a weight challenge person who can't stand the sight of herself. And in GOOD LUCK WITH THAT we meet three woman whose entire lives have centered on their shared problem with body image.
Self-image plays an important -- vital -- part in these women's lives and never more so with the tragic death of their dear friend Emerson. Emerson, Georgia, and Marley were a fierce threesome that met at a summer camp for overweight teens. They brought out the best in each other and this trio was an awesome support group. All three had very different backgrounds, but they shared in the constant battle of weight. And now one of their trio Emerson has lost her battle becoming grossly obese which ultimately was a death sentence.
I must tell you that Kristan Higgins made sure that ultimately there is nothing morbid about GOOD LUCK WITH THAT. It is fiercely honest and truthful and absolutely eye opening. You will never take that unguarded look at an overweight person again and judge them for what they are eating. Because you will forever remember Emerson, Georgia, and Marley's words. Those looks hurt.
Invisible -- something Georgia Sloane and Marley DeFelice know a lot about. It seems to be something people who consider themselves fat are prone to do. Georgia went from a promising law career to a pre-school teacher. Something she truly loves even if some folks in her family consider her a quitter.
Marley works with food, catering meals for clients that either prefer not to cook, just don't have time to, or just rather have someone else do it. And Marley's clients are never disappointed with her amazing meals designed with their special likes and needs in mind. Her list of repeat or regular clients have made Salt & Pepper a success.
Both Georgia and Marley have shaped their lives around things they love and enjoy. But it's their personal lives that are still mired in fat girl imagery. And after Emerson's death they are challenging themselves and their lives with the list of tasks she left for the two of them. From her grave Emerson is pushing her two friends to live the life she so dearly dreamed of. The most ironic part of that list is it is made up of totally normal everyday items that most of us take for granted. In GOOD LUCK WITH THAT Kristan Higgins makes sure you never will again.
GOOD LUCK WITH THAT is written in the voices of these three woman. Emerson reaches out to us from her grave with what her life had become. Her ups and downs, her small successes, and large failures. So sad. But Emerson was lovely and a very good person who lived a life of invisibility to the best of her ability. So smart, but couldn't figure out a solution for her horrible problem. She never met her potential and that is why she gave Georgia and Marley that list.
Do that for yourself and me. Powerful and memorable. GOOD LUCK WITH THAT is the absolutely winner for this summer's reading list. Georgia, Marley, and Emerson are three characters that you will never forget. The cast of characters in GOOD LUCK WITH THAT once again remind you why you are such a fan of Kristan Higgins. And if you know anything about this author, you can't help but chuckle at her choices for some characters jobs. Put GOOD LUCK WITH THAT on top of your must read list.
SUMMARY
New York Times bestselling author Kristan Higgins is beloved for her heartfelt novels filled with humor and wisdom. Now, in her newest novel, GOOD LUCK WITH THAT, she tackles an issue every woman deals with: body image and self-acceptance.

Emerson, Georgia, and Marley have been best friends ever since they met at a weight-loss camp as teens. When Emerson tragically passes away, she leaves one final wish for her best friends: to conquer the fears they still carry as adults.

For each of them, that means something different. For Marley, it's coming to terms with the survivor's guilt she's carried around since her twin sister's death, which has left her blind to the real chance for romance in her life. For Georgia, it's about learning to stop trying to live up to her mother's and brother's ridiculous standards, and learning to accept the love her ex-husband has tried to give her.

But as Marley and Georgia grow stronger, the real meaning of Emerson's dying wish becomes truly clear: more than anything, she wanted her friends to love themselves.

A novel of compassion and insight, GOOD LUCK WITH THAT tells the story of two women who learn to embrace themselves just the way they are.
---
What do you think about this review?
Comments
No comments posted.

Registered users may leave comments.
Log in or register now!