"A shocking thriller full of twists..."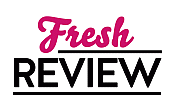 Reviewed by Sharon Salituro
Posted March 9, 2018

Anna Graves always wanted to be a journalist, like her father, Simon. Anna works at a radio station, taking questions from callers. Anna is recently separated from her husband, Guy, with whom she has a young daughter, Joni. Anna is still having a hard time dealing with their separation.
While Anna is on a walk with Joni one day, she is approached by a high school student. Elliot has a wild look in his eyes and is armed with a knife. Anna is afraid for her daughter. While trying to protect Joni, she grabs a comb out of her purse; the only thing she has for protection. As Elliot comes towards her, he falls on Anna and the comb goes into his neck. Anna is shocked when Elliot dies at her feet, but she is cleared of all charges when witnesses back up that she acted in self-defense.
While Anna tries to get her life back together, strange things start to happen. Back when her father was a journalist, he was working on a story on a notorious serial killer, nicknamed the "Ophelia Killer." Before her father was able to finish his story, he dies, jumping to his death from the lighthouse. Anna has always felt that maybe investigating this story was just too much for him. Now Anna is getting emails from someone claiming to be the Ophelia Killer.
Anna wants to find out who is writing the emails. At first, she thinks it is Elliot's father because he's outraged at his son's death. Simon's brother, Jamie doesn't think it's his father and decides to help Anna in her search for the Ophelia Killer. As they get closer to who is behind this, they know that there is no turning back...
I have been reading a lot of thrillers lately, and NO TURNING BACK is on the top of the list. I was totally shocked at the outcome of this book. Not at all the way I thought it would end. So, when I can't figure out a book before the end, I know it is one great storyline. I don't think anyone could figure this book out. Tracy Robertson had so many different characters in this storyline, it made me think everyone was guilty. Robertson also shows how sometimes the people closest to you are not really what you think. I also loved how far Anna would go to protect her child. I am sure anyone in her position would do the same. Buy it and test yourself to see if you can figure it out. Good Luck!
SUMMARY
Anna Graves's whole life has recently been turned upside down. A new mother, she's just gone back to her job as a radio presenter and is busy navigating a new schedule of late night feeding and early morning wake ups while also dealing with her newly separated husband. Then the worst happens. While Anna is walking on the beach with her daughter, she's attacked by a crazed teenager. Terrified, Anna reacts instinctively to protect her baby.
But her life falls apart when the schoolboy dies from his injuries. The police believe Anna's story, until the autopsy results reveal something more sinister. A frenzied media attack sends Anna into a spiral of self-doubt. Her precarious mental state is further threatened when she receives a chilling message from someone claiming to be the "Ophelia Killer," a serial killer who preyed on the town twenty years ago—and who abruptly stopped when Anna's father committed suicide.
Is Anna as innocent as she claims? And is murder forgivable, if committed to save your child's life? Internationally bestselling author Tracy Buchanan takes readers on an emotional roller coaster ride filled with heart-stopping secrets and hairpin turns in No Turning Back, her US debut.
---
What do you think about this review?
Comments
No comments posted.

Registered users may leave comments.
Log in or register now!