"You always remember your first loves"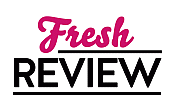 Reviewed by Sharon Salituro
Posted August 3, 2017

Bernadette (Bird) has had a rough couple of years. Bird is on probation for writing bad checks, but she only has two weeks left before she is off of probation. Bird and her mother now clean housing for people. But that is about to change.
When Bird was working at a coffee shop, she met James who also worked there. They became friends by accident. They would meet every morning outside of their place of employment to talk. At the time Bird was dating the owner Charlie. Bird realizes that this is not going to work and breaks up with him. Charlies is not happy about this and one night shows up at Bird's house and rapes her. The result is her son, Augus.
Augus is now four and Bird is getting ready to move them out of her mother's house into their own apartment. But things change when Bird goes to the church to pick up her mother's sweater. Hidden in the loft of the church is James. He has been shot. James got into a fight at a bar, and hurt a patron, putting him in the hospital. James is arrested but escapes.
Bird doesn't want to help James as she knows that this will screw up her probation. But she just can't let James hide out and not help him. Bird makes some very stupid mistakes; she steals meds from one of her clients. Bird knows that these will ease the pain for James. But the client calls the police on her. Bird doesn't know what she is going to do; this will put her right back to square one.
Cecilia Galante writes a great story with the true meaning of what a first love is all about. I loved the way she shows the relationship between Bird and James and its growth. Both came from bad childhood and still have terrible memories. Cedilla also wraps the whole story line at the end. This was not how I thought it would end. It was a great ending, puts everything into prospective.
Cecilla also shows the love between a mother and her child. In THE ODDS OF YOU AND ME it was mother, daughter, daughter and son. All of these story lines intertwine with one another. A very heart filled novel.
SUMMARY
In the vein of Meg Donohue and Sarah Jio, Cecilia Galante's second novel delivers the powerful story of one young woman who's faced with an impossible choice—one that could have her making the biggest mistake of her life.
Thirteen days. That's all Bernadette, "Bird," Sincavage has left to go until she's done with her probation and can be free again. Free from making payments to the supermarket she wrote bad checks to. Free from living at home with her overzealous mother who's constantly nagging her about attending church again. Free to give her four-year-old son, Angus, the normal life he deserves. Her impending freedom and move to Moon Lake, where she's plunked down a deposit on a brand new apartment, is so close she can almost taste it. What trouble could she possibly get into in just thirteen days?
But trouble does follow in the form of James Rittenhouse—someone she worked with a few years ago. At first, Bird is stunned to see James make the evening news when he's arrested for assaulting someone in a local bar. But that's nothing compared to the shock she gets when she discovers James hiding out in an abandoned church choir loft. Somehow he escaped police custody, broke his leg, and got his hand on a gun, which he's now pointing at her.
Although Bird doesn't tell anyone she saw James, there's no way she's helping him. She can't screw up her probation or her second chance for a new future. And she has her son's welfare to think about. Still. If only she could stop thinking about the terrified look in James' eyes and the fact that he's hurt. If only she could forget that once, long ago, James helped her out, and she owes him a debt like no other. Will Bird jeopardize her future for someone who helped her out in the past? A past that holds secrets she's not quite sure she's ready to face? Or will she turn a blind eye and learn to live with the consequences?
---
What do you think about this review?
Comments
1 comment posted.
Re: You always remember your first loves

Ok. Now I must read this. Thanks for the review.
(Kathleen Bylsma 4:14pm August 4, 2017)
Registered users may leave comments.
Log in or register now!