"Ashley definitely delivers on a smoldering read."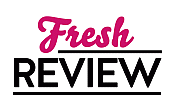 Reviewed by Annie Tegelan
Posted June 8, 2017

THE FARTHEST EDGE is the second book in the Honey series by Kristen Ashley. Although the book does stand well on its own, I would suggest reading the series in order. In this book, Branch is a man with an interesting past. As you can expect, this past haunts him. I find that Ashley always does this to her characters and it's a good way for readers to really relate to them.
Another person who can understand traumatic pasts is the heroine of the story, Evangeline. Stepping away from the Honey Club has been hard but when she gets an invitation from Branch, she simply cannot refuse him.
If you're new to this series, this series is an Erotic Romance with BDSM elements, so I wouldn't recommend this to the faint of heart. In this story we have a d/s relationship and while it isn't one of my favorites in the series, I still enjoyed it.
Branch and Evangeline has a chemistry that is undeniable. They like to push each other and I found that even though there is a clear dominant in this relationship, they like to tease each other a lot.
I will say that the writing in this book does feel a little bit different. It definitely feels a little more disjointed in some scenes than others. I especially found this to be true with some of the shorter scenes. This is a massive book for an Erotic Romance so be prepared for a lot of dirty talk, sexual exploration and lots of begging. Ashley definitely delivers on a smoldering read.
SUMMARY
A man without a past. A woman who lost her future. Together they'll push each other to the farthest edge and ignite a passion that's harder and deeper than they ever imagined. But is it strong enough to turn into something real and lasting? In the second highly anticipated book in the Honey series, New York Times bestselling author Kristen Ashley once again delivers a smoldering hot story that is achingly romantic and populated with intensely raw characters that will stay with you long after you turn the final page.
---
What do you think about this review?
Comments
1 comment posted.
Re: Ashley definitely delivers on a smoldering read.

I love KA' s books and she does bring the smoulder. She also
brings humor, a virtue. However, I'm not going to read this
series bc it's not my cuppa.
(Kathleen Bylsma 3:30pm June 13, 2017)
Registered users may leave comments.
Log in or register now!