"A murder mystery story set in the 30s California among the stars of Hollywood!"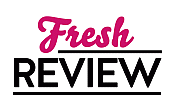 Reviewed by Magdalena Johansson
Posted June 4, 2017

Romance Suspense | Romance Historical
I have to admit that I'm quite besotted with this cover. I like how different it is, the crisscrossing of colorful squares over the image of the girl and I love the combination of the colors. Now, you should not choose a book just because of the cover, but I'm the first one to raise my hand to admit that I do it over and over again. But, I'm a bit cautious when it comes to historical romance because it's just not often my type of book. However, I discovered Amanda Quick years ago and she is one of few authors that I have come to like when it comes to historical romance. And, that's because her books have an element of suspects to them. And nothing spices a romance as a crime.
THE GIRL WHO KNEW TOO MUCH has a very spot on title. Reporter Irene Glasson is the girl who knows too much and now she is doing whatever she can to run from her past. So, finding a dead body in a swimming pool at the exclusive Burning Cove Hotel is hardly the best thing for her. Now, with the help of Oliver Ward, ex-magician and owner of the Burning Cove Hotel, is she trying to solve the murder. But, who would have killed the woman in the pool? As Irene is trying to figure this out must she also be cautious because there is someone out there looking for her...and, not with good intent!
I found THE GIRL WHO KNEW TOO MUCH to be a relaxing and entertaining book to read. Irene and Oliver quickly started to develop feelings for each other. If you like books that make the main characters fall in love after just meeting then you will love this book. I do prefer slower kind of courtship, to be honest, the ones that develop over time. I have nothing against instant attraction, but instant love, well it's just not my thing in books. However, Oliver is an ex-magicians, so, at that point, I fully understand Irene's feelings. And, setting the book story in the 30s was also a brilliant move since I love the 30s, the movies, the stars the whole atmosphere from the time.
As for the story, it's a pretty predictable, and yes the villains are stereotypical. It was not hard to see who is good and who is bad. At least that's what I thought until the end when Amanda Quick decided to twist the story is such a way that I was taken by surprise. To that, I just want to say bravo to the author. I had not at all expected that conclusion. On a side-note, the conclusion to the murdered women in the pool mystery may have surprised me, but Quick also wrote a fantastic ending to Irene Glasson's own problem from the past. Without spoiling anything do I just want to say that there is a character in this book that basically had nothing to do with the story until the very end and she totally owned the ending. I loved that scene with her. Just brilliant!
SUMMARY
Now in paperback, the New York Times bestselling author of 'Til Death Do Us Part transports readers to 1930s California, where glamour and seduction spawn a multitude of sins…
When Hollywood moguls and stars want privacy, they head to an idyllic small town on the coast, where the exclusive Burning Cove Hotel caters to their every need. It's where reporter Irene Glasson finds herself staring down at a beautiful actress at the bottom of a pool…
The dead woman had a red-hot secret about up-and-coming leading man Nick Tremayne, a scoop that Irene couldn't resist—especially since she's just a rookie at a third-rate gossip rag. But now Irene's investigation into the drowning threatens to tear down the wall of illusion that is so deftly built around the famous actor, and there are powerful men willing to do anything to protect their investment.
Seeking the truth, Irene finds herself drawn to a master of deception. Oliver Ward was once a world-famous magician—until he was mysteriously injured during his last performance. Now the owner of the Burning Cove Hotel, he can't let scandal threaten his livelihood, even if it means trusting Irene, a woman who seems to have appeared in Los Angeles out of nowhere four months ago…
With Oliver's help, Irene soon learns that the glamorous paradise of Burning Cove hides dark and dangerous secrets. And that the past—always just out of sight—could drag them both under…
---
What do you think about this review?
Comments
No comments posted.

Registered users may leave comments.
Log in or register now!