"Monsters sometimes really do exist."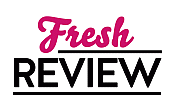 Reviewed by Lynn Cunningham
Posted June 1, 2017

Fantasy Urban | Young Adult Fantasy
Billie Dove Greenwood, known affectionately as Dovey, went through Hurricane Josephine as it hammered the beautiful southern city of Savannah. Dovey made it through but her best friend Carly did not. That was when it all started to fall apart. At Carly's funeral, Dovey briefly saw something in the coffin that was definitely not Carly but, just as she screamed, she once again saw Carly. This was the beginning of a long year of pills each morning and moving through her days sort of like a zombie.
Then, one night, she is lead to a place she has never heard of and decides she should visit it. Called The Charnel House, she finds it easily enough, although inside she finds it to be nearly completely empty of customers. The only person there appears to be a jauntily dressed bartender. It was this encounter that leads her to the decision for switching out her pills and replacing them with aspirin. Suddenly, her eyes are opened to the unnatural creatures that are a large part of Savannah's population. Dovey had never seen these creatures in all of her 17 years but, now that she has; she wants to rescue her friend Carly from them. She seems to have become a part of the creatures and Dovey cannot stand it.
No, nothing is as it seems in Savannah but Dovey is on a mission now and is determined to deal with these creatures once and for all.
SERVANTS OF THE STORM is marketed as a book for young adults, but can be easily enjoyed by readers of all ages. There is excitement, scariness, paranormal events, and everything that fans of the supernatural crave in their book choices. The writing clearly makes you feel as if you are right there with Dovey and Carly during that vicious hurricane. Delilah Dawson knows how to write in such a descriptive manner that I felt as if I was with Dovey as she discovers the abhorrent creatures roaming and controlling her city.
Speaking of the city of Savannah, Delilah Dawson did an amazing job of describing it in SERVANTS OF THE STORM that I felt as if I was actually walking those streets with Dovey. If you enjoy vivid descriptive horror books, this is one you should not miss no matter what your age. I only hope that there is another book featuring Dovey and her friends as I hated to see the ending of this one. Also, be ready for a big surprise at the end.
SUMMARY
A year ago, Hurricane Josephine swept through Savannah, Georgia, leaving behind nothing but death and destruction—and taking the life of Dovey's best friend, Carly. Since that night, Dovey has been in a medicated haze, numb to everything around her.
But recently she's started to believe she's seeing things that can't be real…including Carly at their favorite café. Determined to learn the truth, Dovey stops taking her pills. And the world that opens up to her is unlike anything she could have imagined.
As Dovey slips deeper into the shadowy corners of Savannah—where the dark and horrifying secrets lurk—she learns that the storm that destroyed her city and stole her friend was much more than a force of nature. And now the sinister beings truly responsible are out to finish what they started.
---
What do you think about this review?
Comments
No comments posted.

Registered users may leave comments.
Log in or register now!