"The follow-up to 2016's most popular debut"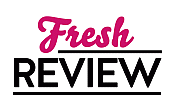 Reviewed by Make Kay
Posted December 27, 2016

BREATH OF FIRE is book two in the Kingmaker Chronicles by Amanda Bouchet. Book one, A PROMISE OF FIRE, was the most talked about book of 2016 on all the romance blogs and social media that I follow. A PROMISE OF FIRE came was my personal favorite read of 2016. Bouchet was a debut author with A PROMISE OF FIRE, and BREATH OF FIRE shows that the massive success of book one was not a fluke. This is amazing high fantasy!
Cat is the Lost Princess of Fisa, who was hiding from her sadistic, psychotic mother in a rural circus telling fortunes. In book one, Cat was kidnapped from the circus by Griffin and taken to Sinta. Griffin and his hoi polloi family overcame the evil royalty of Sinta and are the new rulers. Griffin realized that Cat, who can sense lies, could help his family consolidate their power and assist them to rule the realm benevolently. While on the way to Sinta, Cat and Griffin fell in love. While this might sound like Stockholm syndrome, in actuality it feels organic and utterly believable. Cat is now using her Kingmaker Magic to help Griffin and his family begin to rule effectively.
Cat and Griffin head off along with a small team of warriors to track down some magical beasts to guard the borders of the realm. This quest exposes them to many dangers as they battle and scheme their way through the action. Bouchet's inventive use of Greek mythology continues to delight, with creatures such as a Cyclops and Olympians. Readers do not have to be conversant with mythology to enjoy the book, however (which is good, since I don't remember a lot of the nitty gritty details of what I learned about mythology from school).
Griffin sees Cat as a noble warrior princess who can bring peace to all the realms and unite them. He is so optimistic, it's sweet. Cat knows the prophecy about herself, though. Harbinger of the end. Destroyer of realms. And she feels guilty for the deaths of her siblings. The contrasts between Cat's despair and self-hate and Griffin's forthrightness and honor are so poignant. I also enjoy how prickly Cat is, which makes the book a lot of fun.
While there are many things to love about this book, I did find the sex scenes to be awfully frequent. Both Cat and Griffin have volatile tempers, and seem to express their emotions very physically. There is a lot of bedroom action, especially after arguments, or around battles. Also, beware that at the opening of the book, Griffin acts like an absolute ass. I find that while I still love Griffin as a character overall, I like him less after seeing his abusive response to learning something about Cat. His halo is a bit tarnished now. These niggles do not significantly detract from my enjoyment of the book overall, however. Bouchet's BREATH OF FIRE is a fantasy thrill ride with panache to spare.
SUMMARY
SHE'S DESTINED TO DESTROY THE WORLD…
BUT NOT IF SHE CAN HELP IT
"Cat" Catalia Fisa has been running from her destiny since she could crawl. But now, her newfound loved ones are caught between the shadow of Cat's tortured past and the threat of her world-shattering future. So what's a warrior queen to do when she knows it's her fate to be the harbinger of doom? Everything in her power.
Griffin knows Cat is destined to change the world—for the better. As the realms are descending into all-out war, Cat and Griffin risk sacrificing everything they've fought for. Gods willing, they will emerge side-by-side in the heart of their future kingdom...or die trying.
---
What do you think about this review?
Comments
No comments posted.

Registered users may leave comments.
Log in or register now!