"Charley Davidson is truly a one of a kind heroine"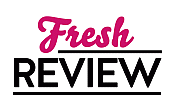 Reviewed by Annie Tegelan
Posted July 11, 2016

Mystery Woman Sleuth | Mystery Paranormal | Romance Paranormal
It seems that Darynda Jones is incapable of writing a bad book. In book ten of the Charley Davidson series, readers are thrown back into the wonderful, quirky world of our favorite private investigator. Quite a number of events have happened leading up to this moment, so I would suggest reading the series in order. However, Jones does give a good recap of events in the beginning of the book, helping as a nice refresher for her loyal fans as well.
This book tackles a lot of unanswered questions and in an attempt to be spoiler free for the other books in the series, I'll simply say that Charley has a whole lot of stuff going on. From the homeless girl running for her life, an innocent man who is being charged for a murder and a pendant made of god glass, there's a lot going on. But, I never once felt bombarded with the many story threads that this novel had. Jones has an easy to read and easy to follow narrative that will no doubt keep readers engaged from the very first page. It also helps that Charley has such an endearing personality that you can't help but love her. All the side characters are just as magnetic and lively as Charley, making for an all around good time.
Of course, I have to mention Reyes who has become one of my favorite heroes. He's just so deliciously mysterious. I'm always dying to know what's going on in that head of his, but that is especially true for this book. He's hiding things from Charley and it's now causing a riff between them, making me worried about the state of their relationship. But of course, to find out what happens, you'll have to read the book yourself!
If you like your Urban Fantasy with a heady dose of humor, you don't want to miss out on the adventures that Charley Davidson gets herself into. She's truly a one of a kind heroine that I adore.
SUMMARY
If one door closes and another one opens, your house is probably haunted.
―Bumper Sticker
As a Part-time PI and fulltime grim reaper, Charley Davidson has asked a lot of questions throughout her life: Why can I see dead people? Who is the hot supernatural entity following me? How do I get gum out of my sister's hair before she wakes up? But, "How do I trap not one malevolent god, but three?" was never among them. Until now. And since those gods are on earth to kill her daughter, she has little choice but to track them down, trap them, and cast them from this dimension.
There's just one problem. One of the three stole her heart a very long time ago. Can the Razer, a god of absolute death and destruction, change his omniscient spots, or will his allegiances lie with his brothers?
Those are just a few of the questions Charley must answer, and quick. Add to that a homeless girl running for her life, an innocent man who's been charged with murdering the daughter of a degenerate gambler, and a pendant made from god glass that has the entire supernatural world in an uproar, and Charley has her hands full. If she can manage to take care of the whole world-destroying-gods thing, we're saved. If not, well…
---
What do you think about this review?
Comments
No comments posted.

Registered users may leave comments.
Log in or register now!