"Fantasy and Mythology Combine in this Star-Touched Novel"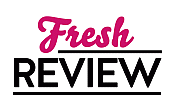 Reviewed by Katherine Petersen
Posted June 25, 2016

Multicultural Young Adult | Young Adult Paranormal
The title and synopsis drew me to Roshani Chokshi's debut novel, THE STAR-TOUCHED QUEEN. Unfortunately, they weren't enough to sustain my interest throughout the whole story. Maya is a 17-year-old girl, cursed with a "bad horoscope" that promises death and destruction, so she is shunned by everyone in her father's harem. Rather than let her pursue her scholarly interests, her father opts to marry her to quell a mounting rebellion.
Maya marries Aram, king of Akaran, a country she's never heard of. There are a lot of questions and secrets surrounding this kingdom. I don't want to give anything away, but I will say Chokshi uses a lot of flowery descriptions and while interesting; I'm not sure how much they add. It feels as if at times, she's trying too hard to give us pretty prose. She's a talented writer, but I'd rather see her working toward fleshing out plots than painting lavish pictures.
The story has some good concepts such as a shunned girl finding her place elsewhere, gaining some power and maybe even love, but there are a lot of disjointed parts and too many unanswered questions even at the end. For example, Aram had his face covered at first and I never understood why. Also, rather than sticking to one pantheon for her mythology, and maybe I'm just not familiar enough with Indian mythology, it seemed that there was too much thrown at us for enough of it to have meaning and odd characters appeared almost for the sake of being odd. The talking demon horse comes to mind.
I read a short story of hers after the novel which I enjoyed much more, so I definitely think she has talent. My last quibble is that Chokshi described Maya as a strong character, but she seemed weak to me, believing whatever she was told without proof or any evidence to the contrary. Not much redemption in realizing you made bad decisions. I might try another novel of hers to see if she's grown as a writer, but for me this story fell flat. That said, there are many who loved THE STAR-TOUCHED QUEEN (including praise quotes from writers I adore such as Sarah J. Maas), so I'm afraid you'll have to decide for yourselves on this one.
SUMMARY
Fate and fortune. Power and passion. What does it take to be the queen of a kingdom when you're only seventeen?
Maya is cursed. With a horoscope that promises a marriage of Death and Destruction, she has earned only the scorn and fear of her father's kingdom. Content to follow more scholarly pursuits, her whole world is torn apart when her father, the Raja, arranges a wedding of political convenience to quell outside rebellions. Soon Maya becomes the queen of Akaran and wife of Amar. Neither roles are what she expected: As Akaran's queen, she finds her voice and power. As Amar's wife, she finds something else entirely: Compassion. Protection. Desire...
But Akaran has its own secrets -- thousands of locked doors, gardens of glass, and a tree that bears memories instead of fruit. Soon, Maya suspects her life is in danger. Yet who, besides her husband, can she trust? With the fate of the human and Otherworldly realms hanging in the balance, Maya must unravel an ancient mystery that spans reincarnated lives to save those she loves the most. . .including herself.
A lush and vivid story that is steeped in Indian folklore and mythology. The Star-touched Queen is a novel that no reader will soon forget.
---
What do you think about this review?
Comments
No comments posted.

Registered users may leave comments.
Log in or register now!