"Enjoy a sweet romance with a touch of darkness!"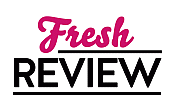 Reviewed by Annie Tegelan
Posted April 24, 2016

WALK THE EDGE is the second book in the reader favorite Thunder Road series by Katie McGarry. This book is all about Razor, a member of the Reign of Terror motorcycle club. McGarry opens up the book with a attention- grabbing scene between Razor and a cop. In that one scene alone, McGarry is able to lay down the foundation of the book while also creating mystery and intrigue. Razor's character easily became my favorite thing about this book. I loved his character and his backstory, and I especially loved his involvement with the club. If you haven't read McGarry's motorcycle books then you might be in for a surprise because her clubs don't dabble in drugs or prostitution. They have their own set of problems that they would rather deal with. So I think it fits in with the Young Adult crowd that McGarry writes to.
For me, the weakest part of the story is the heroine, Breanna. At seventeen years old, she has a lot of responsibility on her shoulders. She is very straight-laced and intelligent and it seemed to be a such a direct contrast to Razor's characters that I wondered how this romance was going to work. McGarry does it, however, building the chemistry until it is a slow burn. The problem for me was that Breanna's POVs just didn't quite hold my attention as much as Razor's did. I found that I would lose interest quicker when in her mind and I do believe that created an imbalance in the story.
Nevertheless, there is plenty more to keep you interested in the rest of the story. If you're a Young Adult fan and enjoy a sweet romance with a touch of darkness, then you'll love WALK THE EDGE.
SUMMARY
One moment of recklessness will change their worlds
Smart. Responsible. That's seventeen-year-old Breanna's role in her large family, and heaven forbid she put a toe out of line. Until one night of shockingly un-Breanna-like behavior puts her into a vicious cyberbully's line of fire—and brings fellow senior Thomas "Razor" Turner into her life.
Razor lives for the Reign of Terror motorcycle club, and good girls like Breanna just don't belong. But when he learns she's being blackmailed over a compromising picture of the two of them—a picture that turns one unexpected and beautiful moment into ugliness—he knows it's time to step outside the rules.
And so they make a pact: he'll help her track down her blackmailer, and in return she'll help him seek answers to the mystery that's haunted him—one that not even his club brothers have been willing to discuss. But the more time they spend together, the more their feelings grow.
And suddenly they're both walking the edge of discovering who they really are, what they want, and where they're going from here.
---
What do you think about this review?
Comments
No comments posted.

Registered users may leave comments.
Log in or register now!