"One sexy contractor and a single mom use a little "food magic" to seal this romance."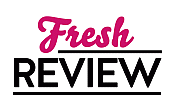 Reviewed by Kay Quintin
Posted August 21, 2015

Evie Moran is a thirteen-year-old girl with a twenty-year-old mind living with her mom Jade. Evie saves the yeses (or IOU's) that she has accumulated for good deeds to use for those questionable requests. Jade is a web designer, which allows her to work from home. Evie spends time with the father who walked out on her as a small child, every other weekend.
Meeting the "Technicolor" woman, Opal, changes life as Jade knows it. This woman is an advocate of Witch in the Kitchen and believes in food magic. Introducing her to the Greek God, Maxwell Gianopoulis, definitely changes her life. Former lawyer turned contractor, Jade is interested in more than her kitchen getting updated. A permanent relationship is not what she's seeking, but a good sexual tryst would suit her fine. Jade knows trust with Max is an issue after reading the ratings and reviews on Angie's List from other female employers. The Lust Booster given to her by Opal certainly does the job. Magic on both sides changes Jade and Max's ideas and the sex and emotions get very serious. Until, that is, Jade shows her mistrust of Max's previous female employers and is forced by her ex to end the relationship. Reaching her senses, the ball is back in her court to find a way to show Max he has her complete trust in him.
I have not had the pleasure of reading any of the works by Alyssa Goodnight. I was completely infatuated with JUST SAY YES. This completely different romance is filled with a bit of magic and a lot of sex and romance. The story is enlightening and inventive. This is a really good book to sit down and just "enjoy." Evie's escapades and quirky attitude is a breath of fresh air. I truly loved the storyline and the colorful characters. This is a "do not miss" read!
SUMMARY
Single mom Jade Moran isn't ready for any big changes in either her horrible '70s kitchen or her romantic life. Her ex did a number on her, and she isn't interested in getting hurt again. But when she meets a super-hot contractor, she wonders if avocado appliances are on the way out and romance is on the way in.
Max Gianopoulis doesn't have a clue why he's so enchanted by Jade. She's almost as big a mess as her kitchen, and he's a guy who likes to keep things simple. He let himself get involved with a previous client, and he's not interested in repeating the experience. But Jade has turned up the flirty heat - and he can't keep his hands off her.
With everything moving too fast and coming too easy, Jade's insecurities kick into high gear. She's not sure she can trust another man again - and she definitely doesn't believe in magic.
Excerpt
Finished with her coffee, she jiggled the cup and glanced at the trash can a few feet to her left. Looking back at him, she smiled, lifted a single eyebrow, and hooked it. It almost went in, instead rolling around on the rim. She shrugged then, saying, "I gave it a shot."

Is it your policy to give things a shot?" he asked, suddenly feeling as if the air around them was charged.

"Some things," she allowed.

"What sort of things?"

"Things that seem like they might be worth the effort."

"What about men?"

"What about them?" she asked, stilling, her eyes wary.

"Do you tend to give them a shot?"

"Not usually," she said, shaking her head and pressing her lips together.

"But it's possible."

"Anything's possible." She wasn't giving anything away, but Max dug in.

"Does your daughter's approval weigh in at all?" He was grinning now—he couldn't help himself.

"Maybe a little, but she's thirteen. Our standards are different."

"What, you don't like ruggedly handsome men who carry Butterfingers and have a vampire connection?"

Her eyes widened with interest. "Ooh, yeah. Do you know any guys like that?"

"Very funny."

She smiled at him, leaning back in her chair, and he smiled back. They talked for another hour, only touching on her kitchen, and by the end, one of them—he wasn't sure which —suggested that he should just come and look at it and they'd figure everything out then. They settled on Saturday, and he watched her walk away, imagining a short cape and tall boots.

He'd been attracted to plenty of women, but Jade fascinated him. The way she was confident in herself but shy with strangers, the way that shyness eventually warmed to sassiness, even, surprisingly, the fact that she was a single mom to a thirteen-year-old daughter. A hot, kick-ass mom. Honestly, he didn't care if he was ready for that reality or not. He suddenly had a fierce desire to get this job—he was, in fact, desperate for her to give him a shot—and that didn't bode well at all.

His willpower was but a vague memory now, easily vanquished by talk of cosplay and possibilities. As of right now, all bets were off.
---
What do you think about this review?
Comments
No comments posted.

Registered users may leave comments.
Log in or register now!