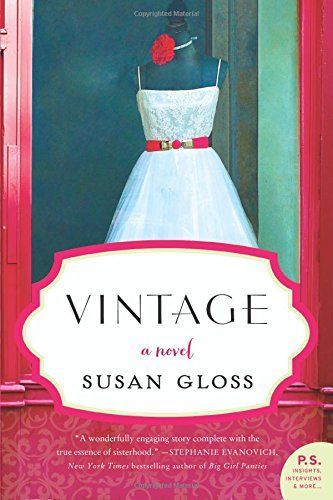 Vintage, September 2014
by Susan Gloss

William Morrow Paperbacks
Featuring: Amithi Singh; April Morgan; Violet Turner
320 pages
ISBN: 0062270338
EAN: 9780062270337
Kindle: B00DB3A3EG
Paperback / e-Book
Add to Wish List

Purchase
"From the past a new beginning can be made"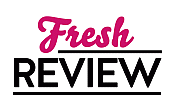 Reviewed by Patricia (Pat) Pascale
Posted December 25, 2014

VINTAGE is a treasure of a read. It is a charming book celebrating the beauty of vintage items, friendships, believing in yourself, and always following your dreams. Violet Turner owns the Hourglass Vintage store in Madison, Wisconsin, the fruition of her dreams. A process server just broke her heart and put her dreams on hold.
She meets April Morgan, 18, who would like a refund on a wedding gown she bought there and thinks she will never use. There are no returns at the Hourglass Vintage but an unexpected bond between April and Violet is forged when pregnant, alone, and unemployed, April is offered a job as an intern at the vintage store. No pay but credit for a college course she would love to obtain.
Another customer is Amithi Singh, betrayed by her husband and parenting a daughter who rejects her mother's traditional ways, is at a crossroads in her life. She brings in colorful saris, scarves and jewelry that she no longer wants and befriends Violet and April. While trying to deal with the discovery that her husband has been unfaithful for many years, she is desperately seeking to find something new to do with her future that will reward her. She finds an outlet for her skills with a needle and thread, along with friendships with Violet and April.
Three strong women, each facing+ some of life's difficulties, whether it be betrayal, unplanned pregnancy, eviction from her cherished business, they bond together, help each other and become friends. A melding of vintage items and the pursuits of a multi-generational group of women are realistically intertwined in a touching, realistic and sweet way. You will be turning pages quickly to get to the ending which will warm your hearts and make you smile. What a cleaver way to open each chapter with an inventory item introduced and worked into the story in the pages that follow. Susan Gloss's writing style was delightful and I eagerly await her next book, perhaps a sequel to VINTAGE? In the book's dedication to her grandmother, "who taught me every seam has a story", I will eagerly await your next story. Vintage things are my passion and I am surrounded by them in my life and our home. I look for more here, there and everywhere I travel in this wonderful world, so you understand why VINTAGE stole my heart.
Learn more about Vintage
SUMMARY
Vintage is Susan Gloss's sparkling debut novel in the Vein of The Friday Night Knitting Club, centered around a Midwestern vintage clothing shop and a group of women who eventually transform the store and each others' lives.
At Hourglass Vintage in Madison, Wisconsin, every item in the boutique has a story to tell . . . and so do the women who are drawn there.
Violet Turner has always dreamed of owning a shop like Hourglass Vintage. When she is faced with the possibility of losing it, she realizes that, as much as she wants to, she cannot save it alone.
Eighteen-year-old April Morgan is nearly five months along in an unplanned pregnancy when her hasty engagement is broken. When she returns the perfect 1950s wedding dress, she discovers unexpected possibilities and friends who won't let her give up on her dreams.
Betrayed by her husband, Amithi Singh begins selling off her old clothes, remnants of her past life. After decades of housekeeping and parenting a daughter who rejects her traditional ways, she fears she has nothing more ahead for her.
An engaging story that beautifully captures the essence of women's friendship and love, Vintage is a charming tale of possibility, of finding renewal and hope when we least expect it.
---
What do you think about this review?
Comments
No comments posted.

Registered users may leave comments.
Log in or register now!