"A ménage erotica with a slightly gritty edge."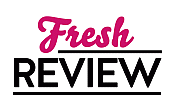 Reviewed by Maria Munoz
Posted May 16, 2012

Tina is throwing the best damn Halloween party (if she does say so herself) with her roommate Desi and looking to hook-up to end her sexual dry-spell. She is flirting with hot and muscular Kenton when Desi steps in and orders him to stay away. Des and her boyfriend Josh have another plan for Tina which includes joining her in her bed and having some fun as a trio. Now the three are trying to figure out what they mean to each other and how to redefine there relationships all while life throws them a number of complications.
PARTY OF THREE is a ménage erotica with a slightly gritty edge. Tina, Des, and Josh are an intriguing trio. Each person is dealing with complicated personal and emotional challenges. It's hard to say more without giving too much away. Suffice it to say there is a strong plot that extends beyond the erotic aspects of the story. Ms. St. Denis effectively uses the challenges the characters faces to build the emotional bonds that eventually unite them as a trio. I look forward to reading more stories by Ms. St. Denis.
SUMMARY
Determined to end a long dry spell, Tina is thwarted by her best friend, Des, who scares off the only eligible guy at their party. But Des more than makes up for it when she and her boyfriend, Josh, invite Tina to their own intimate celebration. The encounter awakens cravings Tina didn't even know she had. She's intrigued when the couple asks her to join them for two days of sun, sand and steamy sex in Santa Barbara. She should say no. But she doesn't...
The erotic weekend is beyond amazing. But there's something deeper developing between the trio—something Tina is not yet ready to explore. After all, their party of three can't last forever—can it?
Excerpt
It was Halloween night and my roommate and best friend, Desi, and I were throwing a Halloween party. It was the best damn Halloween party of the century. "Great party, Tina." "Thanks." I glanced at Kenton and laughed. He was a big man, standing well over six feet, and looked completely ridiculous wrapped in cellophane with a clear inner tube around his knees. The inner tube had him hobbling around like a penguin and on his head, covering his thick blond hair, was an enormous clear, deflated balloon filled with milk. He was a condom. A used one. And he'd been following me around. "Stop following me." "You're Little Bo Peep. I have to follow you." "That makes no sense." "Sure it does." Kenton grinned as he wiped a trickle of milk from his brow before it dripped onto his cheek. "You're a sheepherder, and I'm a sheepskin." "You're sick." "And you love me." "I don't think so." "You want me."

"I'm an innocent sheepherder, sir. I have no idea what you're talking about." I feigned coyness as I fingered the lace on the scooped neck of my white bodice, enjoying the act of flirting for the first time in a long time.

"Show me your tuffet, and I'll change that for you right now." His voice was low. Dangerous. His eyes took on an unholy gleam as he rubbed his square jaw.

"I'm not Miss Muffet and a tuffet is a stool."

"If it's got a hole in it, we're in business." Kenton sidled up to face me and gently removed my hand from where it lingered on my exposed flesh. He replaced my hand with his and deftly outlined the tight bodice of my costume, exploring the curve of my breasts where they spilled over the lace.

Somehow he managed to slip a hand down the front of my bodice and grazed my hardened nipple. My flesh burned with his touch and I gasped in surprise. It had been too long.

"Kenton," I breathed. "Let's not."

"How about, 'let's.'" He bent down to my level and brushed his lips against my chin and then tilted my head back so he could lick the length of my throat. It felt wonderful. His tongue lapping at me, nibbling, his hot breath in my ear, his hand in my bodice.

God. He was making me...wet.

"Hey. You're leaking all over me."

He stood and grinned as milk ran down his face. "Sorry about that." But his hand had slipped down to my wrist, and he held it tight, pulling me closer.

"Kenton!" Just then my roommate, Cleopatra, appeared. Her face was flushed, her eyes flashing. "Take your grimy hands off Tina."

"Hey, Desiree," Kenton said, taking his time removing his hand from my bodice. "Long time no see."

"Not long enough," Des said through gritted teeth. "Who invited you?"

"I did," I interjected, confused by the way Desi was acting. Everyone knew Kenton; he was the ultimate party host throwing huge bashes at least once a month. While I'd never attended one of his soirees, I knew Des had been to at least a few.

"I want you to leave," she said, her chin jutting out.

"Have I done something to offend you?" Kenton asked, his expression flipping from playful to serious.

Before Des could answer, a man dressed as Marc Antony appeared from the kitchen, carrying two plastic cups. He passed one to Des and slung his arm protectively around her shoulder. It was Josh, Desi's latest.

"What's going on?" Josh asked.

Des glanced up at Josh and then turned so that her back shut Kenton out of our little circle. "Nothing," she said. "I was just looking for Bo Peep here. I hadn't seen her all evening."

I raised my brows at this statement, but Josh and Des only had eyes for each other. When I looked over my shoulder, Kenton was gone. I had no idea what just happened, why Des was mad he was there or why she didn't confront Kenton in front of Josh.

Desi stood on tiptoe and whispered something in Josh's ear. One side of his mouth turned up in a grin and he bent to kiss her, nice and slowly. I was starting to detect a real attachment between these two. Josh had been around longer than any other guy she'd ever been with. I liked him. He was good for Des. Sweet with her. Strong. Wouldn't let her push him around. Good sense of humor. Josh was the full–meal deal, and I really hoped he was going to be the one to stick it out with her.

It didn't hurt that he was seriously hot too. Any man who could make a short, white pleated skirt look as manly as he looked in his Halloween costume was a keeper. His legs and chest were bare and I couldn't help admiring his toned body as the two of them kissed right in front me.

I didn't even realize how hungry my gaze was as it meandered slowly up his fine form until I caught Des watching me while Josh whispered something in her ear.

Ah shit. She'd caught me ogling her boyfriend. Not cool.
---
What do you think about this review?
Comments
No comments posted.

Registered users may leave comments.
Log in or register now!