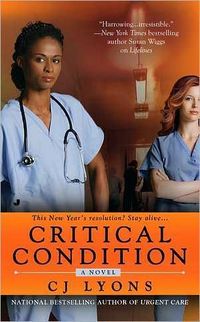 Critical Condition, December 2010
Angels of Mercy #4
by CJ Lyons

Jove
Featuring: Amanda Mason; Nora Halloran; Lydia Fiore
304 pages
ISBN: 0515148687
EAN: 9780515148688
Mass Market Paperback
Add to Wish List

Purchase
"Finale of hospital drama is satisfying and fast-paced"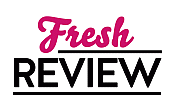 Reviewed by Sharon Galligar Chance
Posted January 14, 2011

In Pittsburgh, several staff and visitors at Angels of Mercy Hospital were shot by an unknown hit man with Detective Jerry Boyle receiving the worst injury. The killer escaped, but also failed to kill his intended victim. Boyle's girlfriend, Dr. Gina Freeman, worries about him because he is not same since he took the shot to the head, having suffered severe brain damage.
On New Year's Eve, an unexpected blizzard shuts down the streets, stranding the staff, visitors and patients at the hospital. Unfortunately, the trapped includes the killer and his cohorts who have come back to finish the job even if it means leaving behind a blood bath. These predators take over the hospital, holding everyone hostage and anyone who argues with them dead.
Gina, ER Charge Nurse Nora Halloran, and medical rotational student Amanda Mason are trapped inside the facility, while outside the hospital finds Dr. Linda Fiore, the true intended target of the gunmen, frantic to save her friends and colleagues.
CRITICAL CONDITION, the final book in the "Angels of Mercy" medical thriller by C.J. Lyons, is an intriguing, fast- paced finish to her brilliant hospital saga. Loaded with action, and more than its fair share of blood, readers will be hooked from the moment the killers begin their take-over of the hospital. Lyons brings her readers up to date on the lives of the four women who are the stars of this series as she brings the finale to a satisfying ending.
SUMMARY
In the middle of a New Year's Eve blizzard, the staff and patients of Angels of Mercy Hospital are held hostage by armed gunmen.
Their target is Dr. Gina Freeman, who is holding vigil over her wounded fiancÚ, Detective Jerry Boyle. Stranded outside the hospital is ER physician Linda Fiore, whose past holds the secret the hitmen are willing to kill for. With the cold-blooded killers in control, no one may live to see the New Year.
---
What do you think about this review?
Comments
No comments posted.

Registered users may leave comments.
Log in or register now!