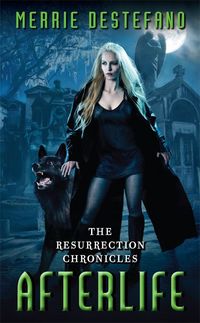 Afterlife, October 2010
The Resurrection Chronicles #1
by Merrie Destefano

EOS
Featuring: Chaz Domingue; Angelique
368 pages
ISBN: 0061990817
EAN: 9780061990816
Mass Market Paperback
Add to Wish List

Purchase
"Debut series challenges natural cycle of life with intriguing results"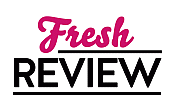 Reviewed by Becky Pena
Posted July 21, 2010

Death is a natural phase of life; creation follows death as death follows creation, it's a cycle of fact. Merrie Destefano takes the fear of dying to the next level in AFTERLIFE by throwing readers into another apocalyptic universe where the race to immortality becomes unavoidable and chaotic with the technology of resurrection in the works.
You can jump when you die, into another body made and ready to download your past life. You get nine tries to get it right; new body, same memories. As the Nine-timers draw closer to their last days, the race to finding immortality becomes strained. Riots turn into mass killings; each life becoming shorter than the one before it when those who have tasted the dangling samples of immortality wish to never leave. This is a world where people pray for the living instead of the dead and where a baby cannot be born without a true death certificate from someone within the family.
AFTERLIFE is a macabre hidden thriller written in first person with a different character perspective each chapter. At first the writing style takes away from the hourly action of the book, but the story continues and facts are unveiled as more gothic truths are placed within the pages. Destefano takes the power of life and death away from the master himself. Characters question if technology and life should be mixed and altered when they remember a shorter lifespan was originally given to them.
Defying death is portrayed well in AFTERLIFE, the first of the Resurrection Chronicles, but can Destefano continue to give us more within her gothic city of New Orleans? Her unique imagination gives us a great first story and readers something to look forward to in the rest of the series.
SUMMARY
In the near future New Orleans, resurrection technology allows you to live more than one life, choosing your next life and family as you see fit. Music and jive-sweet swallow the city in pleasure and pain, as the Underground Circus lurks for the unwary. Now, you can be anyone you want: just sign one little consent form for a fresh start, and your chance at heaven.
Chaz Domingue is a Babysitter - charged with protecting souls in their first week of new life. But Angelique is far from your average charge, one dark powers have been waiting for. And as she struggles to remember the treacherous secrets from her past, evil searches for the ultimate prize - the secret to true immortality - and only Chaz and Angelique can stop them.
You only get nine lives. Use them wisely.
---
What do you think about this review?
Comments
No comments posted.

Registered users may leave comments.
Log in or register now!