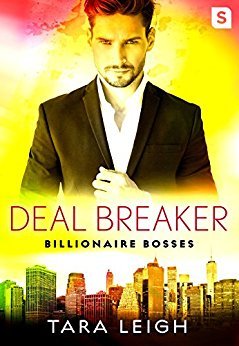 Purchase
Billionaire Bosses
Macmillan
November 2017
On Sale: November 14, 2017
ISBN:
Kindle: B0746M4GX5
e-Book
Add to Wish List

Nixie Rowland is having a bad day. Rushing home to drown her sorrows in ice cream and reality television, she decides to take a shortcut to the subway where things take a turn for the worst. But Nixie's bad luck doesn't end there—the white knight who comes to her rescue is none other than the Dark Knight of Wall Street, a cocky Manhattan mogul whose ego barely fits inside his penthouse. To her horror, Nixie discovers the sizzling attraction between them is off the charts, and rising fast. Spending the night in his bed does nothing to lower the heat… And everything to set her heart on fire.
Nash Knight doesn't have room in his life, or his heart, for anything beyond one-night stands or casual flings. And he certainly doesn't make a habit of rescuing damsels in distress. Except that this particular damsel slips beneath his armor, the vulnerability she covers with a false show of bravado hitting him somewhere deep. Nixie is everything he never wanted… And exactly what he needs.
With Nixie on the run from a controlling ex, and Nash trying to salvage a business deal at risk because his conquests in the bedroom are overshadowing his wins in the boardroom, there's one simple solution for them both: a marriage in name only. But when lust becomes love, will their untamed emotions be a deal breaker?
Comments
6 comments posted.
Re: Deal Breaker

Found the comment box, shouldn't think they can't solve
their relationship conflicts. Really looking forward to
reading this.
(Kathleen Bylsma 3:51pm November 17, 2017)
No, they won't. They will work though them.
(Kathleen Bylsma 3:48pm November 20, 2017)
Happy Book Birthday!
(Kathleen Bylsma 3:42pm November 21, 2017)
Following you on Facebook!
(Kathleen Bylsma 3:52pm November 22, 2017)
Wow this sounds yummy.They will definitely work through
their issues
(Wanda Flanagan 1:43am November 25, 2017)
It will take some work but will be worth it if they do.
(Nancy Luebke 5:14pm December 10, 2017)
Registered users may leave comments.
Log in or register now!