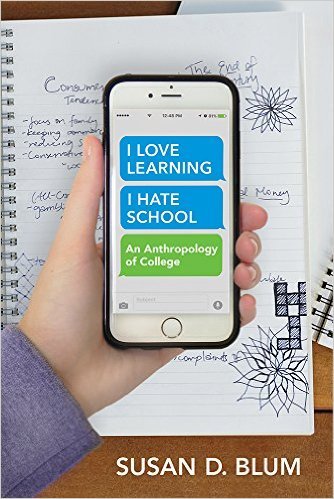 Purchase
I Love Learning I Hate School
Susan D. Blum
An Anthropology of College
Cornell University Press
March 2016
On Sale: March 19, 2016
356 pages
ISBN: 1501700219
EAN: 9781501700217
Hardcover
Add to Wish List

Non-Fiction Philosphy | Non-Fiction
Frustrated by her students' performance, her relationships with them, and her own daughter's problems in school, Susan D. Blum, a professor of anthropology, set out to understand why her students found their educational experience at a top-tier institution so profoundly difficult and unsatisfying. Through her research and in conversations with her students, she discovered a troubling mismatch between the goals of the university and the needs of students.
In "I Love Learning; I Hate School," Blum tells two intertwined but inseparable stories: the results of her research into how students learn contrasted with the way conventional education works, and the personal narrative of how she herself was transformed by this understanding. Blum concludes that the dominant forms of higher education do not match the myriad forms of learning that help students―people in general―master meaningful and worthwhile skills and knowledge. Students are capable of learning huge amounts, but the ways higher education is structured often leads them to fail to learn. More than that, it leads to ill effects. In this critique of higher education, infused with anthropological insights, Blum explains why so much is going wrong and offers suggestions for how to bring classroom learning more in line with appropriate forms of engagement. She challenges our system of education and argues for a "reintegration of learning with life."
Comments
2 comments posted.
Re: I Love Learning I Hate School

Depends what their learning, and how they are being
educated. I adored viable learning and hated theory as a
student; href="http://www.assignmentcorner.co.uk/assignment-
writing-service">online assignment help now as a
grown-up I like both! Having said that, I appreciated
school, primarily for the social viewpoints!
(Morgan Smith 9:36am November 24)
And what about distance education? I agree, it's not for
all children.Some students can successfully learn
somthing in this way, but a lot of them need to be in the
classroom with other pupils, to have a techer who will
explain everything. I hev a son and i know him very well.
If he study online education – he won't do his
homework.He will use https://pro-
papers.com/au/academic-paper-writing-help
(Grace Black 9:11am May 31)
Registered users may leave comments.
Log in or register now!