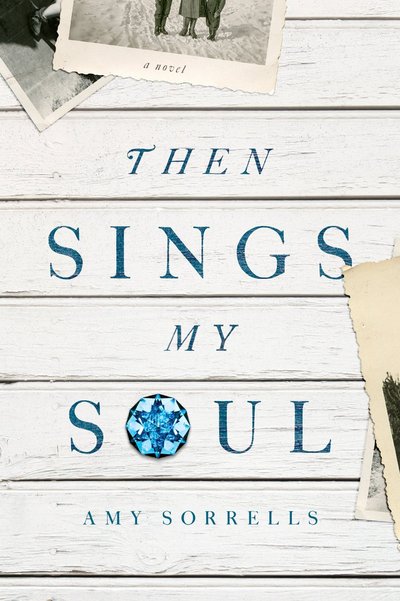 Purchase
David C. Cook
March 2015
On Sale: March 3, 2015
Featuring: Nel Stewart
360 pages
ISBN: 1434705455
EAN: 9781434705457
Kindle: B00PDDLWAG
Paperback / e-Book
Add to Wish List

When Nel Stewart returns home due to the sudden death of her mother, she realizes her beloved father, Jakob, is struggling with dementia.
With the reappearance of a high-school sweetheart, deliveries from Ukraine addressed to her, and the discovery of a mysterious, vintage aquamarine gemstone, Nel senses God is pulling her into the past to restore their faith and their futures. Told partially through Jakob's flashbacks of fleeing genocide-ridden eastern Europe at the turn of the twentieth century, the novel combines elements of mystery, history, faith and romance to reveal how God redeems the broken years ... and our future.
Comments
24 comments posted.
Then Sings my Soul sounds like a book I would like to read. I love the title.
(Kathleen Remsa 7:02am April 3, 2015)
sounds like it is enlightening about history and friendship
(Diane Mcmahon 7:08am April 3, 2015)
sounds like a must read!
(Lorelei Frank 6:55am April 10, 2015)
Sounds like a great book. I used to work in Assisted Living and
they loved to tell stories of their life. Would brighten their
day to have someone listen.
(Sue Brandes 7:49am April 10, 2015)
Wonderful post. I look for miracles in the outdoors,sunshine,
blue skies and beauty.
(Sharon Berger 11:49am April 10, 2015)
I see miracles in my dogs eyes, unconditional love.
(Rhonda Rogers 5:00pm April 10, 2015)
When I want to find miracles around me, I can either go
right outside my front door, since there is farmland and
woods all around me, or I can go up the road to the Lake,
which is one of the Great Lakes, and full of merriment and
wonder. I can also do something simple like open a book and
read, to find miracles, too. You just need to choose the
right Autobiography or History story. There are miracles
all around us. You just need to keep your eyes open and
remain alert for them. I am anxiously awaiting to read your
book. I found your posting to be very interesting and
enjoyable, as well as an eye-opener. You have a way with
words that go deep to the soul, to touch us, and make sure
that we keep the feeling we get just long enough to move
with it and do something for someone else. It's a case of
passing it forward. Congratulations on your book, and I'm
sure it's going to do well!!
(Peggy Roberson 6:24pm April 10, 2015)
Great prize, I'd love to win it.
(Wilma Frana 9:15pm April 10, 2015)
I look for miracles in my children.
(Karen Kane 10:25pm April 10, 2015)
I see the miracle of Spring! Every year it is amazing to
see something grow, where just a few weeks ago was Nothing.
I love to see baby animals, what a miracle new life is.
(Jolynn Rood 10:53pm April 10, 2015)
YES, GOD and Miracles are all around us on a daily basis. We
just have to enjoy the pretty flowers in Spring and fun
animals to play with as pets and our family and friends all
around us. We just need to take time each day to stop and
smell the roses like they say! Congrats on your new books:
THEN SINGS MY SOUL and HOW SWEET THE SOUND! I love the book
covers too. I would love to win and read your new books this
year. Thank You very much. Cecilia Dunbar Hernandez CECE
(Cecilia Dunbar Hernandez 1:18am April 11, 2015)
Just stop and look all around you for the miracles that God has created for us,it's never ending . That's something we just don't take the time to do in this busy and fast paced world today. I would love to win these books, they sound awesome. Thank you so much for the chance to win.
(Joan Thrasher 11:05am April 11, 2015)
Miracles are all around you just have to look for them.
(Pam Howell 3:55pm April 11, 2015)
I find miracles in the people around me and in every day
happenings.
(Janice Santillo 1:28pm April 12, 2015)
As a nurse I too have seen and been involved in extraordinary things. Miracles? Looks like a story to read!
(LeAnn Knott 2:18pm April 12, 2015)
We have a small creek run thru our property and we have found a
few geodes and broke a few open. I like working on genealogy and
tucking little nuggets into the lives represented there.
(Nancy Luebke 2:59pm April 12, 2015)
I love hearing the stories of older people. They have so
much wisdom to impart and so many have had trials and
tribulations that are unimaginable to younger generations.
(LaRonda Atchison 5:09pm April 12, 2015)
I enjoyed reading your post about the elderly. Old age brings on many aches, pains and moving about, along with sadness, when family forgets about them when they become too busy in their own daily lives. So when they are able to express themselves of some past memories and tell their story to someone that will listen, it is exciting to them as they can forget about what ails them for awhile. There are so many wonderful things to see every day and learn, and the beauty of it all is a miracle.
(Linda Luinstra 5:41pm April 12, 2015)
Miracles are everywhere we look. In the rising of the sun,in the sweetness
of the are, in the pulsing of our blood. One only needs to open their eyes to
see miracles - they are everywhere!
(Deborah Poston 7:34pm April 12, 2015)
I look to my garden, or conversations with the elderly. Too much of history is
lost when they are not able to share their stories.
(Mary Mccoy 9:22pm April 12, 2015)
I know how it feels to think everything is hopeles
(Tamara Lawson 11:42pm April 12, 2015)
I believe in Miracles.
(Susan Gannon 6:45am April 13, 2015)
Great insight! Thanks for sharing! I love Geodes, BTW!
(Allyson Nobles 11:19am April 13, 2015)
fi I'm looking for miracles I look toward nature.
(Angela Parrish 4:33pm April 13, 2015)
Registered users may leave comments.
Log in or register now!