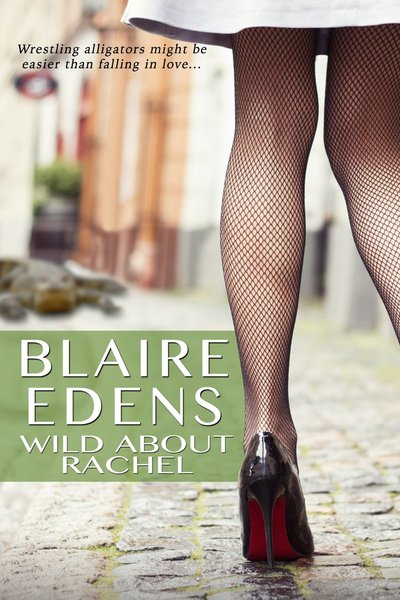 Purchase
Entangled Select
October 2014
On Sale: September 22, 2014
Featuring: Rachel Hansworth; Mark Winters
250 pages
ISBN: 1633750671
EAN: 9781633750678
Kindle: B00N6M91S6
e-Book
Add to Wish List

Former debutante Rachel Hansworth longs for the days when "alligator" was followed by "pumps" or "handbag." Broke, Rachel takes the only job she can find: removing nuisance animals from Florida homes. Unfortunately, fighting the attraction to her boss proves more difficult than wrestling a gator.
Army veteran Mark Winters needs help with his business, but he wants Rachel more. He must honor a promise to his dying mother and find a fiancée. A real girlfriend isn't part of the plan—he's been there, done that. There's only one problem: He can't stop kissing Rachel.
She refuses to be duped by love again, and he won't let a few hot make-out sessions tear down the walls he's erected. But she's all about the big bonus she'll receive if she helps Mark. They'll lower their defenses enough to trust each other when a wild animal is involved, but can they pull off the fake fiancée ruse and not be bitten by love?
Comments
9 comments posted.
I was the exact same way. I am always reading something.
People comment that I am never not reading. What else is there
in life, short of being a billionaire, that takes you to
exotic places, let's you visit things you'd never get to?
There is nothing in the world like it. Oh and I also read
dictionaries. When my Grandma passed she left me all.of her
books, including her dictionaries that I used to read while at
her house while my siblings and cousins all played.yes, major
nerd alert!
(Vicki Hancock 4:46pm September 24, 2014)
Vicki,
I am so glad to hear I am not alone! Growing up in a rural area, reading
was a way to travel the world for free. I used to check out the
thickest volumes I could find on the bi-weekly library visit. The more
pahes, the longer the trip into a new world. Thanks for checking in!
(Blaire Edens 10:00pm September 24, 2014)
Once upon a time, I could tell you the stats on every kid
ever listed on milk cartons. If we went out to eat, I was
overjoyed when we went to any restaurant with advert-
covered placemats. I eagerly devoured all I ever needed
to know about Century 21 realtors, Roto Rooter services,
and no fault divorce offerings from local lawyers. I took
it to crazier levels though. Did you know if you try to
read while skateboarding that you will probably fall
facefirst and eat pavement? I know that now.
(J.M. Kelley 12:59pm September 25, 2014)
I've been reading since the age of 3, when my Sister taught
me. Back then, I was reading physics books, and that got me
started on any subject under the sun. When I went to the
library, I would take out books from astronomy to
autobiographies, and everything in between, and carry the
entire armload home, for that 1 1/2 miles!! To this day, my
tastes are still all over the map, depending on my mood, and
fortunately we were allowed to read at the table, but it had
to be our homework assignments only!! I'm looking forward
to reading your book, since we seem to be of the same
mindset. Congratulations on your book, and I hope it's the
start of a long career!!
(Peggy Roberson 9:54am September 25, 2014)
LOL. I love to read but I admit my love of reading started in
7th grade and it was pretty much romance novels all the way.
Unfortunately my taste in books still runs towards romance but
I have started reading more YA with some sci-fi. If its
romance i want to read it.
(Suzette Finks 2:01pm September 25, 2014)
J.M,
We are totally on the same page. Sometimes Mom would leave the
ValPak on the table. Compared with mayo, the coupons were teriffic
reading.
(Blaire Edens 2:45pm September 25, 2014)
Peggy,
My tastes are all over the map. This week, I've read two romances--
one historical and one paranormal, a cozy, and a literary novel. I love a
good book. Any book. Thank you for checking in and I hope you love the
book!
(Blaire Edens 2:49pm September 25, 2014)
Suzette,
I used to hide Shannon Drake historical in my US History book. History
is history, right? I did pass the class and probably know more about Thr
Old West than any of the people who stuck to the text. Romance, when
well-written, is very educational. In more ways than one. ;-)
(Blaire Edens 2:52pm September 25, 2014)
I have always loved to read. I have a granddaughter that does
not like to read but likes to cook so sometimes we read
cookbooks.
Nice post.
(Leona Olson 8:47am September 29, 2014)
Registered users may leave comments.
Log in or register now!