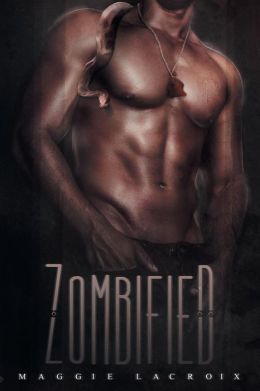 Purchase
The Writer's Coffee Shop
September 2014
On Sale: August 28, 2014
Featuring: Henri Jolicoeur; Josie Cortez
ISBN: 1612133231
EAN: 9781612133232
Paperback
Add to Wish List

Monsters generally know their place: vampires get to be sexy while zombies just decompose. But Maggie La Croix's Zombified conjures up an entirely different kind of undead raised by good old-fashioned Voodoo.
These gorgeous walking corpses don't eat brain, they don't stagger, and their bodies are spared the indignities of putrefaction. Take Henri Jolicoeur. More than one hundred years after his death he is still a bewitching Adonis. But zombification does have its downsides. Henri has a master, a powerful Voodoo priest whose spells keep Henri, his teenage zombie sister, and five other poor souls in perpetual servitude. That is, until a hurricane devastates their New Orleans home and the zombies are evacuated to the Texas border town of El Paso. The curse is broken. They are free and intend to stay that way. But how can they pass for human when they don't eat or sleep and they're reeling from black magic withdrawal? If that isn't enough, they have a traitor in their midst, their master is hot on their trail, and a mysterious stranger in black is watching.
Enter Josie Cortez, a cowboy boots-wearing reporter at the local newspaper who desperately needs a good story to save her moribund career and get her editor off her back. One look at Henri and his weird little family and she knows she's struck journalism gold. But strange things keep happening around Henri, things that remind Josie of her own tragic family history with black magic, a history that cost her her beloved mother and led Josie straight to the bottom of a bottle. Josie would rather forget all about that.
Forgetting Henri, however, is easier said than done, even if falling for a man without a heartbeat could get her more than a broken heart. It could get her zombified.
Comments
3 comments posted.
Re: Zombified

I really haven't read any vampire books, because I got so
sick of hearing about "Twilight!!!" I really like the spin
that you put on your book, and am looking forward to giving
it a try!! Thank goodness for you, your friends, and a
night out at the bar, because I'm not sure if you would come
up with such an offbeat spin again!! I'm not questioning
your abilities, but after reading your posting, I think that
your work as a team conspired to come up with one heck of a
story!! Congratulations!!!
(Peggy Roberson 10:13pm August 28, 2014)
I love vampires, shifters, and all sorts of other supernatural creatures... but a zombie? Oh this is one story I MUST read! Love your first paragraph of this blog as it hooked me.
(Debbie Wiley 12:34pm September 1, 2014)
This sounds truly fascinating. I didn't think there was a way to make zombies sexy, but it sounds as if you've done it! I'm looking forward to reading Zombified.
(Michelle Willms 8:49am September 2, 2014)
Registered users may leave comments.
Log in or register now!