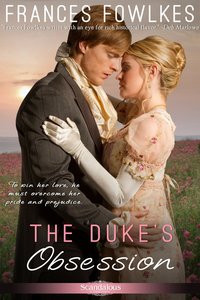 Purchase
To win her love he must overcome her pride and prejudice
Entangled Scandalous
May 2014
On Sale: May 12, 2014
185 pages
ISBN: 1622665988
EAN: 9781622665983
Kindle: B00JO3JMC6
e-Book
Add to Wish List

London 1818
An American Heiress Who Must Swallow Her Pride
Miss Daphne Farrington despises three things: England's dreary weather, the grimy streets of London, and most especially the English aristocracy. Despite her misgivings, she must persuade the very English Duke of Waverly to save her family shipping business. If only she could ignore the way he makes her pulse race whenever she's near him.
A Duke Who Must Overcome Her Prejudice
Edward Lacey, the Duke of Waverly, is convinced that the lovely Miss Farrington, with her penchant for numbers, is the woman he'd like to make his Duchess. But unless he can convince her that not all English lords are callous, calculating rakes, a dark secret will ruin his chance at happiness.
Comments
21 comments posted.
The model's definitely make a difference on novel covers for me. Not so
much for perfume.
(Julie Duffy 11:11am May 16, 2014)
I am a hoarder. :-)
Well, not like the tv people. haha
How interesting that you use scents to bring on a character. :-)
(Lisa Hutson 1:22am May 17, 2014)
Just another tip for you about those ads, Frances. If you
can bear to part with any of them, or get any duplicates,
put some in your lingerie drawer. They keep them smelling
so feminine and pretty!! I got hooked on the perfume that I
now where by one of those ads a few years ago, and have worn
that scent ever since!! I also get many compliments on my
perfume, and although I have deviated once or twice from
that scent, I always go back to it. It's a lighter
fragrance that can be worn year-round, and doesn't contain
musk, which I can't stand. The bottle is very pretty, too!!
I really loved your posting, and your latest book sounds so
interesting!! The cover is outstanding, and sexy in its'
own way. Congratulations on what I'm sure will be a big
hit!!
(Peggy Roberson 8:02am May 17, 2014)
I'm not a perfume person and I really can't use the samples either. I'm afraid I get strong headaches!
(Bonnie Capuano 9:41am May 17, 2014)
Thanks for a chance to win. Have not read any of your books yet.
(Judy Ferguson 1:31pm May 17, 2014)
Bonnie--I easily get headaches from the scents too, and have to use them sparingly. The downside of putting a lot of putting a lot of ads together is that the scents mingle--which is why I slip some into dresser drawers and luggage. :)
(Frances Fowlkes 3:40pm May 17, 2014)
What an innovative idea! I never considered tucking perfume samples inside a drawer to scent the drawer's contents or to be used to fire up your imagination. I usually try to get rid of them as quickly as I can. I can see how that would work though. Scents tend to bring memories to the forefront for me.
(Debbie Kelly 5:02pm May 17, 2014)
I get headaches from those also!
(Denise Austin 5:37pm May 17, 2014)
I would have to say that you can have your perfume, I however,
have an allergy to most of them and can not be around them. I
do however understand that it can draw inspiration for some
and change their outlook on certain things. Very creative of
you.
(Tina Ullrich 10:19pm May 17, 2014)
I wouldn't have thought of using them as a springboard for
creativity. It makes very good sense since scents can evoke
all sorts of emotions and memories.
(Glenda Martillotti 12:01pm May 18, 2014)
i dont usually buy perfume so im not much of a perfume person
i like a little bit of it but i get headaches if it is to
strong
(Denise Smith 12:16pm May 18, 2014)
That is an interesting way to define a character; I like it. I
put them under the cushions of my couch.
(Leona Olson 9:38am May 18, 2014)
I'm not sure why but I enjoy fragrances on someone else but not on myself. I find it fascinating you use fragrances for an inspiration.
(Anna Speed 12:58pm May 18, 2014)
I love this idea. I rip them out of magazines at work all the
time, but I never thought to use them as inspiration!
(Brittany DeSalvo 3:52pm May 18, 2014)
I use to buy all kinds of mags when I was a teenager and tore out the perfume but then got into perfumed oil and then just left them in the mags after that. I now always think of some scents and am hit with a memory or a time when that smelled familiar.
(Sally Hannoush 4:39pm May 18, 2014)
I've heard that scent is a very strong memory trigger. I've
been putting those fragrance pull-outs in drawers for many
years too.
(Diane Sallans 4:59pm May 18, 2014)
Sounds like a great idea!
(MaryAnne Banks 7:15pm May 18, 2014)
I love them! My favorites I save for the car - just open it up and let it rest on the dashboard while I'm at work for a few hours. The car is transformed, and I feel renewed after a long day on my feet.
(Beth Fuller 7:57pm May 18, 2014)
What a clever idea! Impressive!
(Sue Galuska 8:07pm May 18, 2014)
I LOVE perfumes and I love those fragrance samples in magazines - my son and I always check out the fragrance departments in stores - :-) Yes, we are fragrance junkies!
(Felicia Ciaudelli 1:39pm May 19, 2014)
I use fragrance samples in my dresser drawers so everything smells nice.
(Carol Woodruff 8:11pm May 19, 2014)
Registered users may leave comments.
Log in or register now!