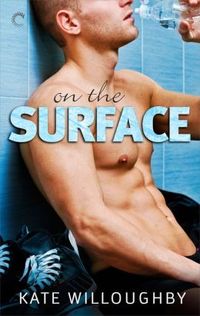 Purchase
In The Zone #1
Carina Press
April 2014
On Sale: April 14, 2014
Featuring: Erin Collier; Tim Hollander
ISBN: 1426898231
EAN: 9781426898235
Kindle: B00GKBIQMW
e-Book
Add to Wish List

NHL player Tim Hollander lost his temper one time and threw a water bottle at an abusive fan. After "Bottlegate," he's traded to the San Diego Barracudas, where he'll need to keep the bad publicity to a minimum while proving he can still compete with the younger guys on the ice.
Erin Collier is a pediatric nurse who's never seen a hockey game, but gets in line for Tim's autograph at a PR event in hopes of impressing the doctor she has a crush on. When an obnoxious fan gets pushy toward Erin, Tim rushes to defend the pretty stranger, throwing a punch in the process.
Grateful for the rescue, Erin agrees to stand by Tim during the resulting press conference and host him at a hospital charity event. Their chemistry is palpable, and soon their lives are intertwined. But Erin doubts a hockey player is capable of anything resembling a real relationship. And if Tim can't get her to see beyond what's on the surface, they'll never last longer than a single season…
In The Zone
Comments
12 comments posted.
Re: On the Surface

Lol, interesting conversation... thanks for sharing a piece of your book with us!
(Colleen Conklin 1:22pm April 8, 2014)
This looks awesome! Thank you for the giveaway.

divyasriramn@gmail.com
(Divya Sriram 5:01pm April 8, 2014)
sounds really good thanks denise226@verizon.net
(Denise Smith 10:42am April 9, 2014)
Sounds like an interesting book...great giveaway!!!!
(Bonnie Capuano 11:30am April 9, 2014)
*raises hand*

Hockey fan from California over here. Though, I'm sorry to
say, I hate the Kings. Can we be friends anyway? ;)
#GoSharks

jeayci AT gmail DOT com
(Jess Candela 2:16pm April 9, 2014)
I've worked with athletes and their speech is this salty. Do
you have personal experience with them?

acm05atjuno.com
(Anne Muller 3:16pm April 9, 2014)
Sounds great! deniseaustin59@yahoo.com
(Denise Austin 4:24pm April 9, 2014)
Sounds like a very interesting read. Email address is kathybeale1@juno.com.
Thanks for the giveaway.
(Kathleen Beale 7:16pm April 9, 2014)
Thanks you for the free copy of On the Surface.

kmccandle(at)yahoo(dot)com
(Kai Wong 11:24pm April 9, 2014)
I really liked the blurb I read about this book before I clicked over to this blog entry. There is a difference between how men think and how a female thinks. Went ice fishing with my brothers/cousins/uncles once. They all were dressed in grubby green/cammo/miss matched gear. I was dressed by my mother in pastel matching out fit with a white fir trimmed hat. Needless to say I stuck out in the truck and on the ice. ll_gee at hotmail
(Laura Gullickson 11:57pm April 9, 2014)
That was fun to read through thank you.
(Mary Preston 5:03am April 11, 2014)
Whoa! Didn't realize people were commenting! Howdy!

Seriously, I respect the Sharks. They're an awesome team. I'm proud of all three
California teams! However, we WILL be beating them in the Playoffs. LOL

I do not have personal experience with them, although I met and interviewed ex-
NHL player Jim Fox. I watched lots of YouTube video and shows like 24/7 and
NHL Revealed. I also notice on Twitter, the guys are generous with the cuss
words. Oh, and at a party with co-workers once, I really watched the guys'
interaction and listened to how they talked to each other. It was really
interesting. I'm really excited to hear that I portrayed their speech patterns
accurately. :)

Girls will be girls and boys will be boys. I try really hard to think like a man when
in the hero's point of view. Especially when describing the heroine. He's not
going to use beautiful descriptive language or notice a lot of detail about her
clothes and accessories. He's going to narrow in on body parts probably, with
only a vague awareness of anything she's wearing. Ice fishing sounds like a total
blast!
(Kate Willoughby 9:07pm April 13, 2014)
Registered users may leave comments.
Log in or register now!