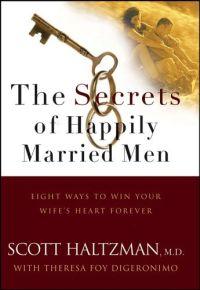 Purchase
The Secrets of Happily Married Men
Scott Haltzman
Eight Ways to Win Your Wife's Heart Forever
Jossey-Bass
December 2005
288 pages
ISBN: 0787979597
Hardcover
$25.95
Add to Wish List

Self-Help Relationships | Non-Fiction
Here at last is a new voice speaking up on behalf of men: Men who are different from women, men who want a great relationship with the woman they love, men who have their own way of creating a great marriage. Men have traditionally had a bad rap from conventional relationship books. Many self-help gurus describe men as either commitment phobic, ignorant, or disinterested in the needs of women.
The Secrets of Happily Married Men takes a completely different approach and offers a positive way of looking at how to build a successful long-lasting relationship from a man's point of view.
The Secrets of Happily Married Men is filled with stories from real men who are happy in their partnerships--men who have figured out what works for them in accomplishing the goal of a loving, intimate, lifetime commitment. Written by Dr. Scott Haltzman, founder of www.secretsofmarriedmen.com, this unique book reveals his proven method for improving relationships, based on a man's special and unique skills, strengths, and powers--as a responsible and motivated worker, manager, leader, problem solver, partner, husband, and father.
Dr. Haltzman presents eight proven techniques that he developed from his research and through the confidential correspondence to his highly successful Web site, including
* Make Your Marriage Your Job
* Know Your Wife
* Be Home Now
* Expect Conflict and Deal with It
* Learn to Listen
* Aim to Please
* Understand the Truth About Sex
* Celebrate Your Love
Written in a humorous and entertaining style, the book provides specific analysis, guidelines, and techniques that are based on male biology, neuroscience, brain differences, and unique developmental stages from youth to seniority. In addition, The Secrets of Happily Married Men contains "compelling true" stories, anecdotes, and confessions written by and for men (and the women who love them).

Media Buzz
Today - February 6, 2007
Good Morning America - January 26, 2006

Comments
No comments posted.

Registered users may leave comments.
Log in or register now!