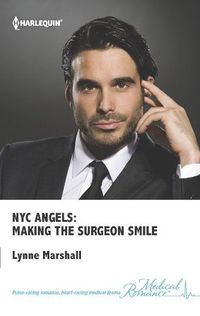 Purchase
Along came Polly...and his world will never be the same
NYC Angels #7
Harlequin Medical
June 2013
On Sale: June 1, 2013
Featuring: Dr. John Griffin; Polly Seymour
ISBN: 1460314239
EAN: 9781460314234
Kindle: B00BAT1RAW
e-Book
Add to Wish List

Surgeon Johnny Griffin's world stopped when he lost his wife and unborn child. Now only his little patients can brighten Johnny's day. Until the moment bubbly new nurse Polly Seymour whirls into his ward and turns his life upside down!
She's the ray of sunshine this brooding doc needs—the only woman who can make him feel alive again. It could be the second chance Johnny's dreamed of...if he doesn't let her slip through his fingers....
Author Note
Dear Reader,
Have you ever known a people pleaser, someone who will do anything to keep others content? Perhaps you are one. If so, you know what a huge undertaking making everyone happy can be. Impossible, even. Yet Polly Seymour, RN, plods ahead with her challenging life insisting upon sprinkling seeds of joy everywhere she goes, whether a person wants those seeds-of-joy tossed their way or not.
On the other hand, we may all also know the proverbial curmudgeon. The person who has been kicked in the teeth by life once too often, someone who has forgotten what it's like to be a part of the huddled masses yearning for something better. Most observers would give up on him and his sour moods. But someone astute at reading people, like Polly, recognizes a man with a big heart, even if he doesn't want to admit it. Because any man whose day isn't complete until he's said goodnight to each of his hospitalized pediatric patients can't be all bad, right? Meet Dr. John Griffin.
Throw these two most unlikely people together on a busy orthopedic hospital ward, let them duke it out—her killing him softy with her charm; him coming off gruffer than he intends—and watch the sexual sparks fly. It just goes to show, you never know which small gesture or annoying invitation might reach inside another person's heart and start the healing.
Now, imagine running into someone your first day on the new job, someone who will change your life, but all you feel is annoyed. Imagine being the newest employee on the ward and still having the nerve to approach the head of the department with a grand idea. Imagine two damaged people, struggling to make it through each day using completely different coping mechanisms. Now, meet Polly and John, two people I hope you'll root for as they stumble and fumble their way toward that often elusive prize—their very own happy ever after.
Welcome to NYC Angel's, the hospital that won't turn anyone away.
Happy Reading!
Lynne
Lynne Marshall loves to hear from readers at her website or friend her on Facebook
Comments
1 comment posted.
What an exciting story you have written! I am certainly
rooting for Polly and John, and your continued writing books
that speak from the heart.
(C Culp 7:35am August 7, 2013)
Registered users may leave comments.
Log in or register now!