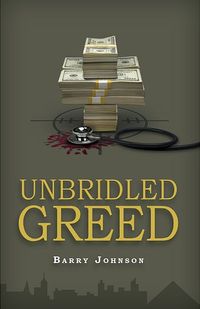 Purchase
Rocochi Ridge Publishing
November 2012
On Sale: October 29, 2012
362 pages
ISBN: 0986024600
EAN: 9780986024603
Kindle: B00AN5LBO6
Paperback / e-Book
$14.99
Add to Wish List

When a major fraud investigation is thwarted by politics and bribes, Department of Justice investigator Bryan Hampton tires of fighting corruption and cronyism in Chicago. He transfers to Las Vegas to work with a former college classmate, Paul Dixon, newly appointed as U. S. Attorney for the Nevada District. Dixon has vowed to aggressively fight health care fraud and abuse, which victimizes countless patients and robs Americans of over five billion dollars annually.
Hampton and Dixon team up with two private sector organizations and using sophisticated new software, massive data resources, and traditional investigative efforts, they uncover a highly organized fraud scheme swindling insurers of millions of dollars every month. What they don t realize until it s too late, is the degree of violence the criminals are willing to inflict, in order to feed their greed. The story powerfully exposes the corruption, greed and violence surrounding the crooks who perpetuate the fraud.
Comments
1 comment posted.
Re: Unbridled Greed

This reviewer's moral judgements and comments about human nature and right and wrong are indicative of one of the very issues this work tries to reveal. The Occupy Wall Street liberal attitude that big corporations steal from the masses so anything the public does to get back at them including fraud is justified is simplistic and old thinking. Criminals are stealing hundreds of billions from our government and private health care plans and we the public (including you, Jennifer) pay through higher premiums and taxes. Attitudes justifying or ignoring this activity is equivalent to self-flagellation and demonstrates ignorance of reality.

Furthermore, moralizing is something this nation needs more of if we are to remain great. There is good and bad and the shades of gray and complexity in ethics this reviewer wants to see in Bryan Hampton and other characters in this story are the justifications morally compromised individuals look for in others. This they do simply to justify their own behaviors, which she even acknowledges by writing "I admit to feeling criminal myself ...". We should all recognize those insights when we sense them and see less complexity in right and wrong decision-making and everything will begin to appear less gray.

Jennifer is correct about the dialogue being tedious in places and the story bogging down. My editor warned me about that but I insisted on trying to communicate the complexity and diversity of how health care fraud is perpetrated and did it at the expense of the story. That mistake I admit to and will not repeat in future stories.

By the way Jennifer, Dixon's first name is Paul not Jay as you note in your first paragraph. Perhaps Paul (who is based upon a real person without any complex moral conundrums) you would have portrayed as having a split personality, and Jay his alter ego would be filing false claims and assisting Bennett Watson, master criminal, who has also been Father of the Year in Las Vegas ten years running.
(Barry Johnson 1:02pm May 28, 2013)
Registered users may leave comments.
Log in or register now!