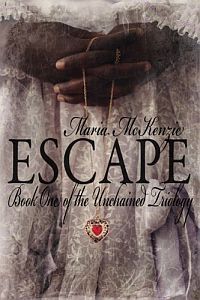 Purchase
The Unchained Trilogy #1
Forsythia Publishing
August 2012
On Sale: August 20, 2012
Featuring: Daniel; Lori
334 pages
ISBN: 1477409157
EAN: 9781477409152
Kindle: B009080XNW
Mass Market Paperback / e-Book
$14.99
Add to Wish List

Daniel and Lori love each other, yet to live as one in 1856, they must escape from the unyielding society that imprisons them.
Lori was born a slave in North Carolina, yet by chance was raised alongside Daniel in a wealthy abolitionist household. The sudden death of Daniel's mother catapults Lori back into bondage.
Relegated to chattel on a rice plantation, Lori lives in constant fear under the tormenting scrutiny of Daniel's wretched Aunt Lucinda.
After Daniel fails to convince his relatives to free Lori, he is compelled to devise a daring escape. Although a life threatening endeavor for both of them, Lori's freedom is priceless to Daniel, and he's willing to pay such a price for her love.
Unchained Trilogy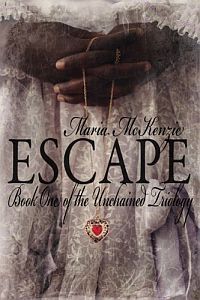 Escape
#1.0
Amazon.com | BN.com | | |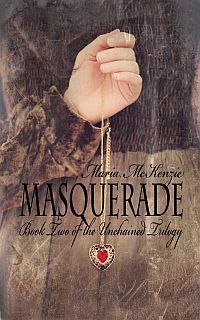 Masquerade
#2.0
Kindle | | | |
Comments
26 comments posted.
Re: Escape

thanks for this chance to win
(Debbi Shaw 12:08pm October 21, 2012)
pretty good contest
(Kent Cook 12:22pm October 21, 2012)
Thank goodness we have made some progress in our thinking!
Blessings,
Marjorie
(Marjorie Carmony 1:28pm October 21, 2012)
Thank you for your post and giveaway, Maria. Your novels in this trilogy sound like more than just good reads. They're reminders that we must not take for granted the freedoms and rights we enjoy nowadays.

Good luck with the release of "Escape" and its sequels!
(Mary Anne Landers 3:12pm October 21, 2012)
I love hearing about how people come up with their inspiration for books... it proves that you don't have to be some supergenius to be able to develop a storyine. You just have to have a sense of imagination and the ability to dream (well and a lot of writing skills too... LOL).
(Donna Holmberg 3:44pm October 21, 2012)
Sounds awesome. Thanks for to win!
(Vicki Hancock 4:18pm October 21, 2012)
Ancestry is what make us who we are. We cannot hide from it. Sooner or later, it catches up to each one of us. I love reading story about unknown past or the main character struggling to keep their past a secret.

The trilogy is a must read.
(Kai Wong 4:23pm October 21, 2012)
More people are interested in genealogy and how their family's roots interconnect. I watched a PBS show on Native American Indians and how the Long Walk affects their bloodlines. They were warned to not marry within their same clan and as time went on relaized how a recessive gene gave them kids with XP.
(Alyson Widen 4:44pm October 21, 2012)
This sounds like a wonderful trilogy that explores many aspects of how people feel about their bloodlines. My great-grand mother was Native American and I wish I knew their story.
(Kathleen Yohanna 4:59pm October 21, 2012)
It sounds like a romantic book:)
(Connie Schultz 5:30pm October 21, 2012)
FANTASTIC CONTEST I WOULD LOVE TO WIN!!
(Shelly Caggiano 5:39pm October 21, 2012)
It sounds like a great book -love you books.
(Susan Atkins 7:12pm October 21, 2012)
I really enjoy family saga type books---and I think they are perfect for a series or trilogy format.
(Sue Farrell 7:21pm October 21, 2012)
I love history. Your story sounds wonderful.
(Phyllis Lamken 7:52pm October 21, 2012)
Thanks for the chance. :) Sounds like such an interesting
book.
(Leslie Davis 8:13pm October 21, 2012)
@Debbi: You're welcome! Thanks for stopping by:).

@Kent: Thanks!

@Marjorie: I agree--we've come a long way;).

@Mary Anne: Thanks for your good wishes, and you are so right! We must never take for granted the rights and freedoms we have today!

@Donna: LOL! I'd say most writers are daydreamers with active imaginations:).

@Vicki: Thank you!

@Kai: Thank you! I love those stories too!

@Alyson: That's amazing! Genalogy is a hot topic today. Seems like more and more people are researching their roots!

@Kathleen: Thank you! There's so much more I'd like to know about the ancestry on both sides of my family.

@Connie: I think it's romantic :). But I refer to it as historical fiction with romantic elements since there's some sadness in the story.

@Shelly: Thanks, Shelly! Good luck:).

@Susan: Thank you:)!

@Sue: I enjoy family sagas too! The series possibilities are endless.

@Phyllis: I'm a history lover too! Researching the trilogy was a lot of fun:).

@Leslie: You're welcome, and thank you!
(Maria McKenzie 8:56pm October 21, 2012)
Sounds like a really good book.
(Susie Kerner 9:19pm October 21, 2012)
Thanks for the chance to win.
(Kathy Fowler 11:26pm October 21, 2012)
A very interesting tale. As an Irish person in Ireland the issue of colour does not affect my family - the Irish were the ones who exported their people and labour. But your story will add to my understanding of others.
Some readers might like to read Small island by Andrea Levy about Jamaicans who came to live in Britain after the second world war. Being British they were not prepared for bigotry because of their colour. But few British people had ever seen a person of colour.
(Clare O'Beara 5:31am October 22, 2012)
@Susie: Thanks!

@Clare: That's very interesting, Clare! Thanks for sharing. It's fascinating to see how other cultures react to race issues.
(Maria McKenzie 11:13am October 22, 2012)
@Kathy: You're welcome, and good luck!
(Maria McKenzie 11:15am October 22, 2012)
Hi Maria,
Thanks for a great post and giveaway!
(Christine Mead 7:17pm October 22, 2012)
@Christine: You're welcome!
(Maria McKenzie 7:51pm October 22, 2012)
Sounds fascinating
(Penny Mettert 11:35pm October 22, 2012)
Sounds wonderful !
(Danielle McDonald 12:56pm October 23, 2012)
@Penny: Thank you!

@Danielle: Thanks, glad you think so!
(Maria McKenzie 8:04pm October 23, 2012)
Registered users may leave comments.
Log in or register now!