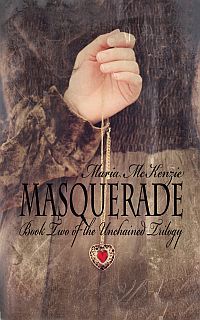 Purchase
Unchained Trilogy #2
Author Self-Published
June 2013
On Sale: June 7, 2013
Featuring: Lavinia Hargraves
ISBN: 1484900162
EAN: 0000000000000
Kindle: B00D9VHQ86
e-Book
Add to Wish List

Saga | Romance Historical | Multicultural Historical
Part two of a dramatic historical fiction trilogy that continues a compelling American family saga.
"If, like me, you are a fan of historical fiction -- especially when it's done with a real feel for previous eras -- then you'll love Masquerade, the second volume in Maria McKenzie's tale of love and race, politics and passion, in America. With its roots set in 1856, it's a novel that provides a necessary, if hard, history lesson, as well as a personal narrative of secrecy and shame, forgiveness and, ultimately, acceptance." - Robert Masello, author of The Romanov Cross and Robert's Rules of Writing
Celebrated actress Lavinia Hargraves performs her most challenging role offstage. Although born in 1872 to Daniel Taylor, a white man and wealthy landowner in southern California, Lavinia's mother, Lori, is a Negro and former slave. Lavinia, who appears white, is desperate to hide her Negro ancestry, as well as pursue her dream of becoming the world's greatest actress. After eloping with the much older Vernon Hargraves, owner of New York's premier theater company, Lavinia is provided with all she could ever want: a new life as white, stardom on the stage, and an abundant supply of money. Soon Lavinia's seduction by a young and handsome actor sets in motion a devastating turn of events. Dashing millionaire contractor Andrew Standish comes into Lavinia's life at a time when she needs him most. However, the secret of Lori's existence could demolish her daughter's carefully constructed facade. To what lengths will Andrew go to uncover Lavinia's past?
Unchained Trilogy

Escape
#1.0
Amazon.com | BN.com | | |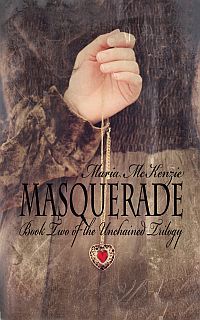 Masquerade
#2.0
Kindle | | | |
Comments
23 comments posted.
Re: Masquerade

Can't think of any favorites but I like how some bad girls
make a turn around and becomes a better person. Especially the
ones that has a story to what led them to be how they are.
Then it all makes sense and they aren't truly bad.
(Lazydrag0n Puff 12:35pm July 13, 2013)
A huge thank you to Fresh Fiction for hosting me today! Hi, Xoun, you've made a good point! It's great to see a bag girl redeem herself.
(Maria McKenzie 1:53pm July 13, 2013)
Personally, I really like Undine---she was just so driven.
(Sue Farrell 2:33pm July 13, 2013)
Hi, Sue! Yes, Undine was driven, indeed. Perhaps driven is an understatement;).
(Maria McKenzie 2:48pm July 13, 2013)
Lavinia ~ I am already hooked ~ seems like the perfect lady for a Southern Lit book, not a *bad* girl but I can't wait to find out!
(Susan Coster 4:55pm July 13, 2013)
Masquerade sounds wonderful. I hope I win! Meanwhile, I am going to
gets scalped and start reading it. . .
(Susan Mahaffey 5:56pm July 13, 2013)
Hello, L.Lam, I wasn't familiar with Nix and had to do a little research on her. A soothsayer gone mad--what a juicy character!
(Maria McKenzie 6:36pm July 13, 2013)
@Susan Coster: Hi, Susan! So glad Lavinia has you hooked:). I hope you enjoy her story!

@Susan Mahaffey: Hi, Susan, thank you! I hope it's fun read for you:).
(Maria McKenzie 6:40pm July 13, 2013)
I would have to say Scarlett O'Hara. With all the back stabbings she did to her siblings, she really have good intentions. She is someone that audience would love to hate but can't blame her for making the most of her situations.
(Kai Wong 7:05pm July 13, 2013)
@Kai: Hi, Kai! Scarlett definitely made the most of her situations. When life gave her lemons, she made lemonade--big time;).
(Maria McKenzie 8:29pm July 13, 2013)
Bad girls are forever trying to prove themselves to others.
They seek approval, but lack the savvy to be appropriate
unless something is in it for themselves. They are driven
to do the wrong thing because that is what they know best
and because of their flaws, we are drawn to them like honey
beckons flies.
(Alyson Widen 10:29pm July 13, 2013)
While I was reading your posting, Scarlett O'Hara popped in my head, and there was your explanation of her!! Outside of her, and because it's late for me, and I'm so tired from housework today, nobody comes to mind!! I do love the cover of your book, however, as well as the story line, and would love to read your book!!
(Peggy Roberson 11:49pm July 13, 2013)
This sounds amazing... I can't wait to pick up the book and start to read. It's nice to see a different kind of female protagonist.
(Nicole Swirsley 4:23am July 14, 2013)
It seems that you like bad girls. There are many on T.V. but I can't think of one in books that hasn't been mentioned. Evelyn Harper on Two and a Half Men is one.
(Kathleen Yohanna 6:49am July 14, 2013)
@Alyson: Well said, Alyson! They have such nerve and it's fun to see how they do things we'd never think about doing!

@Peggy: Hi, Peggy, thanks for your kind words! So glad you stopped by even being tired after all your housework:).

@Nicole: Thank you, Nicole! I hope you enjoy it:).

@Kathleen: Hi, Kathleen! I've never watched Two and Half Men, but I'll have to check it out to see Evelyn Harper in action:). I must admit, bad girls are fun to write--I also think lots of actresses would rather play a bad girl role than a nice one;).
(Maria McKenzie 7:10am July 14, 2013)
Definitely agree that Scarlett O'Hara is the best written bad girl to date. She knows what she wants and goes after it.
(Pam Howell 9:21am July 14, 2013)
i love the bad girls i dont have a favorite
(Denise Smith 9:45am July 14, 2013)
@Pam: Hi, Pam! I agree--Scarlett is the best bad girl written to date. No obstacles could ever hold her back!

@Denise: Hi, Denise! All bad girls are fun to read about--and fun to hate;).
(Maria McKenzie 2:13pm July 14, 2013)
seems like a good read; thanks for the giveaway!
(Barbara Studer 5:16pm July 14, 2013)
I've always loved reading about Rebecca Sharp in VANITY FAIR.
That's some miss!!
(Mary Preston 6:49pm July 14, 2013)
Can't think of any bad girls but it always makes a novel interesting.
Thanks for the giveaway! Hope i win a copy.
(Sarah Bauman 7:50pm July 14, 2013)
Bad girls always make me shake my head. I can wrap my mind around how
they think they run through life.
(Laura Gullickson 10:18pm July 14, 2013)
@Barbara: Hi, Barbara, and thanks you for your comments!

@Mary: Hi, Mary! I've never read Vanity Fair, but I've heard about bad girl Rebecca Sharp!

@Sarah: Hi, Sarah, thanks for stopping by:). Bad girls always add spice to a novel, don't they?

@Laura: Hi, Laura, I know what you mean! It's a shame that people really do exist that act like those bad characters. When they end up on the six o'clock news, I always wonder how they thought they could get away with such despicable stuff!
(Maria McKenzie 9:08am July 15, 2013)
Registered users may leave comments.
Log in or register now!