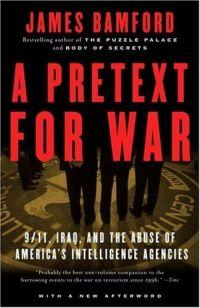 Purchase
9/11, Iraq, and the Abuse of America's Intelligence Agencies
Anchor
May 2005
480 pages
ISBN: 140003034X
Trade Size (reprint)
$15.00
Add to Wish List

The bestselling author of Body of Secrets and The Puzzle Palace presents his most hard-hitting book to date...a sweeping, authoritative, and fearless account of the failures of America's intelligence agencies and the Bush administration's calculated efforts to sell a war to the American people.
In The Puzzle Palace, James Bamford revealed the existence of the NSA, the largest, most secretive, and best- financed intelligence organization in the world. In Body of Secrets, he took readers inside the ultrasecret agency, charting its deeds and misdeeds from its founding in 1952 to the end of the twentieth century. Now Bamford applies his relentless investigative drive and unparalleled access to intelligence sources to produce a headline-making book about the most pressing issues of the present day.
From the mishandling of the pre-9/11 threat to the unproven claims about Iraq's weapons of mass destruction, Bamford argues that the Bush administration has co-opted the intelligence community for its own political ends, and at the expense of American security. Bamford makes the case that the Bush administration's Middle East policy decisions, from overthrowing Saddam to ignoring the situation of the Palestinians, are driven by long-held beliefs and goals of an elite group of conservatives inside and outside of government.
A Pretext for War homes in on the systematic weakness that led the intelligence community to ignore or misinterpret evidence of the impending terrorist attacks of 9/11?a failure rooted in the refusal to acknowledge the central role of the Palestinian cause in igniting Arab rage against the United States. Compounding the errors, the Bush administration's immediate response to 9/11 was to call for an attack on Iraq, and it subsequently invented justifications for the preemptive war that has ultimately left the United States more vulnerable to terrorism.
A Pretext for War is an unprecedented, utterly convincing exposé of the most secretive administration in history.

Media Buzz
Diane Rehm Show - NPR - August 16, 2007
Diane Rehm Show - NPR - February 1, 2007
Good Morning America - May 8, 2006
NewsHour with Jim Lehrer - May 5, 2006
Weekends with Maury and Connie - February 11, 2006
Lou Dobbs Tonight - February 6, 2006
Lou Dobbs Tonight - January 20, 2006
Lou Dobbs Tonight - January 17, 2006
Lou Dobbs Tonight - January 4, 2006
All Things Considered - December 16, 2005

Comments
No comments posted.

Registered users may leave comments.
Log in or register now!