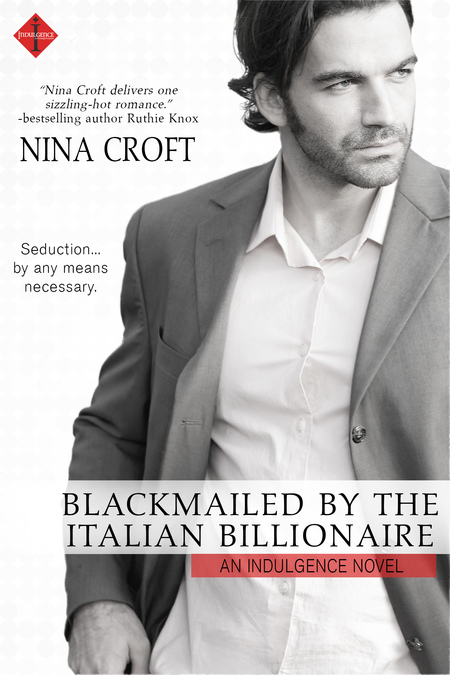 Purchase
Blackmailed by the Italian Billionaire
Nina Croft
Seduction by any means necessary…
Entangled Indulgence
March 2012
On Sale: March 12, 2012
Featuring: Luc Severino; Olivia Brent
ISBN: 1622669053
EAN: 9781622669059
Kindle: B00BCFWJ9M
e-Book
Add to Wish List

Seduction by any means necessary…
Olivia Brent is happy with her quiet life in the country, until the imminent loss of her home forces her to embark on a search for her estranged father. Catapulted into a world of criminals and totally out of her depth, Olivia is rescued by the stunningly gorgeous and enigmatic billionaire Luc Severino.
Luc has never considered himself a knight in shining armor, and if he had been, then Jimmy Brent's daughter was the last person he would choose to rescue. But Olivia is the key to finding her father, and Luc is willing to use any methods available, including blackmail, to persuade Olivia to help him find Jimmy and finally put the past behind him.
And if blackmail doesn't gain her total cooperation, then perhaps a little seduction will...
Comments
49 comments posted.
Re: Blackmailed by the Italian Billionaire

Definitely sounds like a book I would be interested in reading
(Shelly Itkin 12:34pm April 22, 2012)
THIS IS MY TYPE OF BOOK THIS SOUNDS REALLY GOOD
(Denise Smith 1:29am April 22, 2012)
I think the age difference of the hero and heroine will decrease so there isn't such a gap in ages. Maybe even see older woman, younger man?
(Jill Merriott 2:06am April 22, 2012)
In this age of woman liberation, I believe heroines would be stronger, smarter and more experienced. What I love about category romance is that it always ends with a HEA, an absolute must for me.
(Tamsyn Takamiya 3:07am April 22, 2012)
I think we'll see more strong, self-sufficient women in jobs that are traditionally male.
(Sharon Mitchell 3:13am April 22, 2012)
I would love to read this book...sounds great!!! Thanks for the chance to win it...
(Bonnie Capuano 5:46am April 22, 2012)
I think we need to blend the oldie but goodie traditional
roles with the modern woman, a nice balance.
(Stephanie Bonck 6:09am April 22, 2012)
My grandmother is the one that got me hooked on Romance.
She got me hooked on Harlequin's when I was in high school
and I've been reading all types of romance since. A lot of
my romances are a little hotter than the harlequins's but
they are still my first love.
(Lynn Reynolds 6:48am April 22, 2012)
I would love to have read older romance novels. Some of my favorite books as a kid were my mom's. She had an Annette book - starring Annette Funicello and there were some others like that but no real romance novels.
(Pam Howell 7:36am April 22, 2012)
Can't wait to read this; it sounds like a book I won't be able to put down until finished
(Mary Lynch 7:45am April 22, 2012)
Thanks for telling us the backstory behind your love affair ith this genre. I
always enjoy learning more about what authors like and why. I appreciate
you offering this contest and hope I win! Have a wonderful weekend.
(Maureen Hayes 7:50am April 22, 2012)
I like hearing about your adventures into genres of writing.
Thanks for the contest.
(Mary Hay 8:29am April 22, 2012)
sounds like a reallly good read...
(Mal Kaplan 8:47am April 22, 2012)
I, too, love Romantic genres. I, too, followed in my mother's foot steps in reading choices and now my daughter enjoys them too. That's three generations and we are all going strong. Keep writing!
Patricia Pascale
(Pat Pascale 9:04am April 22, 2012)
I think that we might start to see more romances where women have more power, they are stronger, or maybe just more stubborn, but whatever form they take they will be more modern, and independent and not as reliant on being rescued.
(Chelsea Knestrick 9:38am April 22, 2012)
I believe that we will see strong heroines. I would like to see a few househusbands and heroines saving the men. I would also prefer to have less graphic sex scenes...part of reading is putting my imagination to work and sometimes the sex scenes are so graphic that it is spoiled. Each woman has their own "movements" that excite them and perhaps a few that turn them off. When a scene is too graphic it can actually be a turn off and ruin the book.
(Kelly Knapp 9:46am April 22, 2012)
Sounds like a great read!
(Janet Best 10:20am April 22, 2012)
Women I think will be alot more prominent but I still like the man as the books hero!! This book sounds wonderful...thanks for sharing
(Dawn Staniszeski 11:19am April 22, 2012)
I love category romances, too! I do like Alpha heroes, but I prefer when they like Alpha heroines as well!
(Rebecca Whitehead-Schwarz 11:36am April 22, 2012)
I love romantic suspense. Sounds like a great book
(Barbara Semeraro 11:40am April 22, 2012)
Romance and suspense make a great combination --- just my cup of tea. It sound like a wonderful book.
(Anna Speed 12:11pm April 22, 2012)
I think we will see heroines a little older, stronger. But I also think that these books are escapism for many of us. So a variety of characteristics, ages etc will be needed. The older I get, the less relatable an 18 year girl is to me. Occassionally reading romance involving a girl is ok, but I tend to like older heroines.

Love your books. I started reading harlequins after I had finished all the Barbara Cartland books. The little used book store sold the harlequins 10 for $1 (dating myself here) and I was hooked.
(Kimberley Coover 12:26pm April 22, 2012)
I love your books, and I love romance stories. Thanks for the contest
(Marci Cornelius 12:39pm April 22, 2012)
I have not read any of your books, that is why I love the fresh fiction site. I have been introduced to a few authors here that i have grown to love!
(Carrie Goodman 12:54pm April 22, 2012)
An Italian Billionaire? You had me hooked at the title! LOL!
(Catherine Lee 1:00pm April 22, 2012)
I agree that heroines have changed the most in contemporary stories. They are more independent, assertive and strong. I think it makes the stories more interesting. The hero and heroine are on equal footing.
(Stacie Deramo 1:16pm April 22, 2012)
I think the next evolution will be more of a devolution, with heroines being less forceful and independent and heros being moreso.
(Deborah Rosen 2:02pm April 22, 2012)
I would like to see the change be that of the hero being the know-it-all gazillionaire jerk he usually is, while the heroine finally grows a backbone.

Yes, the category has changed some over the years, but those to types still exist in way too many of the books!

Thanks for the poll.

Later,

Lynn
(Lynn Rettig 2:04pm April 22, 2012)
Men are less strong and women are more wealthy?
(Beth Elder 2:41pm April 22, 2012)
I think the next evolution will be more young adult romances.
(Tammy Yenalavitch 2:44pm April 22, 2012)
As a teen I started with Bararba Cartland's virgins to Harlequins. So I think everyman wants and needs a strong woman in his life. :)
(Deb Pelletier 3:31pm April 22, 2012)
Sounds like my kind of book! I also began reading harlequins, and still do at times. Just depends on the story.
(Lynn Falin 3:37pm April 22, 2012)
Since women have become stronger and more independent, holding more powerful, high-paying jobs, once traditionally held by males and more women in the work force, along with high divorce rates, roles have changed. Therefore, romance novels of the future, with the heroine being stronger than the hero wouldn't surprise me, but would be a fun, modern twist having the woman take charge.
This sounds like a book I'd really love reading...great title too! Who doesn't love an Italian and a rich one??
(Linda Luinstra 4:25pm April 22, 2012)
I think the next gen in romance will be where the woman has a strong job and the man has to relocate and get a new job to follow his woman.
(Alyson Widen 4:45pm April 22, 2012)
Congrats on the release Nina. It sounds great! I like to read about strong independent woman with jobs, friends and a life. Who meets someone to ADD to her life.
(Christine Arcidiacono 4:55pm April 22, 2012)
Through the years I have enjoyed the many directions romance novels have taken... looking forward to many more enjoyable reads.
(Colleen Conklin 5:38pm April 22, 2012)
I foresee more "role reversals" and far more realistic modern day women. I
hope I am not far off as I would enjoy the genre more.
(Liesl Lane 6:13pm April 22, 2012)
sounds like a good read
(Cindy Vinzant 7:56pm April 22, 2012)
I would love to see it go back to the days of the old-fashioned romance, but the authors would probably end up spicing it up a notch. I thought they were the most colorful, meaningful, beautiful love stories ever put to paper. I've read a couple of books that have been in print recently that followed that format, and fell in love with the book immediately. Since you've read enough books going back far enough, I'm sure I'll enjoy reading your books as well.
(Peggy Roberson 10:04pm April 22, 2012)
Judging from the synopsis, this sounds like my kind of story. Two interesting characters, each with their own agenda. Hope I win.
(Lynne Mauro 10:42pm April 22, 2012)
I'm having a hard time finding romances that I like. I'm definitely not interested in demons, witches and especially not vampires. I don't mind shape shifters or extraterrestrials or characters with supernatural powers like super-keen eyesight and hearing, being able to hear thoughts, and the like. Mainly I hate gory books, that's why my dislike of vampires. I don't care for gory murders either. I guess I'm a "gentle" soul, huh. I don't think I really want any new hooks in by books. But then, I still have plenty of old books to read.
(Sigrun Schulz 10:51pm April 22, 2012)
I'm not sure what the next stage in the evolution will be... aI just hope it has an
HEA! Sounds like a great read!
(Jane Limback 11:38pm April 22, 2012)
I really have no idea what the next generation of romances may be---but probably some offshoot of another type of literature that becomes popular.
(Sue Farrell 11:55pm April 22, 2012)
The evolution could be age reversals.
(Lisa Kendall 12:16pm April 23, 2012)
sounds like my cup of tea! ThanQ Ms. Croft:D..!
(Janice Thomas 8:43am April 23, 2012)
To Sigrun Schultz & Peggy Roberson:
May I suggest an excellent newer author with old-fashioned romance to you both? I just read her first two books and they were both fantastic and very well written. Please check out The Bungalow -and- Violets of March by Sarah Jio.
You will be in love with her excellent writing. She is my very favorite author, and I can't wait for her next book out in Sept., Blackberry Winter. Your libraries can order them in if they aren't available. The Bungalow is a love story that takes place during the war and is so-o good! I couldn't put it down and read it all in one day. Happy reading girls...I'm sure you'll be exceptionally pleased and as in awe as I was!! Sarah Jio must be highly intelligent to write a story so detailed and mesmerizing that you feel like you're there!
(Linda Luinstra 4:08pm April 23, 2012)
Sounds like a great book! I wonder if Olivia will catch on to what Luc is doing-just to get to her father?
(Theresa Smith 9:46am April 24, 2012)
Thank you for your post, Nina.

The most obvious change in category romances since I started reading them 35 years ago is diversification. Nowadays one can find just about any subgenre of romance fiction represented by one or more series. And new subgenres keep popping up.

With the huge number of new titles flooding the market, readers can be very picky concerning their tastes and standards. Going through the long lists of new and reissued titles takes up too much time that could be spent reading. It helps greatly if a reader can find a series tailored to what she is looking for, without lots of titles outside her search field.

I expect this trend to continue. We'll see more series aimed at more specific groups of readers.

What do I wish we could see in series romance? More heroes who are either truly heroic, who accomplish great deeds for the sake of others; or beta males, nice guys who are already lovable. Stories in which the character with heavy issues is the heroine, not the hero. Or in which they fight fate more than each other.

And romances in which the hero isn't rich and powerful. There's lots of plot potential in money and career problems!

Good luck with your new and upcoming releases.
(Mary Anne Landers 6:27pm April 24, 2012)
I can't foresee any new trends or deviations as far as romances go. I'm actually really happy with older, protective, possessive, powerful big dudes falling in love with that one girl. :D
(Chia Yet Peng 5:04am April 25, 2012)
Registered users may leave comments.
Log in or register now!