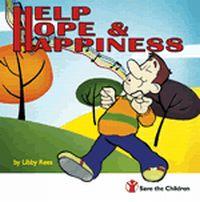 Purchase
Help, Hope and Happiness
Libby Rees
Aultbea Publishing
December 2005
60 pages
ISBN: 1905517025
Hardcover
$15.00
Add to Wish List

Libby recorded the unique strategies she has employed to cope with life's difficulties. Read her book and be astounded at the wisdom of this nine year old. Here are just a few of her ways of coping:
Top 10: the child's guide to separation
Take a break Try to find some time to be alone. Enjoy a favourite film or book. This will give you some valuable time off from worrying, also it will help you relax.
Funny phrases Think of something which always makes you laugh! Say it to yourself when you are feeling sad and it will cheer you up.
Positive thinking Try looking in the mirror, first thing in the morning and say out loud to yourself "I am better and better every day!" five times.
Achievements Find something that you fear and try to overcome it. This sense of achievement will encourage you to take on other challenges.
TGI Night This stands for Thank God It's ... then you fill in the day of the week which is good for you to have as a special night. Having a special night to look forward to it will help you get through from week to week.
Review your week Look back on the week just gone and decide what worked well, as well as what was a problem for you. Then think about how you could change the outcome to suit you best.
Let it all out Find a place where you can be all alone and let it all out. Scream, shout, stamp your feet.
Join a club If you could use something to divert your brain, joining a club will help you to forget your problems.
Pick a project Engross yourself in a project of your choice. It might be something you studied at school that you want to find out more about.
Healthy body, healthy mind If you exercise, your body releases endorphins. They convince your body and brain that you are fit to cope with anything.

Media Buzz
Good Morning America - December 16, 2005
Early Show - December 14, 2005

Comments
No comments posted.

Registered users may leave comments.
Log in or register now!