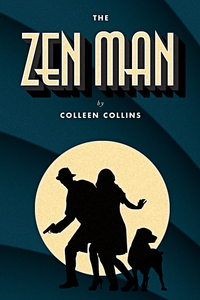 Purchase
WIN, Inc.
December 2011
On Sale: December 18, 2011
Featuring: Laura Fitzhugh; Rick Levine
ISBN: 0013736434
EAN: 2940013736436
Kindle: B006NPP9XY
e-Book
Add to Wish List

Just as washed-up criminal defense attorney, life-long Deadhead (nickname "The Zen Man"), and current PI Rick Levine decides to get re-licensed as a lawyer, he's charged with killing one and ends up in the slammer with a half-mil bail.
Released on bond, Rick and his girlfriend Laura have 30 days to find the real killer. In the course of their investigations, they dig for dirt among Denver's shady legal backrooms to its tony corporate centers. Dodging bullets, a kidnapping, trumped-up charges, and the FBI's unwanted intervention, Rick and Laura continue tracking key suspects who have motive...eventually learning that true redemption begins at home.
Comments
62 comments posted.
Re: The Zen Man

Looks like a great read.
(Valerie Piotrowski 1:23am March 13, 2012)
Hi! :) Yep, Sherlock Holmes here too... and yeah, I know
the Basil Rathbone ones are not like the real stories, but
it was my introduction and what I grew up on because of Mom.
LOL The other show - Remington Steele. Boy did I love
watching that (well, the reruns, never knew it about it when
it was on the first time around. Too young.)

Lit-wise, I was introduced to a few different ones in the
Detective fiction class I took some years back, but from
there, still liked Sherlock, but that's where I first read
Robert Parker/Spenser. :)

Lois
(Lois Merritt 1:43pm April 17, 2012)
I would never consider Sherlock Holmes hot in any way as he's been portrayed on the screen. To each her own though.

Spenser from Robert B. Parker is hot, tough and erudite. I never got his relationship with Susan though. I could see myself being frustrated with him though. He seemed to be a little passive aggressive. Hawke would probably be too much for the likes of me.

From tv there was Thomas Magnum, Tom Selleck at his peak of physical perfection. Even my mom lusted after him (ewww).
(Anne Muller 2:12pm April 17, 2012)
Spenser, Magnum, Hawke, Remington Steele and while this is a female Sue Grafton's Kinsey Millhone
(Susan Ashcraft 2:17pm April 17, 2012)
The ones you mentioned and Lord Peter Wimsey. I love that veneer of drollery with an alpha hero underneath. Shades of the Scarlet Pimpernel!
(Lisa Elwood 2:23pm April 17, 2012)
Most of the ones I remember were from tv. Remington Steele was one of my favourites because of all the mystery. Who was he really?
(Cheryl McEwen 2:34pm April 17, 2012)
How about Mike Hammer? Stacy Keach made him a real sex-pot as far as I was concerned.
(Sue Farrell 2:35pm April 17, 2012)
Because I've never found a private eye book to interest me (yet), the one character that immediately came into my head would be Ranger from the Janet Evanovich series of books. He's dark, mysterious, pops out of nowhere - sometimes when needed, sometimes when he's not, and he's a great lover! What more could you want out of a detective? He also has his own agency, which is very high-tech, and very classy. I've been wanting to read your book very much, and really love the cover. It's nice to know a bit of the background to the book as well. Thank you for the wonderful blog entry today.
(Peggy Roberson 2:38pm April 17, 2012)
STARS COLLEEN! ZEN MAN SOUNDS AWESOME!!
(Linda Bass 2:40pm April 17, 2012)
My number one favorite detective has to be Hercule Poirot and his "little grey cells". Agatha Christe really could write a good mistery! Poirot is superbly enacted by David Suchet in teh BBC version from PBS.
Taking you back to the movies of a long time back, there were the Matt Helm movies with Dean Martin. The books were written by Donald Hamilton, and they were fun to read. The movies were so much fun! And Dean Martin was a really good choice to play the sexy detective.
I read a lot, so I also have some favorites that have not made it to the movies or TV.
I love Alex McKnight! Steve Hamilton is a terrific writer!Alex is such a wonderful tragic hero, and he is always getting himself into MAJOR trouble! The hockey league player who is a little too old for the game but still tough enough. And he only drinks Canadian beer. He rocks!
Then there is Cork O'Connor. William Kent Krueger is another favorite ayuthor. Cork is dad, husband, friend. He is a loveable guy, but tragedy always seems to follow him, too. He is wonderful with his kids. A good husband (for the most part). A good friend to his pals. And really clever and insightful!
Jeffrey Tolliver is another tragic hero. Karin Slaughter has made him really flawed. He is a police chief. He is not a perfect character, but he is a really interesting character. I really fell hard for that guy. And then, Karin started writing about Will Trent who was an abused foster kid. WOW! That girl knows how to write about a detective that will keep your heart fluttering!
I could actually go on for a long time!
I like the choices for McGarret and Danno on the new Hawaii 5-0. I think the casting for the show is great! I didn't think anyone else could play the parts, but they have really done an outstanding job!
I just love detectives, and I think it adds a lot to know that Colleen and her husband actually live the life! That's GOT to make the books real!
(Sandy Fielder 2:51pm April 17, 2012)
Hmmmmm...good question for sure - never really thought about it - BUT...Jeremy Brett's Sherlock Holmes is my FAVORITE (SWOON!) with Basil Rathbone being a VERY close second - just something about these men...Hercule Poirot would be next for me - suave yet crafty, all of them -
(Felicia Ciaudelli 3:03pm April 17, 2012)
Hey! I thought that I would be the first to nominate Ranger!!

Oh, well.

I completely agree with the listing of Lord Peter Wimsey, Jim Rockford (James Garner - le sigh), Jack Lord in the original Hawai'i Five-O, and would like to add to the list: Burt Reynolds in "Smoky and the Bandit" was certainly easy on the eyes, even though he played a sheriff, not a PI. And Robert Wagner in "Hart to Hart" should be in the mix also.

I know that there was another one I wanted to add, but I just can't remember the name. My apologies!

Later,

Lynn
(Lynn Rettig 3:15pm April 17, 2012)
Columbo always makes me laugh asking, "I have one more question," before he leaves the room. Also Milan Jocevick in Les Roberts 13 mysteries as a Polish PI who always gets backed into trouble and almost runs out of money consistently.
(Alyson Widen 3:31pm April 17, 2012)
It's Rockford for me. The Underdog, but always out for the little guy.
(Lisa Kendall 3:36pm April 17, 2012)
I loved Magnum, Remington Steele, Spencer, Rockford, and the new Sherlock on BBC.
(Cathy MacDonald 3:41pm April 17, 2012)
Oh Colleen did you pull some memories out. My favorite from my young years was Charlie Chan. Only liked the ones from the early years played by Warner Oland and Sidney Toler. His stories included different family members that wanted to help dad, but number one son, Jimmy, was my favorite. Must include Harry Callahan, Dirty Harry. How many times I have watched Clint Eastwood in his series. They were fantastic. Yes the readers ahead of me named a great group of PI's, and I have seen them all. We were of a great generation to know these programs. Now we have different titles tagged on investigators. The Mentalist's, Patrick Jane, played by Simon Baker and Castle's, Richard Castle, played by Nathon Fillion. WOW. The PI's now are a new breed of entertainment. Love them all.
(Rosemary Simm 4:08pm April 17, 2012)
My fav? Lisabeth Salander!
(Diane Pollock 4:41pm April 17, 2012)
Remington Steele... Had a crush on him even though I was a pre-teen...
(May Pau 4:45pm April 17, 2012)
Love Sherlock Holmes, we watch them all. We like a good PI story.
(Deb Pelletier 4:50pm April 17, 2012)
Dirty Harry.
(Mary Hay 4:57pm April 17, 2012)
I'm enjoying reading everyone's favorites! Thanks for jogging my
memory with some great PI characters.

Colleen
(Colleen Collins 5:51pm April 17, 2012)
Moonlighting with Bruce Willis was a good one.
(Maureen Emmons 6:18pm April 17, 2012)
Most of the hot Private Investigators that were my favorites were from TV series. Enjoyed Jack Lord-Hawaii Five-O, James Garner-The Rockford Files, Peter Falk-Columbo,
Tom Selleck-Magnum P.I., Robert Wagner-Hart to Hart and MONK (loved the humor with this germaphobe)! I'm sure your book is awesome, too, and I'd love to read it!
(Linda Luinstra 6:48pm April 17, 2012)
I don't watch very many detective shows. I used to watch the old Hawaii Five-o and Rockford Files shows.
(Wilma Frana 8:35pm April 17, 2012)
I personally love Richard Castle (Nathon Fillion) from the ABC TV series Castle. His character is a lot of fun and has a great personality.
(Chelsea Knestrick 8:40pm April 17, 2012)
I've wracked my brain and no one really jumps out at me. Of those listed, I would probably say Bruce Willis in Moonlighting...
Good luck and happy writing!
(Tracie Travis 9:08pm April 17, 2012)
My mother read to me as a child and I started taking my son to the library at age 3 to pick out his own books. We have shared a lot of Sherlock Homes stories over the years and I would have to say Sherlock Homes!
(Ann Thaxton 10:07pm April 17, 2012)
Love Robert Parker's Spenser books and the tv series with Robert Urich as Spenser and Avery Brooks as Hawk.
(Mary C 10:08pm April 17, 2012)
i love sherlock holmes and i always enjoyed mysteries drama and books
(Denise Smith 11:18pm April 17, 2012)
I loved watching Tom Selleck in Magnum P.I. Thanks for giving me a chance to win your book.
(Linda Hall 11:33pm April 17, 2012)
for me, Sherlock Holmes is the best.
(Elena Oancea 3:12am April 18, 2012)
I'm going to have to say that Magnum (Tom Selleck) does it all for me. I can't recall reading any Sherlock Holmes, but since so many here have pick him, maybe I better put that on my list.
(Becky Darmogray 6:44am April 18, 2012)
Hey, what about Kinsey Milhone? I'd rather hang out with her than with most male detectives, who tend to be mighty peculiar about women, from my wild-eyed feminist point of view.
(Mary Ann Dimand 7:59am April 18, 2012)
Who could forget Sherlock Holmes...what a sleuth!!
(Bonnie Capuano 8:32am April 18, 2012)
oooooooooo Robert Downey Jr. as Sherlock Holmes would be top on my list!!!!!
(Angie Lilly 8:46am April 18, 2012)
BIG Sherlock Holmes fan (and Alfred Hitchkock, now I'm dating myself!). Can't wait to read this book!!!!
(Stephanie Strausberger 8:51am April 18, 2012)
In books, I love L.A. private eye Elvis Cole, from author Robert Crais. And Spenser--Robert B. Parker's Boston PI, was always wonderful! Good column--Thanks.
(G S Moch 10:33am April 18, 2012)
Magnum, P.I. and Remington Steele
(Kim Dees 10:41am April 18, 2012)
Was wondering if someone would mention Robert Crais's Elvis Cole or
Joe Pike--both great additions to hot private eyes. As are the others
-- from Monk to Spenser to Castle to Milan Jocevick (the latter is
apparently taking on an interesting PI apprentice).

Any more additions?
(Colleen Collins 11:56am April 18, 2012)
sherlock holmes to the bone. I always loved how he used his eyes and brain to figure things out and save the day.
(Anthonia Sharp 12:04pm April 18, 2012)
Oh lala, I'm also a Jeremy Brett's Sherlock Holmes fan!
(Kim Phan 12:17pm April 18, 2012)
love your answers, but what about Jim Hutton as "Ellery Queen?" Oh! I had such a crush on him...got me reading all of the books and the magazines. Sadly, he passed the summer before my senior year...I was melancholy for the entire year.

William Conrad as "Cannon." Who didn't fall for the voice?

Mike Conners as "Mannix."

And my very first PI crush, "Paul Drake", the original, not the joke of a nephew. No, William Hopper is the only one who could play that role!
(Kelly Knapp 2:17pm April 18, 2012)
Tom Selleck in Magnum would top my list! Some of the others that people listed I'm unfamiliar with... will have to look them up.
(Colleen Conklin 2:17pm April 18, 2012)
Jim Rockford - always got his man
(Adina Weinstein 2:41pm April 18, 2012)
I always liked Remington Steele - not only because of his looks but because he was "playing" detective.
(Beth Elder 2:50pm April 18, 2012)
Perry Mason's PI ,Paul Drake, I couldn't tell if he had white or blond hair. Shows done in black and white. But he was a cutie, for us old timers. Alot of wonderful PIs out there.
(Deb Pelletier 4:06pm April 18, 2012)
It's been years since I've watched Columbo, but I enjoyed watching the rumpled looking detective solve the crimes while everyone thought he was clueless.
(Anna Speed 4:10pm April 18, 2012)
Hmmmm I grew up watching Columbo with my mom. I use to watch
English mysteries on A&E with my mom too. I don't really have
a "hot" detective, just enjoyable ones.
(Cathie Veres 4:53pm April 18, 2012)
I totally have to go with Benedict Cumberbatch as Sherlock in the modern day take of the story, tv series on PBS (English version). If you haven't checked out the show I recommend it two thumbs up.
(Sharon D 5:26pm April 18, 2012)
Another PI came to mind for me. That would be Alex Cross. He's intelligent, sophisticated, wealthy, formidable, ethical, and does anything in his power to protect his clients. He has other qualities that make him popular with the ladies as well. I wanted to be sure to add him to the list. I also wanted to say that I admire you and your Husband for taking on such a noble profession, because I figure not only is it gutsy, but it's admirable when it's done for the right reasons. I can't wait to read your book.
(Peggy Roberson 5:38pm April 18, 2012)
Magnum PI, of course. He was freakin' hot!
(Tanja Haack 6:23pm April 18, 2012)
Not "hot" in the traditional way, but I always liked Ellery Queen - so smart!
(Karen Gervasi 6:50pm April 18, 2012)
Would Angel count? lol he was kind of a private eye wasn't he? Tom Selleck too :)
(MaDonna Lemmen 7:01pm April 18, 2012)
Columbo was my favorite. I also watched Hart to Hart and Rockford Files and many others. I miss those good programs. All we have on TV now is reality trash. I don't waste my time watching that.
(Rita Wray 7:30pm April 18, 2012)
Ok I remember thinking that Magnum was a little to furry for me. lol But I do remember having a crush on Dan Tanna (Robert Urich) from Vegas. Ok so I am definately dating myself here! Does anyone else remember the show The Equalizer? Oh now I'm on a roll. Thanks for firing up those dormant brain cells. Yes I think Angel counts and he is one of the HOTTEST MEN I've ever seen. I heart David.
LOL
(Patti Paonessa 9:50pm April 18, 2012)
there's lots of good old detectives out there -- nick charles (the thin man), remington steele (tv), spencer & jessie stone (robert b parker) just to name a few :)
(d Kenney 11:23pm April 18, 2012)
MONK is always a favorite. A brilliant, but troubled individual.
(Mary Preston 8:51am April 19, 2012)
Two favourites from books are Richard Rollison (The Toff) and
the more updated version of him Simon Templar (The Saint).
Both of them were portrayed as gentleman detectives of dark
good looks and over 6' tall, what was not to like?
(Ilona Fenton 12:56pm April 19, 2012)
How about Remington Steele?
(Diane Sallans 1:04pm April 19, 2012)
Really enjoyed many of the old detective (PI's) on tv... especially Columbo, MONK, Perry Mason, Mannix, and Magnum P.I. THE ZEN MAN sounds very interesting and I want to read!
(Rich Cook 4:02pm April 19, 2012)
It's been great reading everyone's favorite private eyes. Lots of votes
for Sherlock, Remington Steele and Magnum, P.I.

One of you mentioned Nick Charles from The Thin Man (which my
book, The Zen Man, is a play on).

Thank you, everyone, for being part of this blog! Lots of fun.
(Colleen Collins 10:51am April 20, 2012)
Jim Rockford hands down.
(Shirley Nienkark 11:57am April 20, 2012)
Registered users may leave comments.
Log in or register now!